Bobby's BBQ: Bobby Brown DEBUTS Line Of BBQ Sauces & More + Dave Chappelle Reflects On Comedy's Best Night Ever In GQ
Jun 06 | by _YBF
Singer Bobby Brown has developed a line cooking supplies. Get the deets inside and find out more about Dave Chappelle's upcoming set of stand-up shows....
Bobby's staying out of trouble and staying IN the kitchen. "Good Enough" singer Bobby Brown, who posed in a new promo shoot with his products and his wife Alicia and their son Cassius, is launching "Bobby Brown Foods" which is a line of barbecue sauces, seasonings and mixes. The new venture consists of Bobby's Original BBQ Sauce, Sweet and Spicy Sauce, Boston Blend Seasoning for grilling and Bobby's Everyday Seasoning, all made from scratch from Bobby's personal recipes and manufactured right out of Los Angeles.
And since Bobby looks like that uncle who comes to the reunion in his sandals JUST to throw down on the grill, we bet this ish tastes great. Bobby says:
"I learned to cook a long time ago. When I was younger and on punishment, that was my punishment, where I had to stay in the kitchen with my mother and actually learn how to cook. This is not something that is new to me; it's been a part of my life for a long time." He adds, "Bobby Brown Foods, which is eco-friendly, provides "…a healthy way to eat the foods you like" and "soul food with a clean way to eat".
But wait....there's more. Coming soon: "There will be a cookbook where you can use my spices and my sauces to create the dishes that I make." Bobby even has plans for cooking utensils "It's from me and by me and I can't wait for everybody to taste it."
Bobby Brown Foods Product Line is scheduled to be in stores and online Fall 2014 and he'll host a tasting event in Boston on June 27th at The Sunset Cantina. You better get that money Bobby.

In other entertainment news.......
Dave Chapelle....the elusive comedian...is doing stand-up again. Though he's never retired from stand-up, the opportunity to see Dave live is rare, which explains why his five consecutive comedy shows at Radio City Hall in NYC sold out within minutes. As a result, he's added three more shows on June 24th through 26th.
The shows will include both standup and live musical performances from the likes of The Roots, Busta Rhymes, Janelle Monáe and Erykah Badu.
And........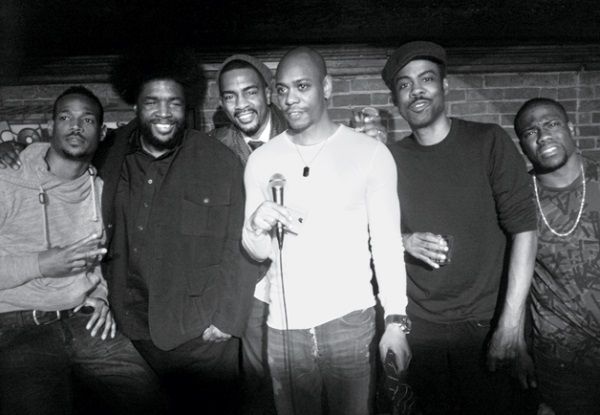 In a article that appears in the June 2014 issue of GQ, the magazine salutes Dave Chappelle's sold out shows with a look back at what some folks (at least the one's who were lucky enough to be there) consider to be one of the funniest nights on earth. They literally called it that! One night, Dave made a surprise appearance at the Comedy Cellar in N.Y.C. and he invited several of his famous friends onstage. It turned into a comedy roast/toast/pass the mic session. Here are their reflections:
Chris Rock: Dave is like Prince.

Marlon Wayans: Like Bigfoot.

Rock: You never know when he's going to show up. That night was a comedy booty call from Dave. [in Chappelle's voice] "I'm in town, man! You should come on down!" Dave's my favorite comedian. So…

Ahmir "Questlove" Thompson: I was on a date, and I was trying not to look at my phone, but I heard a beep and saw the name Rock: "I'm down here at the Cellar. Chappelle's going on in twenty minutes." That was the fastest "Check, please!" I've ever said in my life. I lied to my date and said I'd been called into the studio.

Wayans: I was out with Bill [Bellamy] after a Knicks game and hit Kevin [Hart] up. He was in town to host SNL. He was like, "Yo, I'm at the Comedy Cellar. Chappelle and Rock are here." I was like, "Word. Let's go."

Thompson: I grabbed the only seat left: There's a piano onstage, and I took the bench. Chappelle gets up and riffs for forty-five minutes about—who's the guy with the prosthetic legs? Oscar Pistorius? Dave was talking about how Pistorius would be the least vulnerable guy in prison, because all he has to do is scrape his legs on the steel bars every night. He started making this sharpening noise, and we were just done, all of us.

Bill Bellamy: Me and Marlon walk in, and Dave is onstage. When he was 18 or so, I hosted a night at this club in East Orange, New Jersey—the Peppermint Lounge—where he used to perform. So I know if he sees me, he's gonna go crazy. He sees me. He says, "People, this is unbelievable. I think I'm having a flashback."

Thompson: Then, one by one, he just called them up, kind of like the Harlem Globetrotters' Magic Circle.

Bellamy: Kevin Hart walks out. And here comes Chris Rock. Then Dave was like, "Who else is in here?" That was rich. So then me and Marlon come up. People go goddamn crazy. And we just start passing the microphone, telling stories about each other. It was a Black Pack moment.

Kevin Hart: That crowd got something money can't buy. They got authenticity.

Rock: Yeah, it was kind of a lovefest.

Bellamy: I remember Chris saying Marlon fucked one of his ex-girlfriends.

Wayans: Dave says something about my mama's vagina, about her having ten kids. I said, "Don't make me call all the Negroes that came up out that vagina. You don't want to get the Wayans beat-down." He goes, "Oh, please don't call them niggas."

Bellamy: Chris said something to Kevin that congratulated him on his success—but it was like, "You may be hot right now, but Dave Chappelle is hot forever."

Rock: You're not going to sit there and let other people be funnier than you. I mean, I like Kevin, but come on. I'm not conceding.

Bellamy: But we all had our moment to say how much we love and appreciate each other's talent. It wasn't a roast. It was a tribute.

Rock: And it'll never happen again. There's no Coachella of comedy where we all get together, you know?

Dave Chappelle: I had no idea all those guys were going to be there. You know, comedy is surprisingly competitive. It's like being in the Karate Kid tournament every night. I've known these guys for years and have always respected their talent, but on that night, I got to experience it up close. That's why it was special. But it made me laugh that Ahmir told his date he needed to go to the studio. Why didn't he just bring her to the show?
Ha!
Photos via Laff Mobb PR/GQ/Bobby Brown's