FAMILY DRAMA: T.I.'s Mother PLEADS With Tiny To Have A SERIOUS Talk With Her Son…On INSTAGRAM! + Master P LOSES Custody Of His Kids, Claims He Wasn't Aware Of Court Date
Jun 10 | by _YBF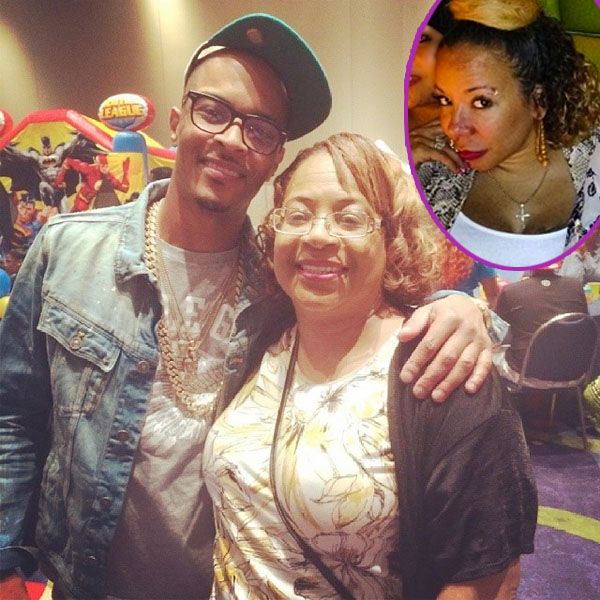 The drama continues in the Harris and Miller households! T.I.'s mom has hopped in the middle of her son and his wife Tiny's marital issues. And guess how she reached out to Tiny? On Instagram, of course!
Also, Master P recently lost custody of his children with his estranged wife Sonya Miller! Get the latest on all the family drama inside…
Seems the "Family Hustle" has turned into the "Family Spectacle" after the Harris family marital issues have been blasted all over social media. The Kang of the South and his wife have been going back and forth on social media over the past few months, airing out all of their dirty laundry.
Guess T.I.'s mom Violeta Morgan felt it was time for her to speak up for her son regarding their issues. So she did...on Instagram. Sighs...
Tiny has been doing her solo thing recently. Memorial Day weekend she was partying it up in L.A. with Floyd Mayweather, which (allegedly) resulted in Tip confronting the boxing champ and an all out brawl breaking out.
And over the weekend, Tiny hit up Atlanta's Buckhead Bottle Bar with her girlfriends Toya Wright and Tamar Braxton, posting IG pics of them having a good time. Tip's mom stepped in…but probably not in the best way.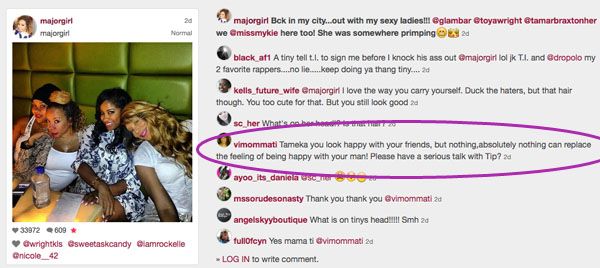 Under a pic of Tiny posing it up with Toya and Tamar (above), Tip's mom left the comment, "Tameka you look happy with your friends, but nothing,absolutely nothing can replace the feeling of being happy with your man! Please have a serious talk with Tip?"
We agree with Mama Tip...but did she have to post this to her Instagram? She couldn't pick up the phone and give Tiny a call or shoot her a text? Damn.
And Mama Tip didn't stop there. She also clapped back at fans who commented on her no longer wearing her wedding ring:
She posted, "Just because you don't see a ring doesn't mean that there is no commitment!"
Hmm...Tiny hasn't been wearing her ring in public much at all. Back in March, when asked about her ring when she was on the "Wendy Williams Show" she claimed she wasn't wearing it because she jammed her finger and couldn't fit it. Finger still jammed? Hmm...
We really hope these two can work out their issues whether they decide to stay together or not. But we hope they work it out somehow...OFF social media.
And in the Miller household...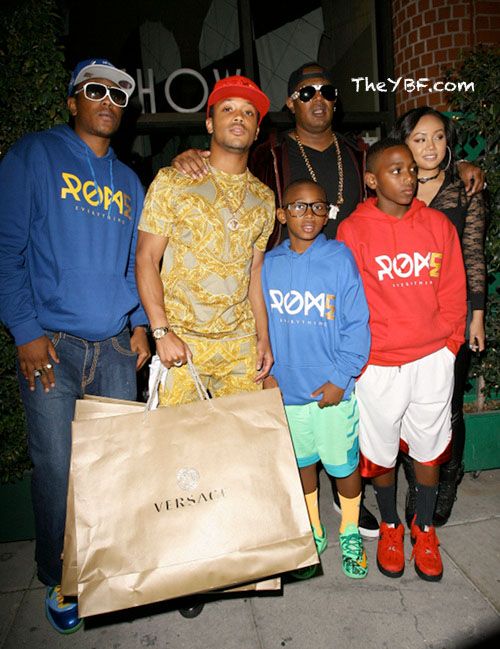 Master P's estranged wife came out in winner in the latest custody battle of their four children. Apparently, Sonya was granted sole physical and legal custody of 17-year-old Tytyana, 14-year-old Italy, 13-year-old Hercy, and 9-year-old Mercy because P didn't show up for court!
Daddy Miller has to pay a hefty fine for being a no-show. According to TMZ, he was ordered to pay Sonya's $75,000 legal bill which included sanctions for him not appearing in court. Damn!
But wait…P said he was never summoned to court and that's the reason he was a no-show.
In a statement released by P, he said he was at his daughter's school at the time of the hearing and had no clue they had a court date. He claims Sonya is an unfit mother and is only concerned about herself and if anything happens to his children while in her care, he's taking legal action.
Check it:
"At the time of the court hearing that I was not aware of, I was actually at my daughter, Italy's school speaking with her principal. My daughter is failing in all of her courses and has 21 unexcused absences during this school year. Italy is the only child living with her mother and is not getting the proper guidance nor direction as to making wise choices. Her mother allowed her to go to Disneyland on a school day during finals week. Half of the time her mother doesn't even know where she is or who's she's with. This is disappointing and embarrassing to me. I just got back into town from holding basketball camps in Kentucky helping at-risk youth and have to come back home to deal with negativity in my own family. How can a judge grant custody to an unfit mother who's only motive for gaining custody is to get more money? Sonya's only concern is herself, partying and hanging out with her friends. Her attorneys are only involved to seek financial gain. No one is really looking out for the best interest of our kids. It's all about money. She said out of her own mouth that she was tired of the kids, that's the reason why I came and got them from their mother the first time. I didn't need the court or judge to tell me to do what's right for my kids, that's what I want to do and that's my lifelong commitment to all of my kids. Sonya knows that she has a drug and alcohol addiction, everyone else will see that there is a real problem because that's something you can only hide for so long. If anything happens to my kids while they're in her custody, I will be suing her attorneys as well as the court system for not properly investigating this case. You know what's really sad, that gossip media outlets like TMZ are constantly covering this without getting real facts. I know that I'm not perfect and I can't change anyone but myself. I'm going to put this in God's hands, keep praying for my family and keep doing the right thing."

You'll recall, P is currently shopping around a new reality show featuring his family tentatively titled, "The Miller Dynasty." With all the drama surrounding his nasty divorce to his estranged wife, her alleged drug abuse and welfare claims, it will probably get picked up a lot sooner than later.
Messy...
Photos: INF/Splash/T.I.'s Mom IG/Tiny's IG