5 Celebs Who PROBABLY Won't Be Getting A Father's Day Gift
Jun 13 | by _YBF
Father's Day is approaching, and while some fathers will be getting showered with gifts & praise from their loved ones, we rounded up a list of fathers who likely won't be receiving a Father's Day. And it's solely based on their (alleged) wack baby daddy antics this year. Find out who made the list inside….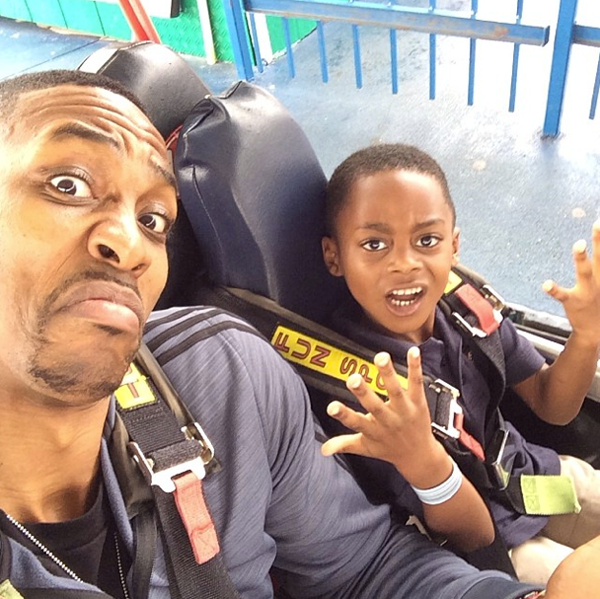 First up…Houston Rockets star Dwight Howard.
We all know by now Dwight has a slew of children by various different women, but the only child he claims to date, is his son Braylon (above). He shares with former "BBW" star Royce Reed and tried, repeatedly, tossing gag orders while she shot her show. He reportedly has five children by five different women but there are only three confirmed in other ways: Royce's son, fitness queen Hope Alexa (who has his daughter Jayde) and his newest baby with his secret girlfriend.
Most recently, the NBA baller had a baby boy in June of 2013 by a woman named Christine Vest (who he has been dating since 2011). Not sure if they're still together after it was reported that Dwight told Christine to stay in Orlando while he plays in Houston. It was also rumored that Christine told a girlfriend that Dwight ordered her not to reveal him as the father of her son. (She does, though, post obvious hints on her Instagram.)
Remember how he tried nonstop to get Royce off of "Basketball Wives" and she wasn't even able to speak his name? And let's not forget, dude was allegedly spotted in a Florida hotel room recently with some seemingly underage girls.
As far as his children go, Royce has taken to social media to confirm her son's siblings with Hope and Christine so we do know for sure he has at least three. As for why he only publicly claims Royce's son is still a mystery to us. For the children's sake, let's HOPE this dude is providing for ALL of them financially, emotionally and physically.
Next up...Stevie J.
No surprise this guy made the list. "LAHH ATL" star Stevie J (pictured above with his five children) was just busted earlier this week in his Atlanta mansion for owing over $1 million in back child support! Stevie was ordered to pay his ex-girlfriend, former record executive Carol Antoinette Bennett (whom he shares two children with) $6,600 a month in child support back in 1999. His child support amount then went up to $8,500 when he was working as a producer for Diddy's Bad Boy record label. In 2001, money got tight and he just decided NOT to pay. Now he owes a whopping $1,107,412!
On top of that, one of his other baby mamas and co-star Mimi Faust has been very vocal about Stevie NOT supporting their daughter Eva. She claims Stevie doesn't give her a dime to help take care of their daughter. Not to mention, he also has two other children from previous relationships. So that's five children, four baby mamas…and allegedly no child support. Sighs…

The next dad on the list… R. Kelly.
As he travels the nation on his Black Panties tour, R. Kelly seems to too busy to be bothered with what's currently going on in his children's lives.
Kelly's youngest daughter Jaya (Jay) Kelly who he shares with "Hollywood Exes" star Andrea Kelly, allegedly recently came out as transgendered. His 13-year-old daughter is in the process of transitioning from female to male and revealed he's identified as a boy since he was 6 or 7.
Jay says his mother has been super supportive of his decision but his father doesn't even have a clue. According to him, as of three months ago, R. Kelly has been unaware of his new identity.
Papa Knowles is next on the list.
Matthew Knowles (pictured above with his new wife Gena Charmaine Avery) possibly won't be getting a Father's Day gift from his estranged daughters Beyonce and Solange, and he likely won't be getting one from his son Nixon either. Papa Knowles and his baby mama Alexsandra Wright (the woman he cheated on Tina Knowles with and made a baby) have been going through a nasty child support battle ever since little Nixon was born.
Alexsandra has alleged Matthew has threatened her, leaving her afraid for her life and their son's life. She made claims that he had not paid her any child support forcing her to seek government assistance to provide for their son. At one point, Matthew was paying his share of child support but stopped after he claimed he had a finanicial hardship.
Since then, a judge sided with Matthew dropping the monthly amount of his child support payments since he claimed his annual income drastically dropped after Beyonce fired him in 2011. But beyond the money issue, Matthew still allegedly doesn't totally acknowledge the fact that he has a son (outside of saying he's paid his support money) and still has not seen him! Sad...

And last but not least...50 Cent!
He rounds out the list for simply being a wack a** baby daddy, according to his baby's mother and his own child. You'll recall 50 allegedly disowned his eldest son Marquise last year via text message. During the text message rant, he allegedly said, "I don't have a son anymore...... I will have nothing to do with you. Don't text me ever again." And questions paternity "I need a blood test cause that d*ck sucking b*tch you call mom was f*cking the hole time." Sighs...
Since their spat, 50 and Marquise have not really spoken. And when it was time for Marquise to walk across the stage to graduate from high school this year, his dad was a total no-show! Marquise was upset his father didn't witness his huge accomplishment and took to Facebook to air out his frustrations saying, "Yea I broke down , I was really excited to see my pops at my graduation today but he never showed up smh. My sister and mama is always there for me just know that you wasn't. I did it without you." 50's response was that he "didn't know" about the graduation.
Recently, 50 has embraced fatherhood again posting pictures to his Instagram of his youngest son Sire Jackson. You'll recall 50 tried to keep Sire (whose mother is former video vixen Daphne Joy) a secret…one we didn't even know about until she filed domestic violence charges against him. And now the domestic violence incident doesn't seem too far-fetched, since 50's first baby mama (Marquise's mother) also claimes 50 abused her as well. Chile...
And then we have two dads who made the honorable mentions list, since they are pretty good fathers to their older children, but drama filled with their "break babys" and things.
Honorable Mention #1: Ludacris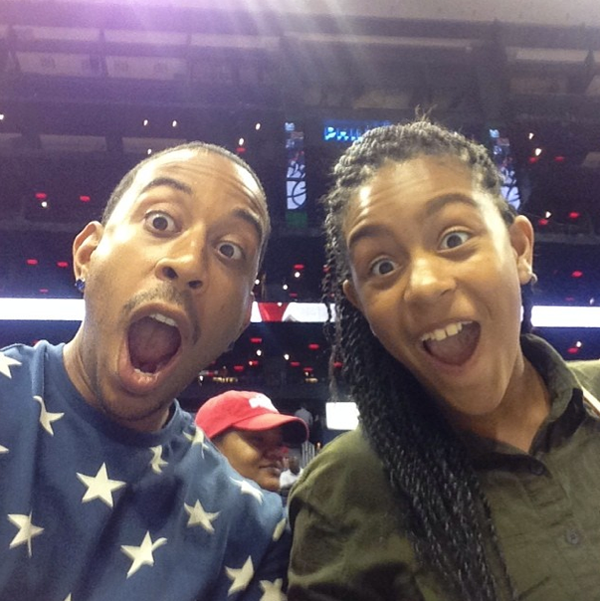 Ludacris seems to have daddy-duty on lock when it comes to his eldest daughter Karma (seen above), but with his newest baby girl, he has been getting the serious side-eye.
Luda impregnated a woman named Tamika Fuller (who is said to be a friend from high school) while on a break (so he claims) from his current girlfriend Eudoxiee. Since baby Cai Bella entered the world, there has been a nasty child support and custody battle between her two parents.
Luda tried to get a cap on his child support payments to Tamika claiming he couldn't afford the ordered amount. All while traveling the world on vacays in private hets. THEN, he filed for custody of his daughter, demanding full physical custody AND child support from Tamika.
A Georgia judge quickly shot his request down. Tamika was granted full physical custody of their daughter Cai Bella, on the grounds that being with her mother is in the best interest of the child. Not only that, he ended up having to pay ALL of her attorney fees which totaled to $35K, plus an additional $2,000 after his motion to have Tamika found in contempt was denied. This dude...

Honorable Mention #2: Tyrese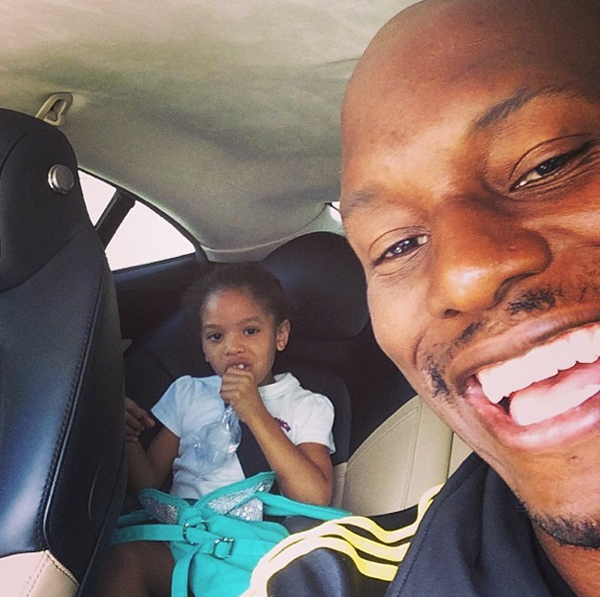 The man who loves to preach about everyone else's problems...
We've seen Ty with his daughter Shayla (whom he shares with ex-wife Norma Mitchell) on many occasions and he seems to be the perfect doting father. His ex-wife thinks otherwise.
You'll recall that Norma received a sizable alimony and child support settlement a few years ago, but now they're going through a nasty custody battle over Shayla.
According to Norma, Ty ditched spending time with his daughter to have fun partying in Dubai. In his defense, he said he went to Dubai on business but Norma really isn't trying to hear it. They're currently working out the kinks in their custody battle over their daughter.

Photos: Dwight's IG/Stevie's IG/50's IG/Luda's IG/Tyrese's IG