Is "Orange Is The New Black" Star Samara "Poussey" Wiley DATING One Of The Show's Writers? + Stacey Dash Has A NEW Boo…A MUCH Younger Aspiring Model
Jun 13 | by _YBF
So it seems to be a case of art imitating life...possibly. Samara "Poussey" Wiley from "Orange Is The New Black" is allegedly dating one of the writers on the show. Plus, Stacey Dash has a new boy toy…and he's around the same age as her son. Deets inside…
"Orange Is The New Black" star Poussey Washington (real name Samara Wiley) has become a fan favorite of the hit Netflix original series. And it seems she may have a new love interest…OFF set.
Enters "OITNB" writer Lauren Morelli. Lauren was previously married to her husband (who had been battling a life threatening disease) after 6-years-old of being in a committed relationship. The two tied the knot 6-months before the series began shooting. But during the taping of the show, Lauren had an "a-ha" moment and all of sudden realized…she was gay.
Soon after, she realized the lesbian storylines she was writing for the show, ultimately became her real-life truth so she decided to leave her husband.
In an open letter where she comes out of the closet, she writes, "I went through it all on set: I fell in love with a woman, and I watched my life play out on screen. I encourage you to embrace your own narrative, whatever that may be. It will be worth the effort."
Fast forward to now… it seems she has her eyes fixed on one of the actors on the show…Poussey.
Poussey and Lauren seem real chummy with one another, posting kissy pics (atop) as they celebrated Poussey's brithday and flicks of them hanging out and grabbing dinner on their Instagrams: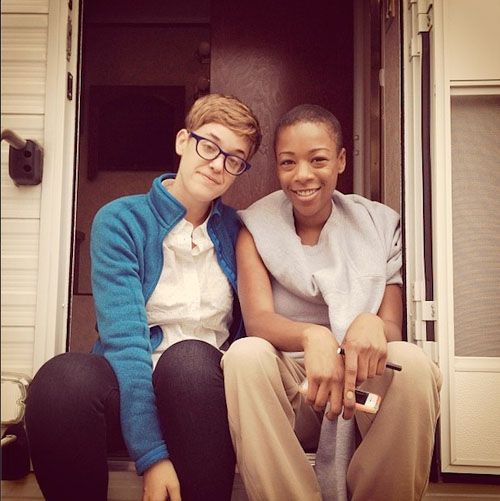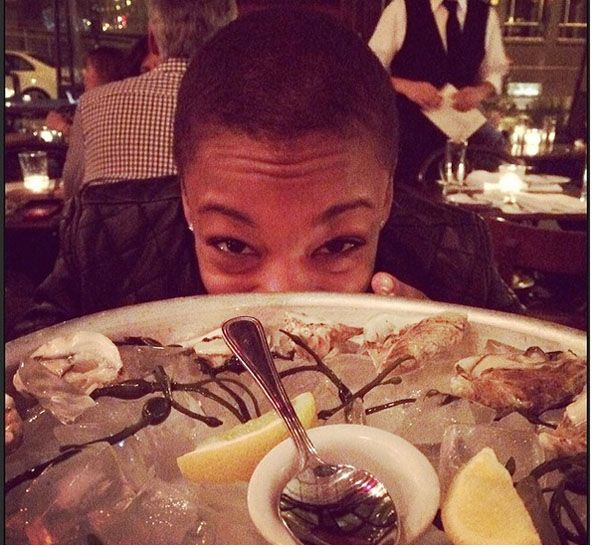 In the photo above, Poussey captions, "Me n @lomorelli. One of my favorite writers from @OITNB. Love you, Lo!" Hmm…
Have they found love?
Speaking of Poussey...
Poussey ditched the baggy sweatshirt and khaki slacks and got uber glam, serving up some serious model behavior for the cover of Bello Magazine. The new star dished on the drastic change in her life since "OITNB" phenomenal success and how much fun she she's having on the set, working with people she refers to as family.
Peep her sexy spread below: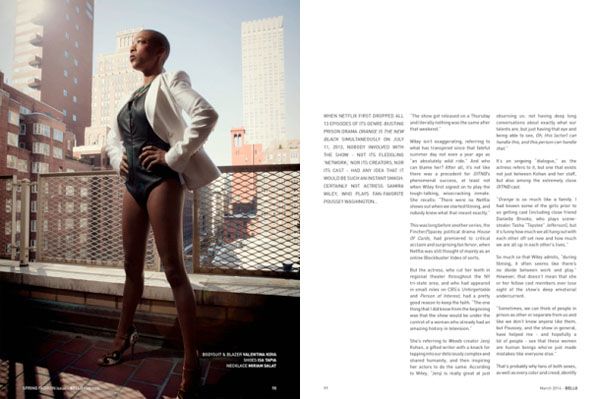 Loves it.
You can check out the full interview and her full spread here.
And in other relationship news...
Stacey Dash has landed her a new boy toy. And dude is around the same age as her son!
The new FOX News contributor is on major cougar status after she snatched up 25-year-old budding actor Michael Evers. As you may know, Stacey has two children from previous relationships and her eldest son is 24-years-old. Mmhmm…
The 47-year-old actress was spotted on a morning hike with her new boy toy in L.A. recently (above) showing off her killer abs. Michael seems to have a thing for older women since he was previously linked to "Mob Wives: Chicago" star Nora Schweihs.
A source told the Daily Mail,
"Michael is the Ashton Kutcher of West Hollywood – he's already dated Nora Schweihs from Mob Wives and she was a LOT older than him! But he really likes Stacey and he's taken her hiking and to the Sunset Tower Hotel and she's taking him with her to New York next month."

Well alright...
Photos: Aleksandar Tomovic/Pacific Coast News/Samara's IG/ Lauren's IG