TO ALL DADS: Happy Father's Day 2014! [BIG GALLERY INSIDE!]
Jun 15 | by _YBF
Father's Day has been called one of the most underrated holidays....but not here. We put Father's Day on par with the most important days of the year (and yes, fathers should be celebrated daily). TheYBF.com is giving shine to ALL of the fabulous Dads who set an example for their fans and beyond. Come inside and celebrate with our tribute to celebrity Dads....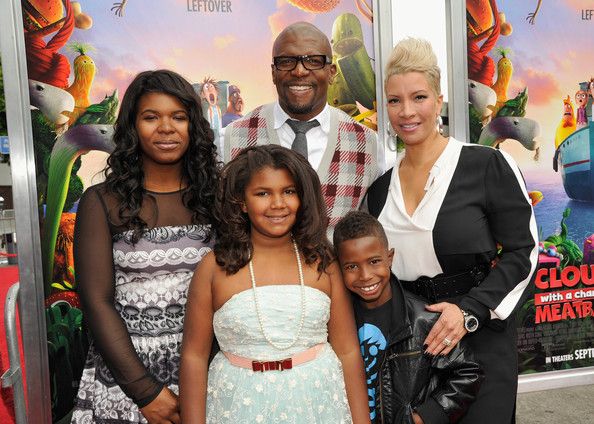 We often see celebrity parents out and about with their little ones, and today, we're going to give the fab Dads their due. These fellas are leading men of industry, the silver screen, heads of large corporations, musical geniuses and fashion moguls. But most importantly, their most fulfilling role is DAD.
In our gallery we celebrate these men, and we'd also like to highlight those celebs whom we don't often see out and about with their kids.Yyou might not know that Deion Sanders has a whole football team or that Caron Butler (of the OKC Thunder) has three daughters who look just like him! Here we go....
In the pic atop, proud papa Terry Crews, who stars in Blended and Brooklyn Nine-Nine, fiercely defends fatherhood in his new tome Manhood where here shares his thoughts on preparing kids for their future. Here's his advice to men:
Here are three things a father should teach his children:
1. How to lose. It's really not win or lose, it's win or learn! Show your child how to not internalize failure but to grow from it. There is no one smarter or better than you, there are only those who with practice and a good attitude became better at something they were once not good at.

2. How to win. Overconfidence keeps you from being receptive to new ideas and better ways of doing things. Never brag or gloat but know that good today doesn't always mean great tomorrow. Humility is not saying you are no good at something -- but just submission to the fact you don't know everything.

3. How to apologize. Every human being goofs things up, and the first step in making things right is owning up to your mistake and apologizing. I often tell my kids if they do something wrong and they tell me the truth and apologize without trying to cover it up, they won't get into trouble. But if they DO try to cover up what they've done wrong, consequences are guaranteed."
Loves it. A few of ou other faves:
ESPN personality and football/baseball legend Deion Sanders and his fiancee Tracee Edmonds are among those couples who show that blended families can be successful.
In his legendary Never Scared special, funnyman Chris Rock joked that a Dad's main role is to keep his daughters off the pole.
When he's off thecourt, Amar'e Stoudemire has taken a particular interest in making sure his children understand their Jewish roots. We've spotted them on several family vacations to Israel. Oh, and he also just wrote a cookbook!
OKC Thunder baller Caron Butler is a doting dad to his three girls (Mia, Ava & Gia). He also co-parents his two oldest kids in Racine, Wisconsin (Caron, Jr & Camary).
Lil' Wayne has made his blended family work. You never REALLY read about his baby mama drama in the news! Say what you will about him having so many baby mamas, but he has always shown he's a great dad. Recently, he took his eldest daughter Reginae for a driving lesson:
Toya Wright shared this caption on Instagram "I'm not gonna be able to tell her anything now.... Her daddy finally let her drive him around. I started letting her drive me around a few months ago to get practice.... Wayne not so much. lol ( he wasn't having it.) I see somebody gave in. #coparenting #myprincessgrowingup"

Check out tons more of our celebrity dads in the gallery below!
Photos via Getty Image/Various Instagram Pages/Facebook