Mack Wilds, August Alsina & Ed Sheeran Cover VIBE + Rick Ross Explains Being ALLEGEDLY Run Out Of Detroit By Goons + Robin Thicke's New "Get Her Back" Video
Jun 24 | by Natasha
Mack Wilds is getting his due as he nans the cover of VIBE magazine with fellow R&B stars August Alsina & Ed Sheeran. Peep their cover inside. Rapper Rick Ross was allegedly run out of Detroit recently and ended up not performing a scheduled show. Now, he's speaking out about it. Plus, Robin Thicke is STILL pining for his wife Paula to come back to him in his new video for "Get Her Back".
Check it inside...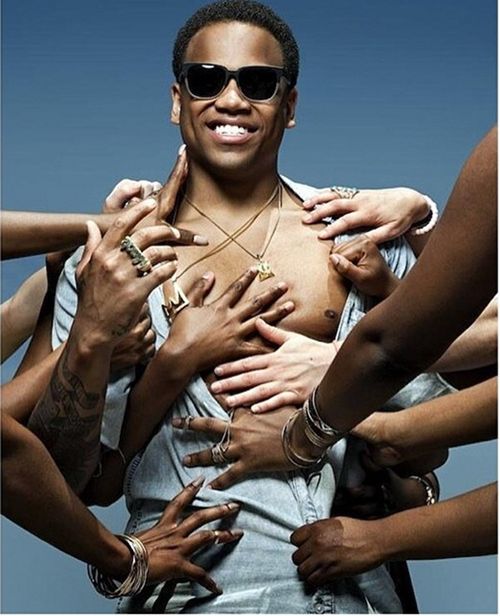 The new school of R&B cats are gracing VIBE magazine's 2014 Summer Issue. Mack Wilds, August Alsina and Ed Sheeran all bring a different flavor to the game. And they're serving up some summer realness with their brand new cover and shoot.
Here's a few quotables:
"Where am I gonna survive in a world of 2 Chainz and Drake? Frank, Miguel and all of these guys. I remember coming across them and being like, 'Yo, bro, I got some music coming up.' And they're like, 'Okay, cool, how's that movie going?'" —Mack Wilds
"Just because I'm a man with an acoustic guitar doesn't mean I have to play love songs. I want to straddle all worlds at once. I want to do my acoustic stuff, write for the biggest pop acts in the world, and also work with all the rappers I like, underground or not." —Ed Sheeran
"Crack fucking ruined my family. So to be selling that shit and seeing what it do to people, you start to realize, 'Damn, my heart might be a little too big for this shit.'" —August Alsina
For their 'R&B's Most Wanted' themed shoot, the fellas invited several of their fans to a single level house in L.A. to be featured in their spread. Check out the video above. And check out more over at VIBE.
In other music news, Rick Ross sat down with Felisha Monet on Power 99 Jamz in Miami to chop it up about that alleged "No Fly Zone" incident in Detroit over the weekend. Word has it Detroit rapper Trick Trick and about 100 goons rolled up on Ricky before his scheduled performance at Chene Park...and threatened his life before he even got off the bus.
Trick Trick allegedly claims that if you come to Detroit and you don't "support" Detroit artists, you're not allowed in HIS city. Guess he's the unofficial mayor...or something. So Rick Ross addresses it all in the interview above.
In other videos, Robin Thicke is still pining away for Paula and he makes it VERY clear with his new visuals for his track "Get Her Back". Check it out below:
His album, Paula, drops July 1st.