REUNITED: Teyana Taylor Co-hosts "106 & PARK", Dishes On Relationship With Iman Shumpert + Adrienne Bailon Gets Her Rob Kardashian Tattoo REMOVED!
Jul 16 | by _YBF
Bow Wow aka Shad Moss reunited with former "Madea's Big Happy Family" co-star Teyana Taylor last night as she co-hosted "106 & Park." Watch Teyana dish on her relationship with New York Knicks basketball player Iman Shumpert and watch Adrienne Bailon get a tattoo of her ex removed inside....
Singer/actress Teyana Taylor brought her Harlem swagger to the "106 & Park" studio recently where she co-hosted with her former "Madea's Big Happy Family" co-star Shad Moss.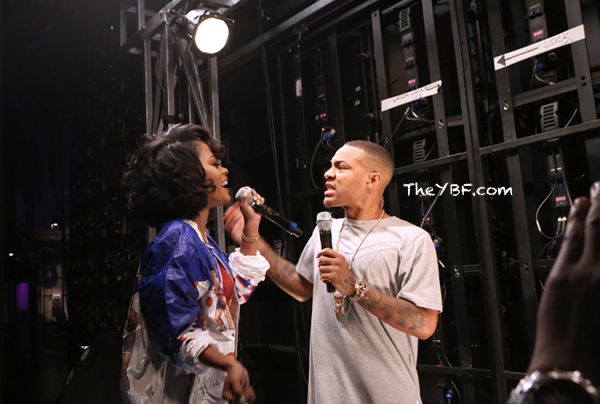 Shad and Teyana (who shared some of the FUNNIEST scene in the Tyler Perry flick) fell right back into the swing of things with each other. They have great chemistry.
During one of the segments, Teyana was put on the hotseat and asked about her bae, New York Knicks basketball player Iman Shumpert. She told the audience, "His birthday just passed so we was in Hawaii for his birthday. It was really fun; I'm very, very happy. We are getting right. He is amazing. I can't even stop smiling. He's simply, simply amazing and he never fails to amaze me."
Before Iman, you'll recall that Teyana had a fallout with former friend Tae Heckard after she began dating her former fiance Brandon Jennings a few weeks ago. So...how does she feel now? Well......she rocked a gold bracelet that read "unbothered." #message!
In between breaks, Teyana posed with fans.
Watch a clip from the show here:
"106 & PARK" airs weeknights at 6:00 P.M. ET/PT on BET.
In other entertainment news...
"The Real" host Adrienne Bailon has OFFCIALLY put her relationship with Rob Kardashian in the past. For an upcoming segment of EXTRA!, Adrienne allowed the cameras to follow her to get her Rob K. tattoo removed. "I'm excited, anxious, excited more than anything. I think I've waited a long time, long enough, to have this officially gone."
She shared that living with the tat has been the most painful part. "I thinking living the last six years with somebody's name on your body is a little weird and that's more painful, like, you know, to have to explain it to my kids."
She also explained how her NEW man felt about the tatt. "It's great that he's somebody that wants it gone, but not in a selfish way. He wants it to be done right, and it won't be something that will damage my skin and I'll be scarred for life."
So.....did the removal hurt? Yes. Adrienne said, "I'm not going lie to you… I was so nervous. I had really painful experiences before doing laser tattoo removal before, like smelling my flesh burning. With this, I literally didn't get to the chorus of a song and it was done. I love the fact [Dr. Brauer] used an ice pack and numbing cream. This was painless."
Congrats Adrienne....MOVING ON!
Photos via BET Networks/Bennett Raglin/BET/Getty Images