CAUGHT ON VIDEO: Floyd Mayweather Clears Up Video, DID NOT Admit That He "F*****" Tiny + K. Michelle Twerks For The 'Gram
Jul 19 | by Natasha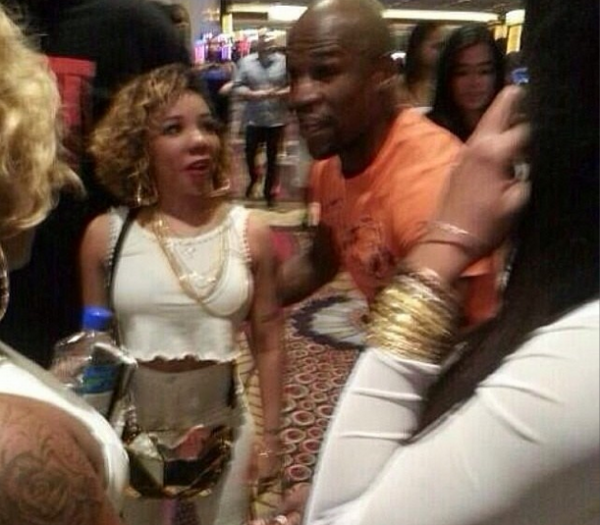 A video of Floyd Mayweather ALLEGEDLY claiming to have had sex with T.I.'s wife, Tiny, went viral on the net. But don't believe everything you hear. Find out why he actually DIDN'T say what you think, plus, K. Michelle twerks for the 'gram.
The fake love triangle and ridiculous drama amongst Floyd Mayweather, Tiny & T.I. heated up again today...based on folks jumping to conclusions.
Footage was posted by TMZ this morning of Money Mayweather at a press conference for his upcoming September fight, where they mistakenly transcribed Floyd's words as some fighting words when it comes to T.I..
In the video above, around the 1:15 mark, you can hear a fan yell out "What about T.I.?" TMZ claimed earlier Floyd answered with "What about the b*tch?....I f**ked his wife."
But that's not what was really said. If you look closely, you'll see Floyd said something right before that last part, but the mic cut out a bit. He actually said "HE THINKS I f**cked his wife." Those first two words are extra important.
Floyd cleared up the rumor on his Instagram today saying:
At the press conference, I said "… he thinks I was f*cking his b*tch". I DID NOT say "… I was f*cking his b*tch". I've never been with Tiny sexually. I respect her situation and I thinks she's a good person. I would never disrespect a marriage. #Mayhem on September 13th.
So there you have it.
Meanwhile, something that was caught on video:
This is what happens when K. Michelle celebrates her label loving her album. She posted the above video in celebration, showing off her twerk skills. And while commenters went in about how "fake asses" move while twerking (THEY said it, we didn't), we must say she's improved from this video she posted about a month ago:
Ha. We're just waiting on Drake to "Like" the above Instavid and then put her in his next video...
Photos/Videos: Floyd's IG/Tiny's IG/K.Michelle's IG