WE CALLED IT: Zoe Saldana CONFIRMS Pregnancy
Jul 23 | by Natasha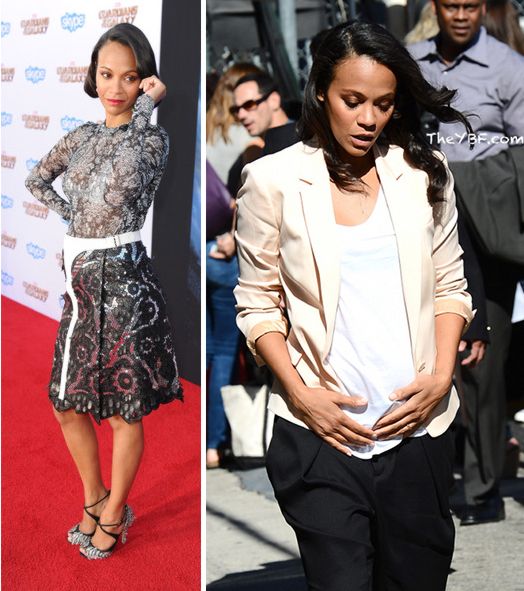 Zoe Saldana has finally confirmed what we called out almost a month ago--she's expecting her first child! Deets inside...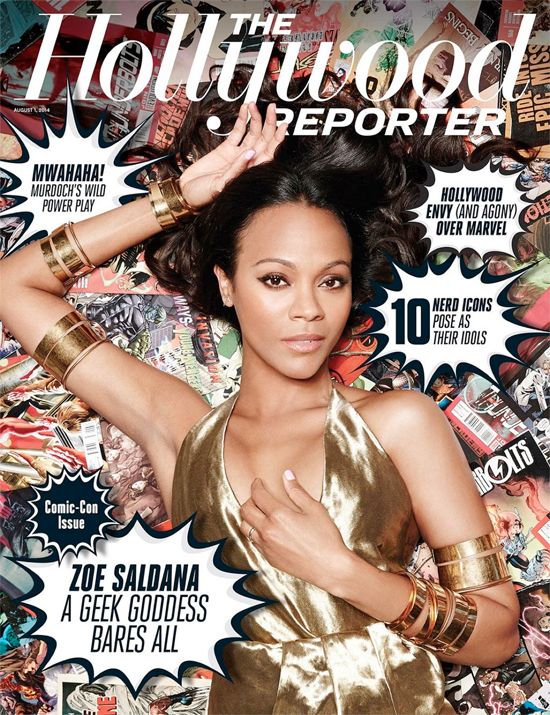 After showing up to her Guardians of the Galaxy premiere this week with an obvious baby bump, Zoe Saldana can no longer hide the fact that she's expecting. So her rep confirmed today that the 36-year-old movie star is indeed pregnant with her and husband Marco Perego's first child!
The fab mom-to-be graces the cover of The Hollywood Reporter's August 2014 issue. Her publicist confirmed the news to THR after the undeniable baby bump pics surfaced this week.
Back in In June, we posted a series of pics over on our Instagram (follow us HERE) putting Avatar actress Zoe Saldana on Preggers Watch. And we posted her growing belly over the last few weeks with raised eyebrows. And, as always, we were correct.
Well, that's one way to promote a movie that looks like a flop waiting to happen. Zoe has remained mum about the news on her own social media accounts, and posted these hide-my-bump pics from this week's premiere: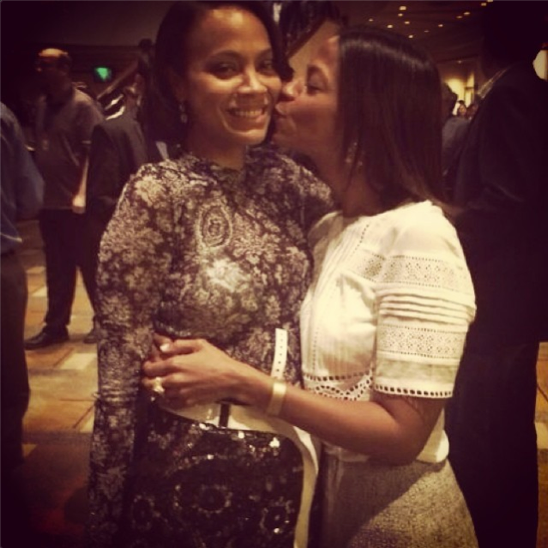 In the THR cover story, the Avatar star talked about being a woman of color in Hollywood, how she almost quit the business after an awful experience on the Pirates of the Caribbean movie and what it's like to go where no woman has gone before as she headlines two franchises and a potential third. She said, "My balls are pretty big."
Here are the highlights:
J.J. Abrams on Zoe Saldana's Audition for Star Trek
"When she came in the room she had this incredible commitment and toughness — she swore a lot — and yet she was also really funny and sharp and beautiful. She told us she was right for the part, we didn't tell her."

Why She Almost Quit Acting After Pirates of the Carribbean
"It was very elitist. I almost quit the business. I was 23 years old, and I was like, "F— this!" I am never putting myself in this situation again. People disrespectin me because they look at my number on a call sheet and they think I'm not important. F— you."

On Plot Details of Star Trek 3
"All I know is that the producers
of Trek 3 called the producers
of Avatar 2 to find out when Avatar will finish shooting."

On the Rumor that She Only Knew Her Husband for a Few Months Before Getting Married
"No! I've known my partner for five years. I knew of his work. I knew 
of him. Then we met. And months later, we both made the decision 
to do what we both individually vowed never to do — to get married…. And as soon as we decided we were going to get married, we didn't wait. We did it three weeks later. That part was very, very quick."

On Hollywood and Race
"I don't want to spend my life thinking about all the impossibilities I face when I wake up in the morning. But the reality is, I'm a woman of color in America. That itself is enough for you to wake up and go, "Oh, f—!"

On Why Race Doesn't Matter in Movies
"You know why? Because the people we discriminate against in sci-fi movies are the aliens. We make them the villains. We have to make somebody bad."
Congrats to the couple!
Photos: Splash/Getty/Zoe's Instagram