MAGAZINE FAB: Tracee Ellis Ross Talks Love, Being BLACK, Keeping Her Booty Right In UPSCALE's August 2014 Issue
Jul 29 | by _YBF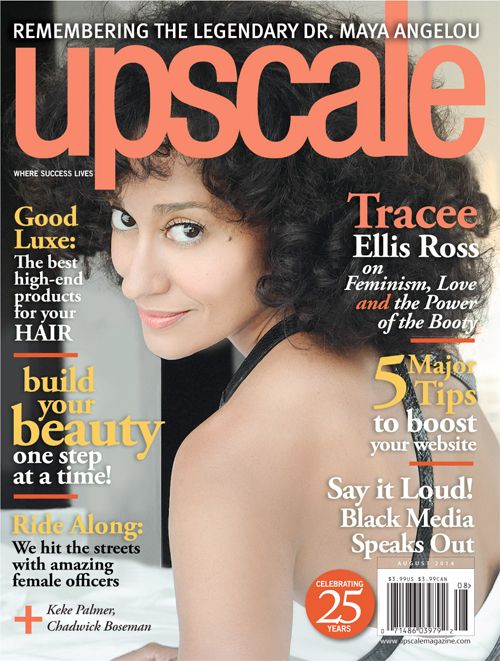 Tracee Ellis Ross is serving up some Diana Ross tease for the August 2014 cover of UPSCALE magazine. Peep her fab cover and find out what she had to say about being black, loving her body at the age of 41 and more inside…
Actress Tracee Ellis Ross is gracing the cover of UPSCALE magazine's August 2014 issue with all of her beauty. And we are so loving that face and her curls!
Tracee is starring in a new comedy series coming to ABC (September 24th) titled, "Black-ish," where she plays a mother-of-four named Rainbow Johnson. Tracee's character is the wife to Anthony Anderson's character and the two of them are searching to find a sense of cultural identity while raising their kids in a predominantly white, upper-middle-class neighborhood. The show is scripted by Kenya Barris and produced by Laurence Fishburne's (who is also starring in the sitcom) Cinema Gypsy production company.
So in the new issue of UPSCALE, the "Black-ish" star dished on what it means to be black, how she thinks people will react to the new comedy sitcom, keeping her booty rotund at the age of 41 (which she's doing a damn good job at) and more.
Here are the highlights:
On what it means to be black:
"What is blackness? What is being black? Who defines that and do we need to define that? I don't have the answers to all of those questions but I think these are the conversations we're all still having."

On her ABC show, Black-ish:
"The beauty of the show is that it's just a family comedy, but it has another layer to it. I don't know what I necessarily want people to think or talk about after watching it but for me in general with cultural identity, racial identity and feminist identity, dialogue is important. People communicating in a light and open way about issues that have a lot of depth and weight to them is a great thing."

On loving her body:
"I'm proud of my body—I work very hard to keep my body at 41 years-old, because my booty could drop… Gravity is not a joke."

On advice & romance:
"Any one rule [as it pertains to romantic relationships] that people think works everywhere is just not true. In general, with everything it's an intimate discovery of trusting yourself and allowing yourself the room to have curiosity about life and self."
Check out a clip from the pilot episode of "Black-ish" below:
The show premieres on Wednesday, September 24th at 9:30/8:30c on ABC. We'll be watching!
Photo: Upscale Magazine