THEY FIGHTIN': Danity Kane Chicks Dawn Richard & Aubrey O'Day Allegedly BRAWL In The Studio...Charges FILED!
Aug 05 | by Natasha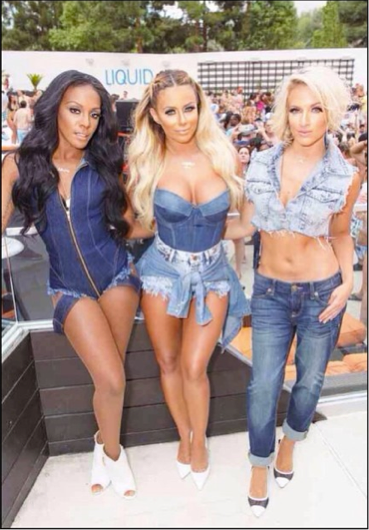 Do...Do you have a first aid kit handy?! We had to do it. Deets on Aubrey O'Day & Dawn Richard's alleged studio catfight inside...
Not sure what's going on here, but it seems that now that Danity Kane has gone to DK3, there's some serious ish going on behind closed doors.
While it's not as dramatic as ElevatorGate (mainly because we don't have video....yet), it's a bit of a shocker to us that two of the three newly reunited "Lemonade" singers would be going at it inside a studio.
According to reports, Dawn & Aubrey got into a "violent brawl" during a disagreement at an L.A. studio last night. TMZ says Dawn slugged Aubrey in the head with a closed fist. The third member, Shannon Bex, reportedly tried to break up the fight.
After Aubrey got popped in the head, she filed battery charges on Dawn.
The girls haven't directly spoken about the studio fight, but Aubrey posted this today:
hurt people, hurt people.

— Aubrey O'Day (@AubreyODay) August 5, 2014
DK3 wrapped up their one month No Filter tour in June. And we know Dawn's been spending at least some of her recent down time letting off steam at the gun range:
Clearly she's not to be messed with. She's got new body parts to protect. And by the way, today is Dawn's 31st birthday!
Photo/Video: Aubrey's IG/Dawn's IG