CATCH THIS: Lil Kim Comes For Nicki Minaj…AGAIN...On "Identity Theft" + Zoe Saldana Offers Up Sex Advice In Cosmopolitan For Latinas
Aug 06 | by _YBF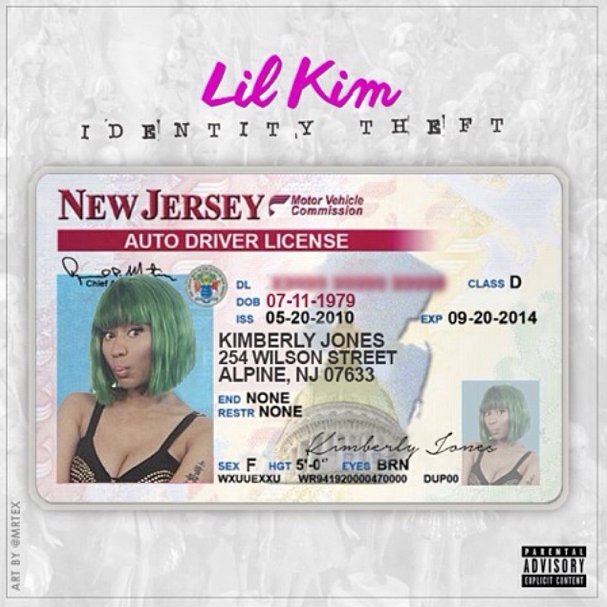 Lil Kim and Zoe Saldana have a few things they would like to put in your ear. Kimmy is coming for the self-proclaimed "Queen of Rap" Nicki Minaj on yet another diss track, while Zoe is offering up some sex advice in the newest issue of Cosmopolitan for Latinas. Get it all inside…
It's a case of identity theft. At least…that's what Lil Kim is claiming. The Queen Bee has released a new diss track (and shade-filled artwork) and it's aimed at her usual target…Nicki Minaj.
After firing shots at the "Anaconda" rapper and hopping on Beyonce's "***Flawless" track with her own remix, the Brooklyn raptress found some time in between nursing Royal Reign to hit up the studio. On her newly released track "Identity Theft," Kim is accusing Nicki of biting her style (haven't we heard this before?) and warns her enemies to steer clear because she's pissed and they don't want to feel her wrath.
She hopped on Twitter with a warning:
Be careful what U wish for... #HardCoreMixtapeUpNext #TheQueenIsBack #QueenBee http://t.co/HmWJgVA1HR

— Lil' Kim (@LilKim) August 6, 2014
And for the cover art, Kim puts Nicki's face on her New Jersey issued license. Ha!
She spits,
It's looking like I'm headed back behind bars again/cause b*tches wanna start with Kim and I ain't with the arguing/I'm jet chartering, fresh cardigan/getting my Martha in, while these broke hoes borrowing
She goes in on the second verse,
Since you insist on running your jibs off/After I drop these flowers for Big off/I'm gone come and blow yo lid off/ Like Adolf/Roll up the tints then peel off/Better wear your crosses and rosaries/read the Quran pray to Allah before you think about approaching me
Guess chick needs to build a buzz for her next project....

Take a listen:
And also catching people's ears today: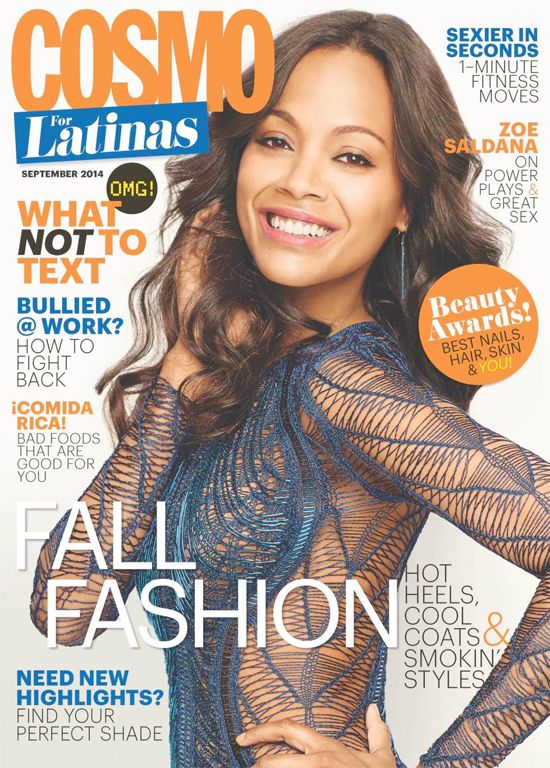 Guardians of the Galaxy & Avatar actress Zoe Saldana claims she likes to keep her personal life private. But she has no problem opening up when it comes to sex. Remember when she revealed the she once had sex was in between two dirty train cars?!
Shot by Alexi Hay, the mom-to-be dons a long-sleeve knit Julien MacDonald dress on the cover of the September 2014 issue of Cosmopolitan for Latinas – clearly shot pre-baby bump.
In the issue, Zoe gets candid on having a good sex life, offering up up a few tips to keep it HOT in the bedroom. She also dished on being a black Latina in Hollywood, challenges she faces being a woman in the industry and teaching her little one her native tongue…Spanish.
Here are the highlights:
On the most essential quality for a good sex life:
"To be uninhibited. I'm not talking about bringing in a third person or watching porn all night: That's what leads people to believe they are amazing in bed when they're the worst ever. Pornography is not sex education — it's the opposite! Don't allow insecurities to close you off. Be creative."

What is it like to be a black Latina when you're called for roles — are you compared to other actresses?
I'm sure I'm compared to everything behind closed doors. Now that I'm a producer — and I've been in the director's chair as well, for my Rosemary's Baby remake — I sympathize with what producers go through. We're in the business of making movies, and sometimes you have to make political decisions that get in the way of the art.

To what extent do you fight to tell Latina stories?
First, I want to tell good stories. After that, I want to see an accurate depiction of Americans. When I'm sitting in the theater, I'm surrounded by people from all walks of life; we're not just Caucasian. And when art doesn't imitate life, there's an imbalance.

What's the challenge of being a woman in Hollywood?
Throughout history, for every five doors that have opened for a man, only one has opened for a woman. So the moment another woman comes along — especially a younger one — she gets picked on instead of embraced. I'm 35, and I don't want to be afraid of the 22-year-olds. I'm actually in a better place than they are.

On whether her children with husband Marco Perego will learn to speak Spanish:
"Of course [our children] will speak the languages that we speak; my sisters and I grew up learning French and speaking English and Spanish, and because of that, we're able to understand Italian and Portuguese. But I'm going to have to make a conscious effort to speak Spanish to my children, because I speak Spanglish."
Well alright.
Peep her gorgeous spread below: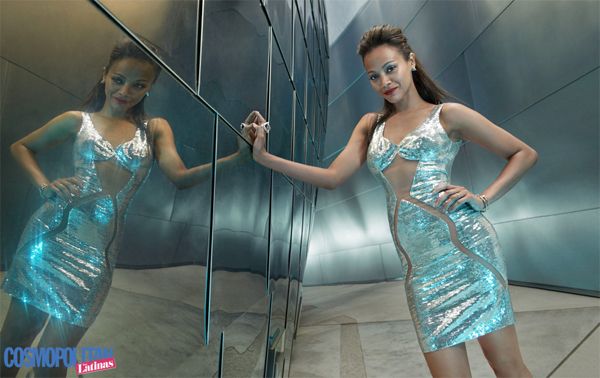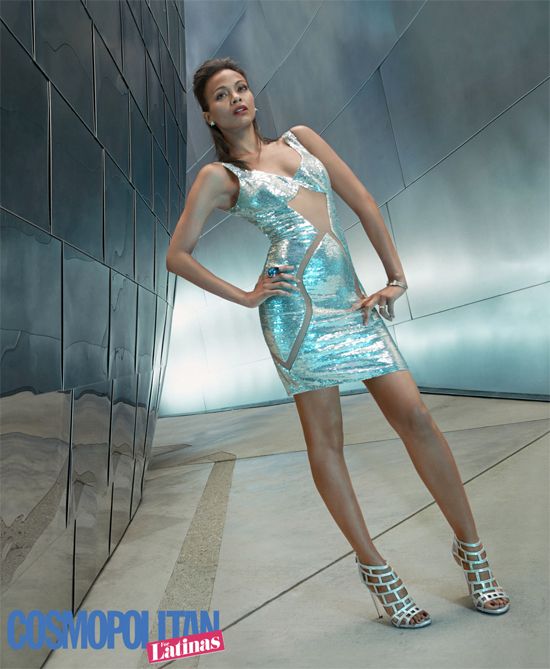 Work! Check out the starlet's full interview here. And you can pick up a copy of Zoe's issue on newsstands August 12th.
Photos: Alexei Hay/Cosmopolitan for Latinas/Lil Kim's IG