DISBANDED: Danity Kane Is DONE...Again! Aubrey O'Day & Shannon Bex BLAME Dawn For Their Demise
Aug 08 | by _YBF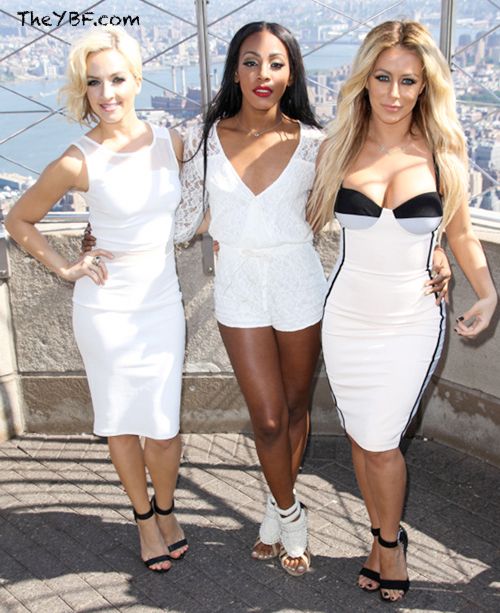 Danity Kane is done! And band mates Aubrey O'Day and Shannon Bex they are pointing fingers at Dawn Richard for their downfall. Deets inside….
Well…who didn't see this coming? There's really no coming back from your groupmate socking you in the head with her fist....
After reports that there was a physical fight between bandmates Aubrey O'Day and Dawn Richard in a L.A. studio, it's now confirmed that the group is done! They were currently on the comeback tip as a trio, doing shows to promote their new summer track, "Lemonade." But this isn't the first time the group has called it quits. Remember when Diddy kicked D. Woods and Aubrey out of the group in 2008? And we told you about Dawn quitting the group back in 2009.
In an open letter to their fans, Aubrey and Shannon confirm that the trio is over. And according to the girls, it's all Dawn's fault. Ms. O'Day confirmed that Dawn attacked her during a group meeting, punching her in the back of her head, without being provoked. She went into detail about the fight, watching Dawn's behavior change over the years, and why she won't deal with abuse.
Aubrey candidly wrote,
As you may know, there has been much speculation on the state of Danity Kane after a recent incident. In order to clear up any confusion, Shannon and I write to you today with nothing but pure intentions. Over the course of the past few days, we have heard countless recommendations on how we can "spin" this story or "make it go away," as seems to be typical in our industry. We have never been — nor will we ever be — those types of women. This decision to stand by our principles may affect our future. Our pocketbooks. Our careers. And the list goes on and on. But, there is one thing it won't affect —namely, your trust and faith in us. We owe you — our loving fans — the unfiltered truth.

During a recent group meeting, a business conversation took a turn for the worst when my group member punched me in the back of my head while I was speaking to another associate. To be clear, she was not physically engaged or threatened prior to her attack on me. This is the same information I provided to the police, and witnesses also corroborated this account of the incident. I cannot condone or excuse any form of physical violence, particularly at the hands of someone I considered family. Disagreements happen. But a war of words and ideas should never end in physical aggression.

It breaks my heart that this violence is followed by no sign of remorse. For the past year, I watched small lies turn into bigger lies. Those bigger lies turned into verbal abuse. Now the verbal abuse has deteriorated into a physical assault. I put what I knew was right second to what I knew I could handle for the sake of the big-picture success this incredibly talented group of women could have achieved together. It was my goal to prove that with enough understanding the issues behind the scenes could be resolved, and we could continue to create content for one of the most inspiring fan bases I have ever witnessed. I realize now that in order to achieve that reality all three girls would have to want that. And, unfortunately, only two of us put our solo ambitions and lives to a halt and consistently put the team first.

An ethical and moral line has been crossed. As someone who experienced abuse in the past, I promised to never grow up putting my hands on people or ever condoning such behavior in others. It is a promise near and dear to my heart. If you have experienced it before, you already know it is not something one should compromise. Over the past year of constant engagement, I tried tirelessly to sympathize with behavior I could not understand. But, I watched her behavior get darker and darker. And, I fear it will only get worse. This most recent occurrence is not just incredibly embarrassing for the members of Danity Kane. More importantly, it spits on the hard work of all those who have supported us along this journey. Sadness does not even remotely begin to describe what I feel right now. Ultimately, as a woman who has spent her entire career standing up for the underdog and right over wrong, I can no longer pretend that she is willing to do what it takes to protect the power of the Danity Kane name.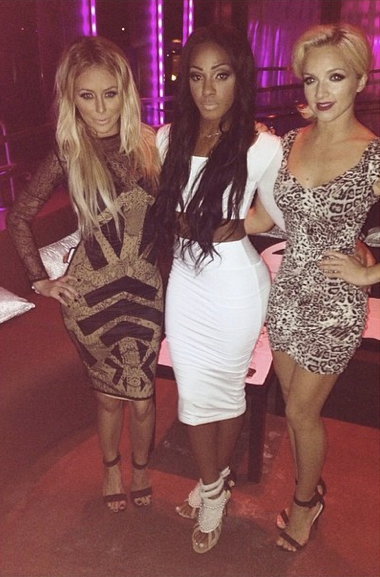 Shortly after the alleged attack, it seemed as though they were able to pan everything out between them. A video surfaced of Aubrey and Shannon wishing Dawn a Happy Birthday. After reading Aubrey's letter, it's possible the video was made to "make it go away"...or even before the brawl.
Shannon wrote a piece as well explainging her sadness over the split. She said,
My heart is heavy. It is all I can do to pull myself out of bed to face this task. But, I know it must be done. There are many people besides myself that this impacts. Bottom line, it is not fair! I am not asking that you validate it being so. I am writing because you— the fans and our loved ones — deserve an honest and transparent explanation. My desire is to genuinely apologize to everyone who has poured their time, heart and energy into us. So many lives have been affected by this chain of events.
Shannon then speaks on the "fight" and calls out Dawn:
As for the actions that have brought us to this broken ending, I cannot speak for anyone or explain their internal struggles that prompted this heartbreaking sequence of events. All I know is what I have seen. I did not witness a shouting match, a cat fight or a brawl. I witnessed a single direct punch. In reflecting on this situation, I recalled a journal entry I wrote back in April. Initially, I struggled with sharing something so transparent and personal with all of you. However, my desire to be honest with you trumps all other considerations. As you can tell, I have been avoiding saying names. However, this was my personal reaction to escalating events that led up to my overall frustrations with Dawn….months ago.
Read the full letters here.
Sighs...
The girl group went from five members to four after D. Woods chucked the deuces, and then down to three when Aundrea went on about her life as a wife and mother.
Guess the altercation was the final straw...
Photo: Pacific Coast News/Shannon's IG