CeeLo Green's Reality Show CANCELLED After "Rape" Tweets Spark Outrage + Jeezy COVERS The "2014 Power 30/SOURCE360 Issue + T.I. DISSES Floyd Mayweather On "Am I Wrong" (REMIX)
Sep 02 | by _YBF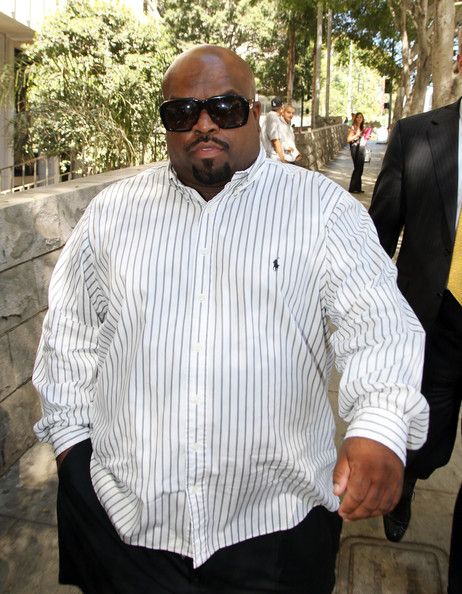 CeeLo Green's controversial views on rape (via Twitter) led to the cancellation of his reality show earlier today! Get the deets inside and see Jeezy shares his thoughts on the police involvement in Ferguson listen to T.I. diss Floyd Mayweather on the "Am I Wrong" (REMIX)...
HUGE developments in the world of CeeLo Green. You'll recall that the former coach on "The Voice" was accused of sexual assault a few months ago after a female acquaitance claimed he slipped her an ecstasy pill in 2012.
On August 29th, the "F*ck U" singer pleaded no contest to one felony count of furnishing ecstasy to the woman and was sentenced to serve probation and community service - but that's when his REAL problems began.
Maybe he was feeling himself, but the last thing CeeLo should have done was got on Twitter. Shortly after the court verdict, instead of counting his blessings, CeeLo got on Twitter and posted some views on "rape" that PISSED off a lot of people. The tweets have been deleted (of course) but he posted: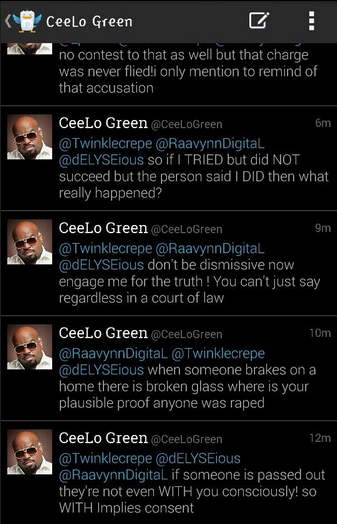 And this will REALLY make you gag: "People who have really been raped REMEMBER!!!"
NEGATIVE react was swift and went all the way up the chain of command at TBS which "was" the home of his reality show "CeeLo Green's The Good Life." After the backlash on social media, the network chose to CANCEL the show.
Sigh......
In other music news....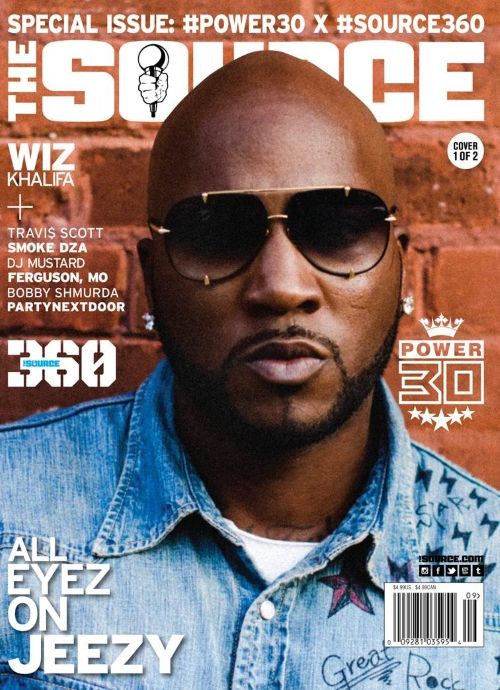 Atlanta native Jeezy finds himself on the cover of the sought after 2014 Power 30/SOURCE360 issue this year. The rapper, who's currently on tour with Wiz Khalifa, was recently arrested for gun possession, but now that he's bonded out of jail - he's ready to hit the airwaves again.
During the interview, he reveals why this has been one of the most important years of his career, talks about cops and Ferguson, MO ("They did all the wrong things") and even says he auditioned to be Tupac in the "Holler If You Hear Me" musical (I came to New York, auditioned and everything. Ol' man was going to be on Broadway). The 2014 Power 30/SOURCE360 issue hits newsstands soon, in the meantime, here are the highlights:
On being a gangster rapper in 2014:
I think me and people like me that answered the call, and were appointed by the people to be their spokesperson have to walk a separate line because, you might like my music, but I think you probably love me more for what I stand for and what my morals are. So I think that's what makes me special, and different from a lot of artists, because you know we got some people where their whole career is off pure talent. They're very talented but they don't have any morals, or the ability to go sit outside and watch something, and then be able to go talk about it in a rhyme form and make you believe it. Everything is so internet based now, you don't even know what to believe anymore.
On Ferguson:
I just feel like, when things like this happen, you have to build trust within the community. They did all the wrong things. Instead of going there and trying to resolve the situation, they went in there with tasers, riot guns and riot forces, and you can't come to my neighborhood and not expect us to stand up for what we believe in. You know, that type of sh*t happens in Iraq, that doesn't happen in Ferguson.
On auditioning to be Tupac on Broadway:
Jeezy was almost Tupac. No, he didn't go to the tattoo parlor and stop just short of getting "Thug Life" tattooed across his stomach, but when it came to cast the Tupac character in the short-lived Tupac musical, "Holler If You Hear Me", Jeezy read for the part and earnestly competed to land it.I came to New York, auditioned and everything. Ol' man was going to be on Broadway, man [laughs].
New diss records....
T.I. is still up in his feelings about the Floyd Mayweather drama (you'll recall they had a run-in in Las Vegas after Floyd made some comments about Tiny) and now he's put his feelings on record. On "Am I Wrong". Tip remixes the Nico and Vinz hit and throws a few shots at Floyd along the way. But he doesn't stop there, he has a few bars about Tiny and infidelity as well.
On Floyd....
Don't care what you do for a living, run up on you
Look up to my eye right now
Recognize I'm a man that'd die right now
On rumors about Tiny AND Floyd
Sucker, if I got a woman and you touch her
She supposed to stay with you if you a bad mother fucker
She come back to me, as far as I can see
You all she really needed to see what she really need (I know)
Look at me and see what you will never be
EXTRAS:
1. Nick Cannon will release a children's book in 2015, Neon Aliens Ate My Homework and Other Poems. Story.
Photos via Getty/The Source