READY TO RUMBLE: Miss Jackson FILES Lawsuit Against Floyd Mayweather, ALLEGES Battery, Assault, Harassment & More + Sherri Shepherd's Ex Lamar Sally REJECTS $100K Divorce Settlement
Sep 04 | by _YBF
Floyd Mayweather's ex-fiancee Shantell Jackson is ready to fight...in court. Get the deets on why she's suing the champ inside and why Lamar Sally rejected Sherri Shepherd $100K lawsuit.
Shantel Jackson, Floyd Mayweather's ex-fiancee, (and current boo of Nelly) held a press conference today (alongside her lawyer Gloria Allred) where she accused Floyd of getting physical with her on several occasions and even pulling a gun on her. And don't forget the time her posted her ultrasound and accused her of killing their babies!
She began the press conference with this statement -
"There was a point in my relationship with Floyd that I thought we would be together forever. I loved him so much and I made sure that I took care of him the best I knew how.

I tried my best to make our relationship work by compromising and going to relationship counseling, but I finally realized that there was no hope and our relationship could not continue.

I loved Floyd deeply but he continued to disappoint and intentionally hurt me. I have been embarrassed and humiliated more than I can ever imagine by Floyd whom I once called my best friend and fiancé.

I have tried everything that I could and I have given Floyd every opportunity to do the right thing. Unfortunately, he has refused every opportunity to make things right. It is with a heavy heart that I finally realized that the only way to set the record straight to achieve justice for what he has done to me is through the filing of this lawsuit."
Among the claims her lawsuit:
-"He twisted [her] arm, choked her and forcibly took her phone away from her to look through it."
-In April 2013, he "bent her arm, restrained her, and pointed a gun at her foot, asking 'Which toe do you want me to shoot?'"
-He demanded her to remove her 17 carat diamond engagement ring at gunpoint.
-He invaded her privacy, posting photos of her sonogram on social media — and claimed the "real" reason they broke up is because she "killed out twin babies."
She's suing for assault, battery, defamation, invasion of privacy, intentional infliction of emotional distress, harassment and more.
In other legal shockers.....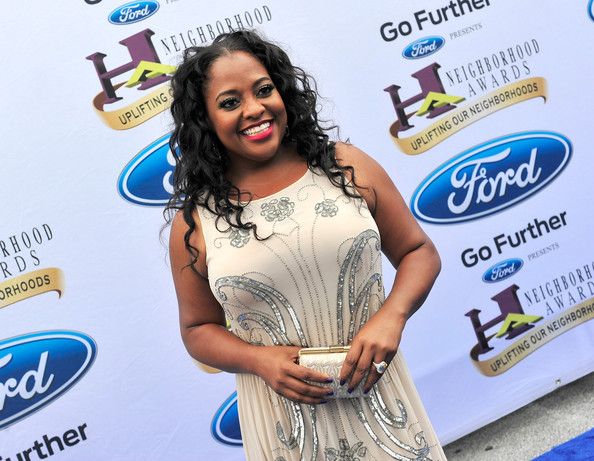 Funnywoman Sherri Shepherd's ex Lamar Sally just reject her $100K divorce settlement offer - and it's no laughing matter! You'll recall that the couple had a NASTY split a few months ago, right around the time we learned they had a baby on the way (via surrogate).
Fast forward to now, Lamar has rejected the divorce settlement ($100,000 lump sum payout) and $3,000 in monthly child support for HIS baby boy. that Sherri has offered him. According to Radar Online, Lamar is contesting the couple's "ironclad prenup" AND said he wants $10,000 a month in child support! Hmmm.....this is going to get even messier. A source close to the situation says the divorce will likely go to trial.
Photo via Getty