Tina Knowles OPENS Up About Life After Divorce From Mathew, Dishes On Fighting Low Self Esteem...And Her New Relationship With Richard Lawson
Oct 06 | by _YBF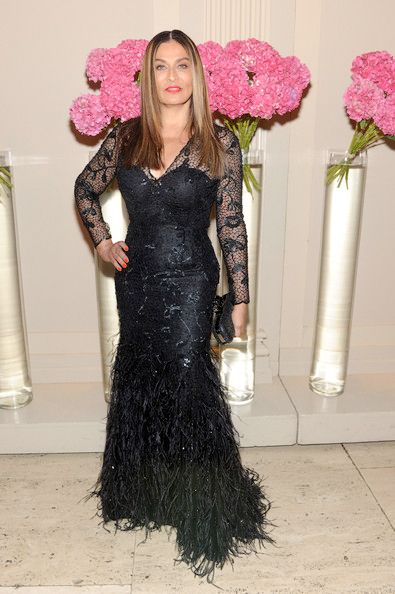 Well, here's a shocker. Tina Knowles is opening up about her life after divorcing her husband of 33-years Mathew Knowles. Find out what she said about their separation and her new relationship with beau Richard Lawson inside….
The normally very private Tina Knowles was tapped as the keynote speaker for the Texas Women's Empowerment Foundation 8th annual Women & Money Leadership luncheon last week. And during her speech, Beyonce & Solange's mother offered up some inspiration through her revealing testimony, chronicling major events in her life. Tina walked down memory lane as she shared her struggle growing up poor, to becoming a businesswoman and then having to divorce her husband, Mathew Knowles, of 33-years.
She opened up talking about being the youngest of five children growing up in Galveston, TX. She and her siblings attended Catholic school, but since they were poor, her parents had to barter services to cover the costs. She said,
"I became a warrior at 5. I refused to let them take my spirit. I decided I would never let anyone decide who I was."
She then went on to talk about how she moved to California as a make-up artist to get out of Galveston and then ended up marrying Mathew Knowles. Her parents became really ill so Mathew allowed Tina to stay home so she could take care of her parents, soon after she became pregnant with Beyonce. She said that's when problems first started in her marriage. She was out of work for four years and started suffering from low self-esteem. Soon after, she got back on her feet, opening her very own hair salon.
She then got candid on divorcing her husband Mathew Knowles (who recently found out he's the father to his 2nd child outside of his marriage) at the age of 58. And how it was hard to believe saying,
"At 58, I knew I had to get a divorce. At that age, it's an almost impossible thing to go through. I had been married 33 years. I had been married for 33 years. I didn't know anything else."
She talked about how she lost herself and had to take time for herself to have her "selfish moment". She needed that time to start focusing on herself and regain her confidence. She said, "I started being important again. I started being important, not everybody else."
She laughed about re-entering the dating scene. She had no clue how to date being that she was married for so long. She said a friend of hers hooked her up on her first date but unfortunately, he wasn't the one. She then takes blow when she finds out her ex-husband is re-marrying. She said,
"I hear that hat my ex-husband is getting married. Now, this is my family. My ex-husband is my family. I don't want to get back into that at all, that's not what I want. But it still hurts a little bit, right? It's still a blow to your ego."
But now, she's in a happy relationship in which she credits it being one of the happiest times of her life in a long time. She revealed she and Richard Lawson (above) had known each other for years before they began dating. She turned to him after she found out Mathew was getting married and he offered to be there for her through, which she felt was a trying time. He made good on his word and they have been going strong ever since. She gushed,
"It's been now a year and five months and I'm in a committed relationship with that handsome man! And I'm in my happiest I've been in a long, long time."
Good for her.

Check her full speech below:
Thoughts?
Photos: Getty