SPORTS BITS: Michael Sam NABS Spot On GQ's 2014 Men Of The Year List + NEW Deets On Dwight Howard's Child Abuse Investigation + Kevin Hart CLOWNS Jameis Winston
Nov 17 | by _YBF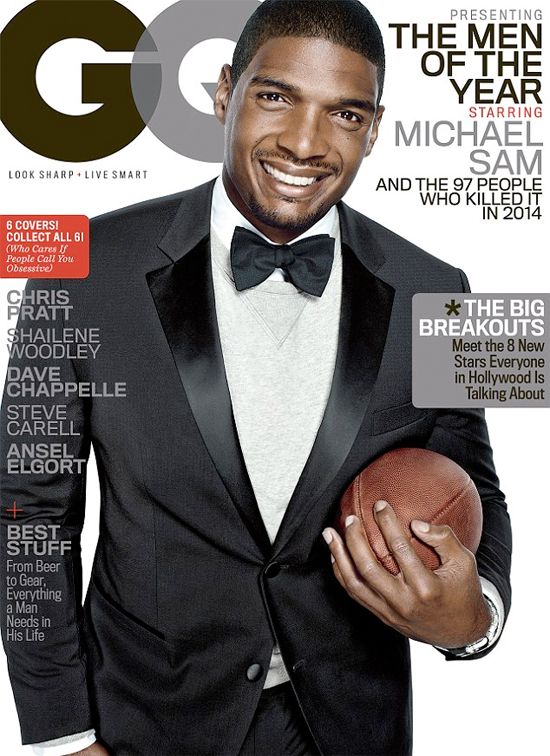 Openly gay NFL free agent Michael Sam is gracing the cover of GQ's Men Of The Year Issue. Also, new details have emerged surrounding Dwight Howard's child abuse allegations and Kevin Hart clowns college football player Jameis Winston when you go inside…
Michael Sam made history and caught all of our attention this year after becoming the first openly gay pro-football player to be drafted into the NFL. And although he's currently a free agent, the former University of Missouri All-American baller is making some big moves...off the field.
The 24-year-old defensive end nabbed a spot on GQ magazine's 2014 Men of the Year list. Michael's cover is included in the six GQ covers released for its annual list of celebrities who set the tone in 2014.
The NFL draftee is super excited over his big feat and took to Twitter to share his excitement saying, "A big thank you to @GQMagazine for including me among their #GQMOTY - I'm beyond honored to share their company!!"
Mike was drafted by the St. Louis Rams during the 2014 NFL draft in August. The Rams dropped him during preseason and he was quickly picked up by the Dallas Cowboys. Unfortunately for him, he never made it to a real game after he was axed from the Cowboys practice squad in October.
So what's next for the football player? Well, he could get recruited into the Arena Football League. We hear Las Vegas Outlaws owner Vince Neil (Motley Crue lead singer) is interested in Michael playing on his team. No word if Michael will play, but good news for him nonetheless.

Joining Michael on the list...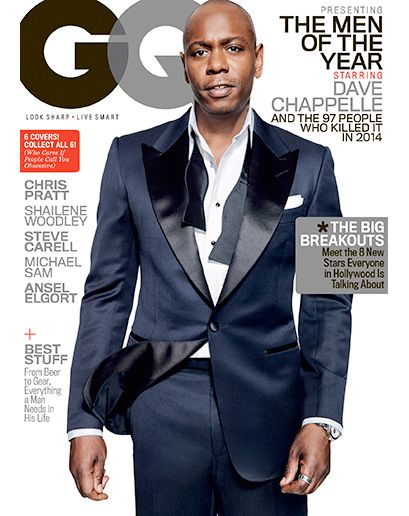 Comedian Dave Chappelle also nabbed a GQ cover. Nice! Sam and Dave's interviews will be released later this week.
In other news.....
New details have emerged regarding NBA baller Dwight Howard being investigated for allegedly abusing his son Braylon, whom he shares with former reality star Royce Reed. Dwight has since been cleared on the allegations but now, the doctor who examined his son after the alleged abuse is speaking out. And he's confirming Braylon's injuries conclude he was hit with a belt with "excessive force".
A little backstory…Former "BBW" star Royce Reed took her 6-year-old son Braylon to Children's Services in Florida when he came home with bruises on his leg after spending time with his father. Reports allege Dwight beat Braylon with a belt leaving the abrasions. And during an interview with police, Dwight confessed to whipping Braylon, but confirmed he did NOT leave any bumps or bruises.
It was reported the case was closed by Children's Services and no charges were filed, but if you ask Royce...she's singing a different tune. She claims the case is NOT closed and it's still open because Dwight refuses to speak to the police.
Now..the doctor who examined Braylon is speaking out on the child's injuries. TMZ Sports got their hands on the documents from the Dept. of Children and Families (DCF), which gives a synopsis of the doctor's findings. TMZ Sports reports:
"Dr. Kesler noted Braylon to have a linear bruise and patterned abrasions consistent with the history given by Braylon of being struck with a belt numerous times by his father."

The report goes on to say the injuries were "consistent with Braylon being struck with the buckle end of the belt ... with excessive force, resulting in soft tissue injuries such as bruising and abrasions."

And the report indicates Dr. Kesler found the injuries lasted longer than 24 hours and were "consistent with a medical diagnosis of physical abuse."

And the doctor recommended that Howard participate in parenting classes and use methods other than corporal punishment to discipline his son.

DCF concluded the child abuse allegations were "not substantiated," but in Florida that means there is "credible evidence" of child abuse, but not enough to warrant action. What's curious is why the doctor's findings weren't enough.
Dwight's rep issued a statement regarding the incident saying, "The Florida Dept. of Children and Families thoroughly examined all of the evidence and determined that there was insufficient evidence of child abuse."
In an earlier statement, Dwight's rep claimed his client filed legal documents that accuse Royce of being an unfit mother.
Sighs...these two STAY at it.
And for today's laugh-of-the-day....
After a show in Tallahassee, funnyman Kevin Hart stopped by Florida State University to chop it up and horse around with the Seminoles players. And when Kevin met up with star quarterback Jameis Winston, an epic roast session ensued.
Remember when the Heisman Trophy winner walked out of a grocery store with crab legs he did NOT pay for? Yea…well y'all know Kevin had plenty to say about that (and probably could have said plenty more if the clip was longer than 15 seconds).
The Ride Along 2 star clowned the college QB for "mistakenly" walking out of the store with the stolen goods and told him to stop doing "dumb sh*t". Kevin said it in a joking matter, but we so agree with him. Check the mini-clown session above.

Photos/Video: GQ/Dwight's IG/@juanhustle