MAGAZINES: Chris Rock Covers NEW YORK, OPENS Up About Bill Cosby And Police Brutality + Jill Scott DEFENDS Cosby On Twitter
Dec 01 | by _YBF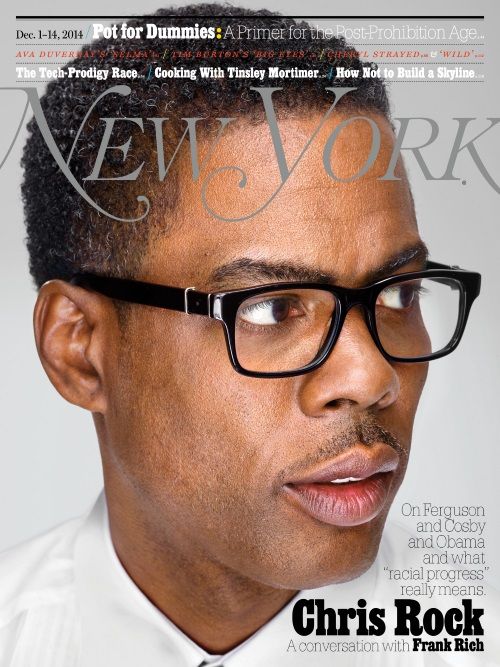 Chris Rock covers the latest issue of New York where he dishes on the film Top Five and the Bill Cosby-scandal. See the highlights inside and watch Jill Scott defend Cosby on Twitter.
Chris Rock may be on the verge of a huge career spike. While he's already considered one of the funniest men alive, his box office success hasn't necessarily matched his comedy prowess. But that could all change with the release of the film Top Five (December 5th), which has garnered great reviews from critics. And did we mention that he wrote AND directed it?
In New York Magazine, the comedian posed for the cover and sat for an interview that covered Ferguson, President Obama, the deaths of Joan Rivers and Robin Williams and of course...Bill Cosby.
When it comes to Cosby, Chris won't say exactly where he stands on guilt or innocence, but he admits, "I hope it's not true. That's all you can say. I really do." Here are the highlights:
On Bill Cosby:
"I don't know what to say. What do you say? I hope it's not true. That's all you can say. I really do. I grew up on Cosby. I love Cosby, and I just hope it's not true. It's a weird year for comedy. We lost Robin, we lost Joan, and we kind of lost Cosby."

On Barack Obama:
"Kind of cool. I always say, cooler than most politicians, not as cool as actual cool people. He's not cool like Jay Z's cool. He's not Eddie Murphy. But in a world of politicians …"

On income inequality:
"If poor people knew how rich rich people are, there would be riots in the streets. If the average person could see the Virgin Airlines first-class lounge, they'd go, "What? What? This is food, and it's free, and they … what? Massage? Are you kidding me?"

On being black and rich:
"I don't think I've had any meetings with black film execs. Maybe one. It is what it is. As I told Bill Murray, Lost in Translation is a black movie: That's what it feels like to be black and rich."

On Chris Christie and "bridge-gate:"
"You just want to choke somebody. If you live near the bridge, you know you're going to have like seven bad days a year. But you hate to think one of them is on purpose."

On looking for subjects for his comedy:
"You look for the recurring. What's not going away? Boy, this police-brutality thing—it seems to be lingering. What's going to happen here? You don't even have the joke, you just say, 'Okay, what's the new angle that makes me not sound like a preacher?' Forget being a comedian, just act like a reporter. What's the question that hasn't been asked? How come white kids don't get shot? Have you ever watched television and seen some white kid get shot by accident?"

On Joan Rivers:
"Who the hell's funnier than Joan Rivers? … The compliment you give of a comedian is: Who wants to follow them onstage? Nobody wanted to follow Joan Rivers, ever. Even in her 80s, nobody wanted to follow her."

On Robin Williams, and comedians killing themselves:
"I mean, we always say ignorance is bliss. Well, if so, what's the opposite? Some form of misery. Being a comedian, 80 percent of the job is just you notice shit, which is a trait of schizophrenics too. You notice things people don't notice."

On why he stopped playing colleges:
"…they're way too conservative. … Not in their political views—not like they're voting Republican—but in their social views and their willingness not to offend anybody.

On comedians censoring themselves in the age of social media:
"…the thing about comedians is that you're the only ones who practice in front of a crowd. Prince doesn't run a demo on the radio. But in stand-up, the demo gets out. There are a few guys good enough to write a perfect act and get onstage, but everybody else workshops it and workshops it, and it can get real messy. It can get downright offensive. Before everyone had a recording device and was wired like fucking Sammy the Bull, you'd say something that went too far, and you'd go, 'Oh, I went too far,' and you would just brush it off. But if you think you don't have room to make mistakes, it's going to lead to safer, gooier stand-up. You can't think the thoughts you want to think if you think you're being watched."

How comedians know when they've gone too far:
"An audience that's not laughing is the biggest indictment that something's too far. No comedian's ever done a joke that bombs all the time and kept doing it. Nobody in the history of stand-up. Not one guy."

On comedy being harder than drama:
"Hey, man, I loved Gone Girl. Loved it. But you could probably get other directors—I'm not saying they'd make it as good as Fincher, but you could get it from beginning to end and get a reaction out of it, where you can't really do that with comedy."

On comedy's ruthless marketplace:
"It's the only thing that smacks Hollywood out of its inherent racism, sexism, anti-Semitism. It makes people hire people that they would never hire otherwise. Do they really want to do a show with Roseanne Barr? No, they want a thin blonde girl. … She's just funnier than everybody. I'm not even sure they wanted to do a Seinfeld show, but he's just funnier than everybody."
In other Cosby related news...
Jill Scott had stepped up to the plate to defend Bill Cosby amid the sexual allegations we've seen in the media. Earlier this year, Bill presented Jill with an honorary doctorate from Temple University (he recently resigned from the school's board of trustees) and she's been one of his few defenders on social media. Recently, she engaged in several back-and-forths on the subject.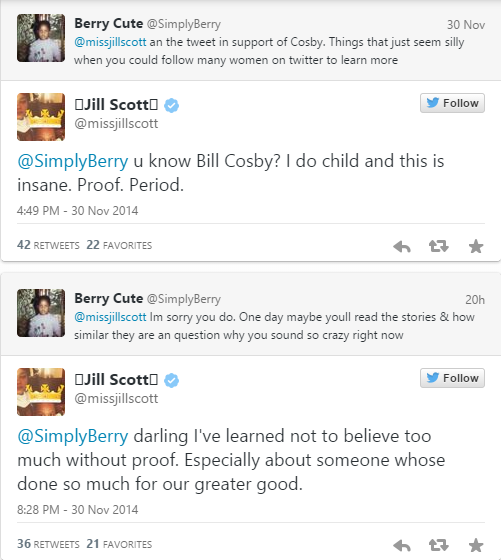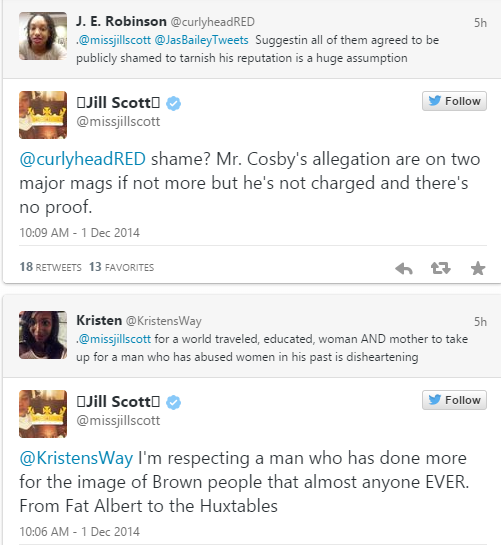 Do you agree with Jill?
Photos via Martin SchoellerNY Mag/Jill Scott