#BigPicturePolitics: Jay Z DISCUSSES Race & Criminal Justice With NY Gov. Cuomo + Nas REVEALS "Fresh Dressed" Documentary, Rocks "I Can't Breathe" Tee
Dec 11 | by _YBF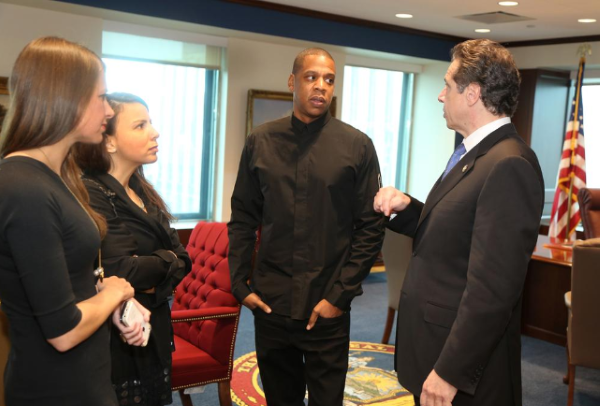 You MAY never see Jay Z in a "I Can't Breathe" t-shirt (by the way, he is one of the makers of said shirts), but it doesn't mean he isn't making a major impact. See Jay Z discussing criminal justice with the Governor of NY inside and get the deets on Nas' upcoming "Fresh Dressed" documentary.
On social media, you may have noticed a number of your friends or family members calling out certain high-profile celebs about their radio-silence with respect to Ferguson and the Eric Garner protests, but wait, just because YOU don't SEE it, doesn't mean things aren't happening.
The beauty of being Jay Z or Beyonce (see them meeting The Royals here) is that they can enter into rooms and spaces most of us can't, which opens them up to conversations most of us will never have. Check the pic above, released by the Governor's Communications Directpr. Yes, it's important to express outrage about Eric Garner on the streets of New York, but Jay Z can express his outrage to New York's Gov. Cuomo...and actually influence legislation that could be a major solution tot he problem. Get into it. It's about the big picture folks!
A newly published article details key contributions that Jay Z has made, very quietly, because he's doing it from a different standpoint - and not for publicity.
Jay Z is meeting Today with New York Gov. Mario Cuomo to urge him to appoint a special prosecutor in the choking death of Eric Garner.
Jay has paid and is still paying for the tuition of the children of NYPD shooting victim Sean Bell.
Quietly, Jay has given financially to people working on the ground in Ferguson.
Quietly, Jay has supported justice for those discriminated against in the trans community.
Jay has paid to send HUNDREDS of high school students, who, by the way, are very often on the margins of society and actually have to have a GPA of 2.7 or below, through college.
Shout out to Jay Z for being a part of the solution from angles that are often forgotten about. #BigPicturePolitics
In other political moves....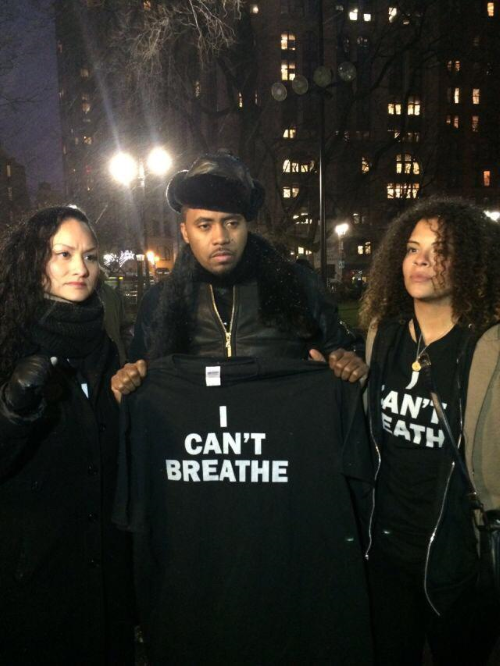 Nas was spotted taking part in the Eric Garner protests, posing with fans and rocking an "I Can't Breathe" t-shirt last night. The pic was tweeted out by hip hop mogul Russell Simmons who said, "Shout out to @Nas for coming out and supporting this movement. #ICantBreathe #EricGarner."
The streets of New York aren't the only places where Nas is making political moves. He'll soon be discussing the politics of fashion at the Sundance film festival with "Fresh Dressed," the history of Hip Hop fashion and culture. Nice!
Produced by Nas and directed by Sacha Jenkins, the doc presents a narrative that "begins with slavery and ends with what is being rocked today–and what the social implications attached to it all are." It will be great (and even necessary) to hear the politics of fashion from the viewpoit of a hip hop legend.

Fresh Dressed was produced by Mass Appeal in conjunction with CNN will be released in 2015 and air on CNN. We're so here for it.
By the way, Nas' documentary 'Time Is Illmatic' is set to air on Showtime on December 12th at 9p!
Photo via Melissa DeRosa Twitter/Russell Simmons Twitter