TV RUMBLINGS: 'R&B Divas ATL' Reportedly CANCELLED + VH1 BURIES "Sorority Sisters"
Jan 14 | by _YBF
There have been some major developments in the "reality" tv world with "R&B Divas Atlanta" getting the axe and VH1 shifting the final three episodes of "Sorority Sisters" to its dead zone....in an obvious move to kill the show. More inside...
Bad news for fans of TV One's hit series "R&B Divas Atlanta"...it's been cancelled! AlwaysAList.com revealed that TV One's new president, Brad Siegel made the rounds at the Television Critics Association in Los Angeles last week but did not present "R&B Divas Atlanta" as one of the returning series.
Then, it was revealed that cast members were told on Tuesday that the show would not be coming back.
So how does a show go from being the network's crown jewel to getting cancelled? Well.....a few factors include cast shakeups, the network wanting to slash the budget, and pending litigation from former executive producer Nicci Gilbert who filed a lawsuit about the network spin-off "Hollywood Divas." Messy.
Somewhere in Atlanta, LaTavia Roberson is singing "Bird flying high you know how I fell..."
In other tv developments...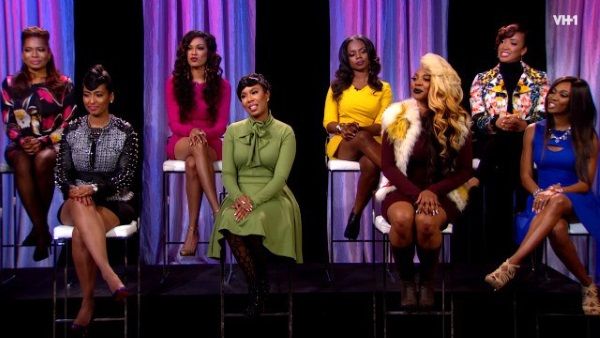 VH1 is set the air the final three episodes of "Sorority Sisters" this Friday evening. This is a big deal because "Sorority Sisters" literally "stepped" into the game on VH1's biggest night...Monday. And it aired following one of their most popular "Love And Hip Hop" franchises.
"Sorority Sisters" hasn't been officially cancelled (yet) but the network clearly feels like the show is on its last legs. It is HIGHLY unusual for a network to move several of its new episodes all to one night basically at midnight on a Friday. It's not a stretch to say the show will likely get the official cancellation soon. And it's all thanks to major social media backlash and the advertisers who backed out of the show.
The AJC reports that the next three episodes will air at the odd time of Friday night at 11pm back to back to back. Basically, a kill method networks use to off final episodes of a show they don't want to have anything to do with anymore.
In other bad news, two members of Alpha Kappa Alpha were suspended last week for more than two years over their participation on the show. Oh wells....
EXTRAS:
1. Rapper Flavor Flav indicted on charges stemming from a traffic stop while driving to his mother's funeral. Story.
Photos via VH1/TVOne