THIEF! Detectives On The Hunt For Lupita Nyong'o STOLEN $150,000 OSCAR DRESS!
Feb 26 | by Natasha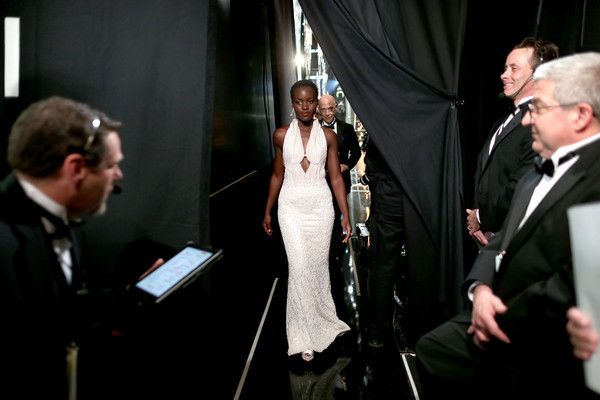 Awww hell! Somebody has stolen Lupita Nyongo's $150,000 Oscar dress! Deets inside...
A tragedy occurred at the London West Hollywood hotel in L.A. yesterday. Remember Lupita Nyong'o's breathtaking pearl-drenched dress handcrafted by Calvin Klein's Women's Creative Director Francisco Costa that she wore to the Academy Awards last weekend? Well, according to reports, someone jacked her for it!
TMZ reports:
...The dress was taken out of Lupita's room at The London West Hollywood. The dress is made of pearls ... 6,000 white Akoya pearls. It's valued at $150,000.

Our sources say Lupita told cops it was taken from her room sometime between 8 AM and 9 PM Wednesday ... while she was gone.

We're told there is security footage that cops are looking at that could catch the culprit right in the act.
That's a seriously bold move by the thief. Reports say Lupita couldn't file a police report immediately because the dress is not technically hers....it's only hers on loan. So why was she still in possession of it several days later? It's unclear. But we've also learned that detectives were on the hotel scene today in the manager's office watching surveillance and security footage in an effort to catch the thief.

Watch your back Lupita. And everyone who had access to your room. We'll keep you posted on the case of the missing Oscar dress....
Photos: Getty