Kobe & Vanessa Bryant And Friends Hit Premiere For Self-Made Bio "MUSE"
Feb 27 | by _YBF
Kobe Bryant and his wife Vanessa welcomed NBA friends and more to the London West Hollywood to watch the premiere of his visual biography MUSE. See red carpet pics inside and get the deets on his passion-project...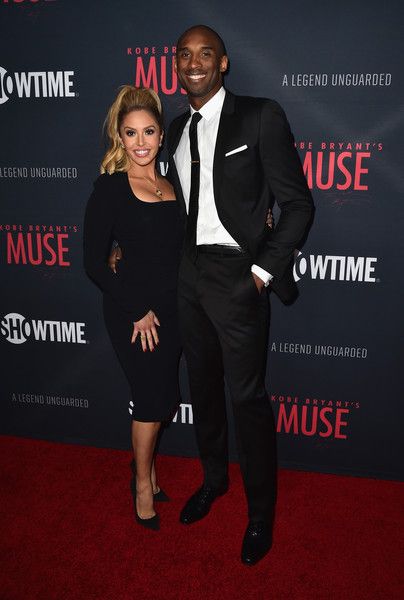 It was a red carpet affair at The London Hotel - West Hollywood last night as NBA legend/icon Kobe Bryant (shown above with wife Vanessa) premiered his film MUSE. (SIDEBAR- if The London Hotel sounds familiar, its the place where Lupita N'yongo's $150K pearl Oscar gown was stolen. We hope Vanessa kept an eye on her own ish!)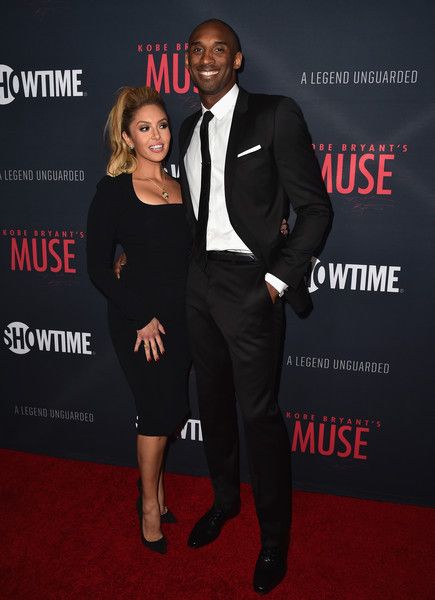 MUSE is story of Kobe Bryant. The who, what, where, why and how of his life. It's not simply a set of interviews or Wikipedia facts, Kobe completely dove into the making of the film (alongside director Gotham Chopra, son of Deepak Chopra).
When asked about the autobiographical documentary, and how he came up with the idea, Kobe told VARIETY,
"I'm just constantly curious. If you have an idea, and if you're obsessive about what you do, I want to know why.
There's a common thread between how John Williams composes a score, and how Ariana Huffington decided to build the Huffington Post. There are common threads, and I want to learn about those things."
Kobe Bryant has MUSES. And he's interested storytelling. This project seems to merge the two. It's his way of telling his story, something he's not typically known to do. He reveals how he built "KOBE Bryant" into the legend he has become. Showtime president David Nevins said it best, "Kobe Bryant's Muse" is not a sports documentary:
"This is not Bill Russell looking back on his career 25 years later. This is a man who's sort of at the height of his power, going really deep with self-examination. And that is rare."
Famously private, the documentary covers EVERYTHING, including that "incident" where he cheated on Vanessa. It's all here. Kobe tweeted,
We also spotted an open letter Kobe recently penned to his fans. Alongside MUSE, it shows the depth of his character and his forcefulness as a warrior. You'll walk about with a complete understanding of KOBE - the alpha warrior champion.
"Hunt or be hunted has always been my mentality. I don't hide the aggressiveness of competition behind All-Star parties, sponsored events, and the idea that the weekend game is a well deserved break.

The fans voted me in to watch me take on the world's best. That competition is what I love.

Whether my counterpart is ready or not, resting or not, or just feels like going through the motions, it has nothing to do with me. When I play, I compete, and if you're too busy acting cool for the fans or celebrities courtside then I will demolish you in front of them.

I want MVP. There's no shame in feeling that way. Why should there be? I want the world to see me dominate the players that are debated by millions of fans as being on my level. Competing with this spirit is fun to me and it kills me that I'm not able to participate this year. I am a spectator from home.

As a fan, I can only hope one player decides to take the game on the same way I do and raise its level from the opening tip. Being passive aggressive in this competition means you're fine with simply going with the flow and unwilling to disturb the calm waters of the game to accomplish your goals.

I see that as a weakness. It's our nature to compete. Throw the ball up and let's see who the alpha is.

Maybe I'm just old school. Maybe my line of thinking is that of a rotary phone. Maybe this smartphone generation enjoys sharing games of domination. Maybe they like taking turns. Maybe they enjoy competing passive aggressively.

Maybe I'm the one with the problem, maybe it is right to have multiple alphas, maybe I'm the weaker one, the selfish one. Maybe, just maybe …

Either way, I refuse to change what I am. A lion has to eat. Run with me or run from me."
Back to the red carpet....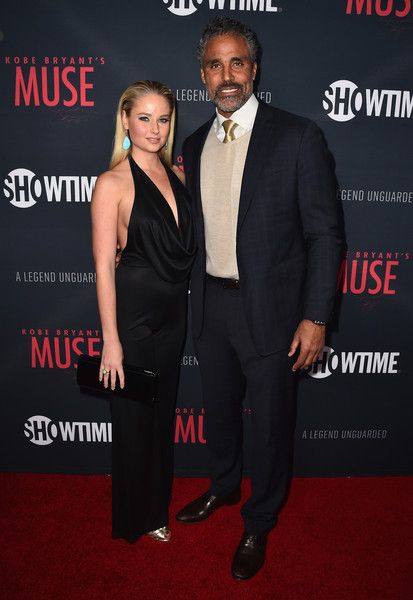 Kobe''s former LA Lakers teammate Rick Fox arrived with model Genevieve Morton.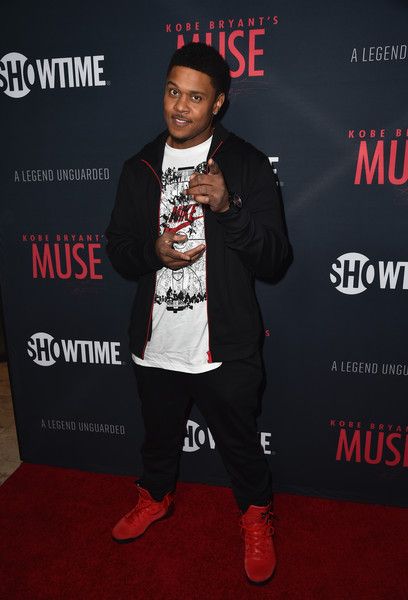 Actor Pooch Hall came out to support Kobe too. He's a fan and a friend.
Watch the MUSE trailer below:
Kobe Bryant's MUSE premieres on Showtime on Feb. 28 at 9 ET/8 C.
EXTRAS:
1. Empire's Jussie Smollett landed a record deal with Columbia! Story. Plus, listen to the full version of "You're So Beautiful"
Photos via Getty