ON THE 'GRAM: Laura Govan REVEALS She Had A Miscarriage + Estelle, Kelly Price & More Go To Selma + Remy Ma Throws Papoose A 'Harlem Nights' Themed Party
Mar 09 | by _YBF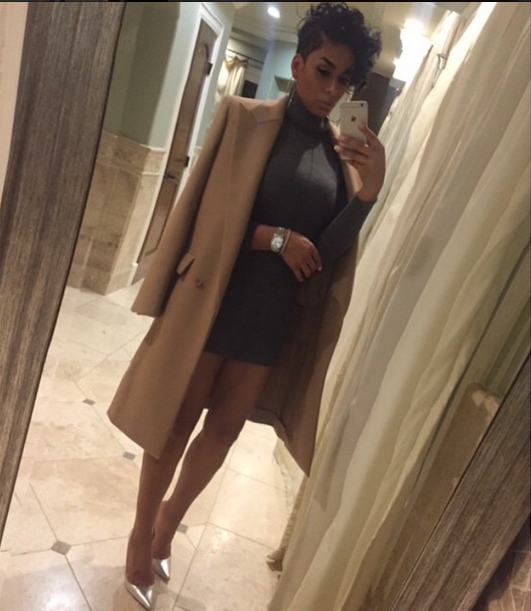 We've rounded up a few Instagram pics. Laura Govan reveals she had recently had a miscarriage. Meanwhile, Estelle, Kelly Price, Eric Benet, Flavor Flav, Bell Biv DeVoe and more attended the Selma 50th anniversary and Remy Ma threw her husband Papoose a birthday bash. Peep the IG pics inside….
This weekend was all about family for former "Basketball Wives L.A." star Laura Govan.
Apparently, Laura has been under the radar for the past few months. And now we know why. Unfortunately, she revealed she recently suffered a miscarriage. She was pregnant with her 5th baby and seemed excited about the new edition, only to be let down. She posted to her fans:
I wanted to share something with U guys and why I've been out of the loop, well #NRealLife for the past three months I've been sick, and extremely exhausted and about a month ago I found out that I was pregnant with my 5th baby, which I thought was impossible. Unfortunately, I had a miscarriage. When it happened I didn't want to talk about or deal with it, but now I'm ready to get my life back on track! I gained a good 15 pounds during this rough time in my life. I want you to rock with me as I take this journey of losing the weight and getting ME back .... because this is something REAL that happens every day to women like you and me and it's real easy to feel alone, confused and unsure about how to handle or deal with the struggle. Thank God for my REAL friends and family who allowed me to do me and take some time away to get back to focus. #inRealLife I'm so thankful for all your support .... Let's get it ... And Thank You for the LOVE

So to help keep her head in a good space, the mother of four took her babies on a helicopter ride this weekend: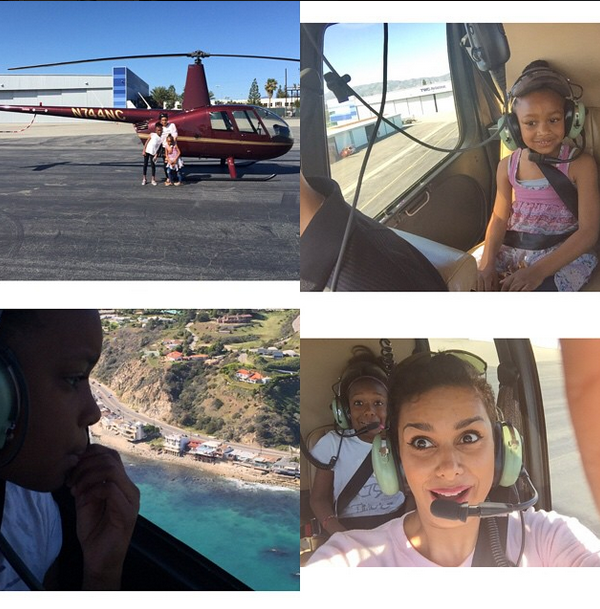 She captioned, "Every Day is A New Adventure In Our House ... So this Am Were All In the Bed and I asked My Babies what do they Want to Do!?! The Answer was Jump Out of A Plane! So OK!!!!! LetDo It! First Things First lets Fly in A Helicopter and see How U Do!?!?! So Ladies First UP UP And Away ..... #inRealLife #MyBabiesCanDoAnything 5/9YrOld"
Then it was the boys' turn: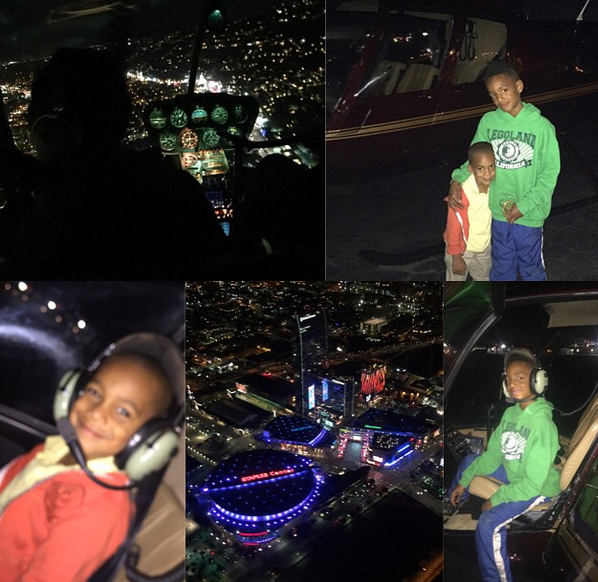 She said, "Boys Turn .... Alijah was Freaking Out! #UTheOneThatAskedToJumpOutthePlane #NightLights #inRealLife Helicopter Night Tour #ManILearnFromThemEveryDay #TheyInspireMe #BraveSouls #AlwaysLadiesFirstInMyHouse"
Nothing like family to get you through a rough patch. Glad she's doing well.
Elsewhere....
Over the weekend, we showed you the pictures of our beautiful First Family marching with others down in Selma, Alabama to commemorate the 50th anniversary of Bloody Sunday. And a few YBF celebs were in attendance as well.
R&B songstress Estelle linked up with singer/former "R&B Divas L.A." star Kelly Price, rapper Flavor Flav and Birmingham, Alabama mayor William A. Bell before the #Selma50 festivities.

The British songbird mingled with the people as they crossed the Edmund Pettus Bridge and snapped pics in front of the Selma welcome sign. She captioned, "Redefining what it means to cross this bridge. #selma50 #thebiggestselfieonaBridgeever"
"EXTRA" correspondent AJ Calloway linked up with his Omega Psi Phi fraternity brother John Salley for a photo-op.
R&B singer Eric Benet was in the mix rocking a Dr. Martin Luther King Jr. t-shirt.
R&B singing group Bell Biv DeVoe came out to support.
Gospel singer Bebe Winans and jazz saxophonist Dave Koz caught with each other during the event.
And legendary singer Bill Withers was also in attendance. Nice!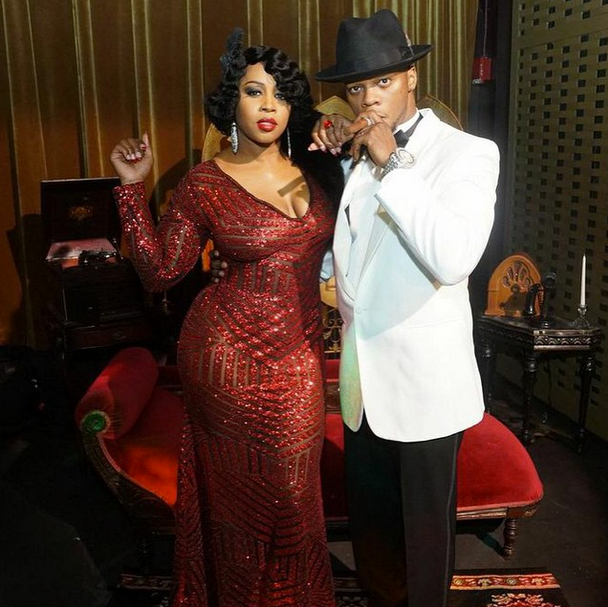 Rapper Papoose celebrated a birthday over the weekend. And his wife Remy Ma pulled out the red carpet via a Harlem Nights themed party. The Bronx raptress is serving in a red Alfredo Rijo gown!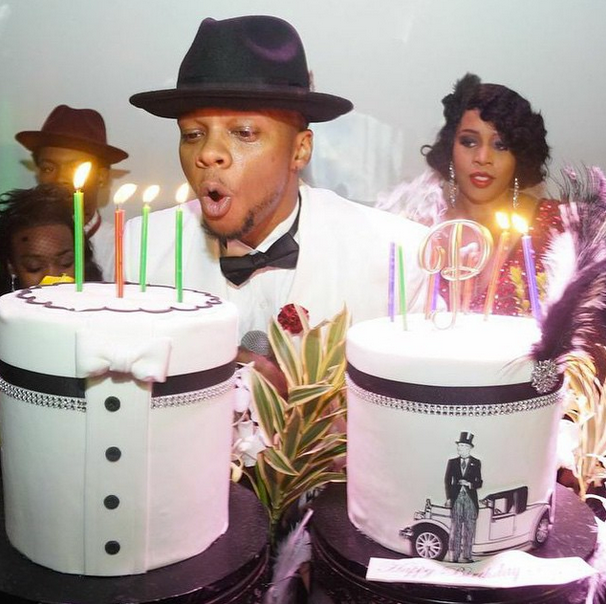 Remy captioned, "Me & Mr. "It's My Birthday" aka @papoosepapoose last night at his HARLEM NIGHT'S Themed Surprise party - do you know how hard it is to trick somebody who wears baseball caps & hoodies for a living into putting on an entire suit under the pretense that we're just going to "dinner" SMH #HeMadNosy #RemAndPap #RemyMa #ItsHisFavoriteMovie #HeThoughtHeWasQuickAllNight #ImSunshine lol " Too cute.

We love black love.
Peep the happy couple on the dance floor below:
Happy Birthday Papoose!
Speaking of birthdays...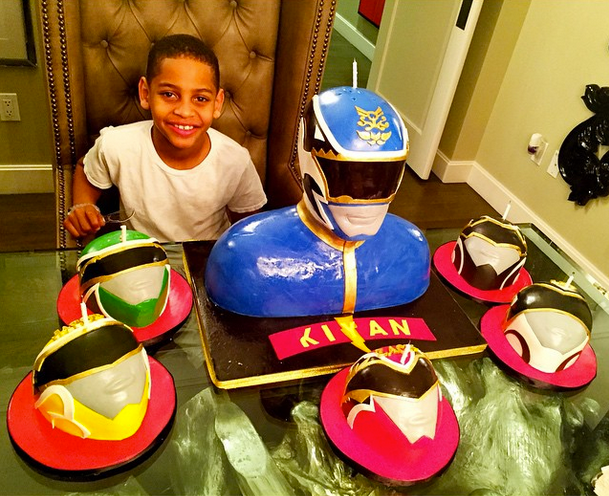 NY Knicks baller Carmelo Anthony and LaLa Anthony's son Kiyan celebrated his 8th birthday over the weekend. And the YBF kiddie was all smiles with his Power Rangers cake. Lala wrote a heartfelt birthday message to her baby boy saying, "Happy Birthday to my big boy Kiyan. 8 years old today! My love for you is a love that can never be explained. You light up Mommy & Daddy's lives. Happy Birthday to my bestfriend FOREVER #happybdayKiyan" Loves it.
Happy Birthday Kiyan!
R. Kelly's ex-wife/"Hollywood Exes" star Andrea Kelly is currently holding dance auditions in Atlanta. And she's showing off her dance skills. Check her out above.
She's also pulling inspiration from her ex-husband....
Andrea was working it out to Jennifer Hudson's track "It's Your World" featuring R.Kelly. Well alright.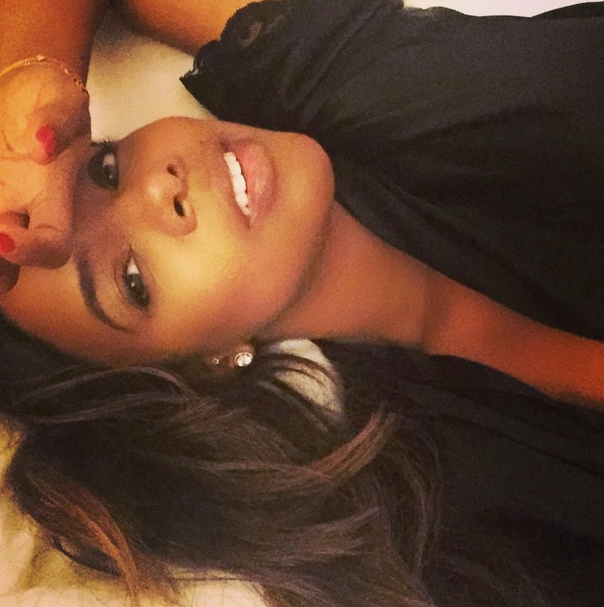 And last but not least, Kelly Rowland shared a gorgeous selfie before taking in for the night. Chick must be tired from all of the Paris Fashion Week shows she attended this weekend.
Photos: Laura's IG/Estelle's IG/DJ D-Nice's IG/Lala's IG/Kelly Rowland's IG/Remy's IG