Taraji P. Henson Talks Kerry Washington & "Scandal", "Cookie" Taking Over Her Life & Love Scenes With Terrance Howard
Mar 18 | by _YBF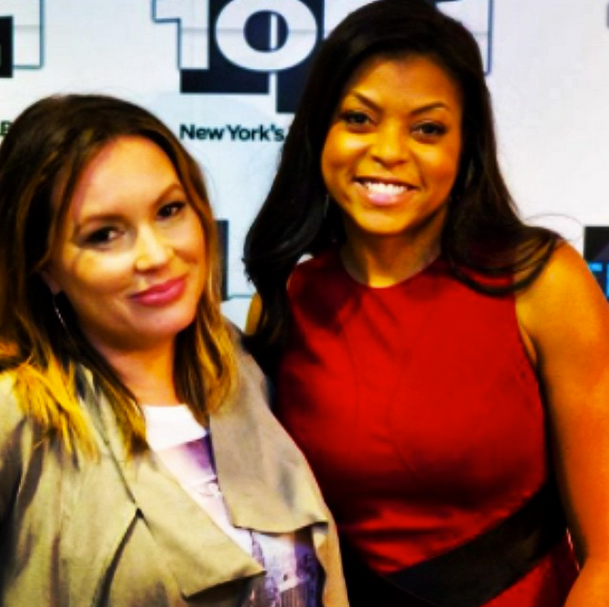 Taraji P. Henson is heavy on the promo circuit for "Empire's" season finale, airing tonight. While chopping it up with Power 105 host Angie Martinez, the YBF chick reveals she was in the running for the role of Olivia Pope on "Scandal," she talks about how her role as Cookie Lyon has taken over her life, what she thinks about using the n-word on the show, hand picking Derek Luke for his role and much more.
Get it all inside…..
The night we've all been waiting for. The season 1 two-hour finale of "Empire" airs on FOX tonight starting at 8pm. But before we see what goes down, lead star Taraji P. Henson sits down with Power 105's Angie Martinez for an insightful interview about her "new" found fame and dishes on a few other things we did not know.
The No Good Deed star reveals she was in the running for the role of Olivia Pope for ABC's hit drama series "Scandal". Who knew? But she said, once she came in to read for Shonda Rhimes, she knew the role belonged to Kerry Washington.
She also dishes on how "Cookie Lyon" has totally taken over life, to the point where she had to hire an assistant go do normal things like grocery shopping because she can longer go ANYWHERE without being noticed and ambushed by fans. The YBF chick also talked about sharing the spotlight with other black female actresses, hand picking sexy actor Derek Luke for the role of Malcolm (chick really has a talent for casting) on "Empire," her improvised "Cookie Cakes" scene, how she feels about using the n-word on the popular hip hopera and so much more.
Oh...and she also spills a little Baby Boy tea...and crushing on Tyrese!
Below are the highlights:

On "Cookie" taking over her life:
"Cookie has stolen my life. It's crazy cause I've been here. It goes to show all my hard work has paid off. I'm no longer Taraji no more, I'm Cookie. It's overwhelming, going to the store is not going to the store anymore. It's weird. I've always done my own grocery shopping. So, I've had to hire an assistant because it's just been non-stop since the show."

On reading for the role of Olivia Pope for "Scandal" and the fan created rivalry:

"When I went in to read for Shonda Rhimes, in my mind I was like 'This is Kerry Washington. Why am I even in here?' It was hers, it was her job and she's great in it." She said she and Kerry laugh at the memes people have created putting them against one another.

On sharing the spotlight with other black "it" women:
"For a long time we only knew Halle Berry. It's always just one 'it' girl. I don't understand that theory when I know for sure that there's enough work for all of us, which we're seeing now. Why should little brown girls have to pick one? Why can't they see women who represent all of how we look? And I think that's what we're seeing now. I don't want to share the spotlight alone."

On hand picking Derek Luke for the role of Malcolm (the bodyguard):
"They gave me a list and I said that one! Derek Luke is a good actor and he's easy on the eyes. I just thought it would great. We have this thing (in the black community) about light skin/dark skin. I said we going to have to mix this up a bit because if not, the people are going to be mad at us. I made a point, whoever the love interest is, he has to be chocolate. He has to be, or not so light."

On showing her butt on screen:
"You know that wasn't scripted. The Cookie in me had to get her back. Literally, when I did it the entire cast and crew gasped. And I said 'You better keep it!' It was about Cookie and Cookie getting back at Anika. I just did it and thank God it worked."

On using the n-word on "Empire":
"I don't think that's ever going to happen. I just don't think America is ready for that on prime-time network television. As an artist, playing these people true to life, that word would absolutely be tossed around if this was a movie. Now that we accomplished what we accomplished with this show, we don't really need it."

On what would have been a deal breaker for her on "Empire":
"I would have walked away if they didn't hire Terrence [Howard]. I told Lee 'I think this is a great script, but if you can get Terrence to play Lucious I'm all about it, if not, good luck with you project.' The reason why it had to be Terrance is because we have such a history. I've know Terrence for 10 years now. We hosted The Soul Train Awards two years in a row. We're always together…he's one of my coolest male friends in life. When you think of that love Lucious and Cookie have, you have to have that."

On doing love scenes with Terrence Howard:
"You have to keep them (the boys) professional. They can't help if they get aroused. Every time we laid there he kept talking to his little male member…no no before it grew up, before it expanded." She said Terrence would talk to his male member to make sure he wouldn't get aroused. So she said, "Let me help you, so every time he would get on top of me I would say 'Daddy why are you on top of me? Where is mommy? Why is the door closed? (in a baby voice) And it worked!"

On 50 Cent's shade and having a thing for her:
"I really don't take him seriously because he seems to be like a jokester to me. I never took his comments seriously. It was funny, just like I clapped back, it was funny. That's not me. I always feel like it's enough room for everybody. I just took it as a joke."

On advice A.J. Johnson gave her while working on Baby Boy about sleeping with men you work with:
"She [A.J.] said 'If you sleep with them, why would they want to work with you again?' And that stuck with me. You have to learn to keep it separate."

On a Baby Boy sequel coming to the big screen:
"I haven't heard anything. Do we really need a Baby Boy 2?" She continued, "Tyrese and I can do anything and they'll be ready to see us."

On her love life or lack thereof:
"I would love to be in a relationship that's the only thing missing in my life right now. I'm the goofiest, coolest chick you will ever meet. People think I'm high maintenance."

On winning the NAACP Entertainer of the Year Award over Beyonce:
"I didn't expect them to call my name. Nobody beats Beyonce and I certainly didn't think I could do it."

Taraji also dished on working on love scenes with Tyrese AND having a crush on him while filming Baby Boy. She said when they did the film Tyrese wasn't even LEGAL yet! What? She also said he was feeling her too, but he had a girlfriend at the time, so nothing came of it. Girl…..
Photo: Angie's IG