Florida State QB Jameis Winston Drafted To The Tampa Bay Buccaneers As No. 1 Draft Pick, CELEBRATES With Crab Legs
May 01 | by _YBF
Florida State star quarterback Jameis Winston was this year's No. 1 draft pick, getting picked up by the Tampa Bay Buccaneers. And for last night's festivities, he decided to feast on some crab legs, which causes quite a buzz on social media. Get the latest on the drama surrounding his dinner choice inside….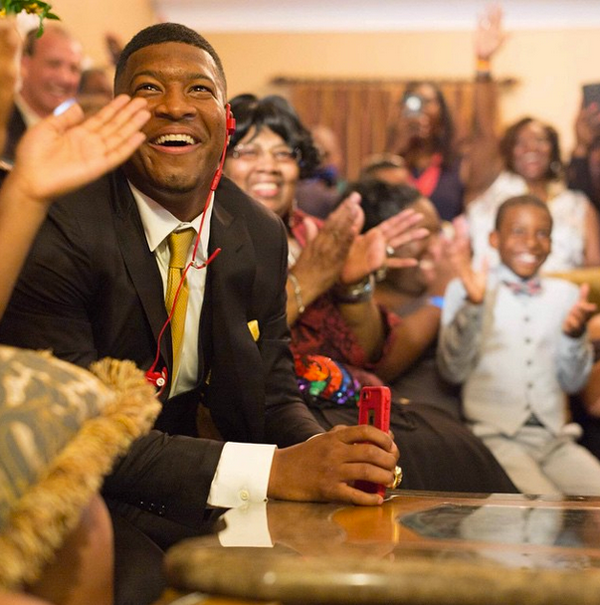 Despite all of Florida State quarterback Jameis Winston's off-field antics (including an alleged rape that he eventually didn't get charged for), the Seminoles QB was picked up by the Tampa Bay Buccaneers as the first pick of the 2015 NFL Draft last night.
The Heisman Trophy winner and BCS champion, who is expected to sign a lucrative multi-million contract, decided to celebrate with his family and friends back home in Alabama instead of attending the draft event in Chicago. And everyone around him (including the star QB) seemed to be overjoyed with his big feat.
But, of course, the 21-year-old newly drafted player is involved in more controversy. And guess what? It involves crab legs…again! You'll recall, Jameis was cited for shoplifting after he walked out of a Publix Super Market in Tallahassee with crab legs that he did not pay for in April 2014.
Apparently, while he was enjoying his time with family and friends last night, they decided to feast on crab legs. So what does he do? He snaps a shot of himself, all smiles, with a plate full of crab legs in front of him and posts it to his Instagram:
The "crab legs" pic sends the "Innanets" into a frenzy. And he eventually deletes the photo from his Instagram account. But now, former NFL quarterback/college football analysis Shaun King is coming to his defense. He says the photo was taken out of context and provides the backstory as to why he chose crab legs (of all things) to eat. According to Shaun, Capt. Keith Colburn, star of "The Deadliest Catch," gifted Jameis with 25 pounds of crab legs for his draft party.
He tweets (read from the bottom up):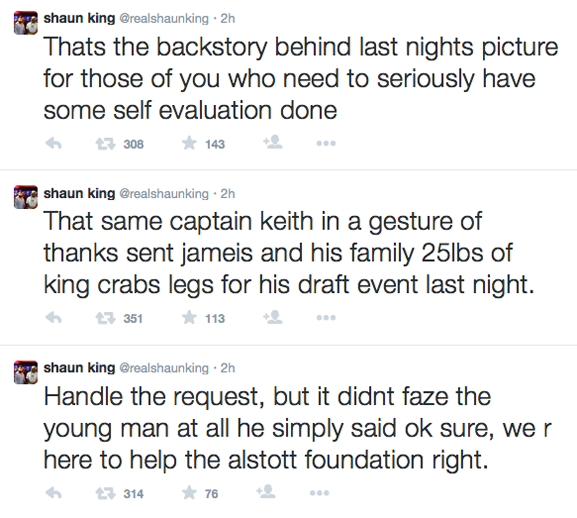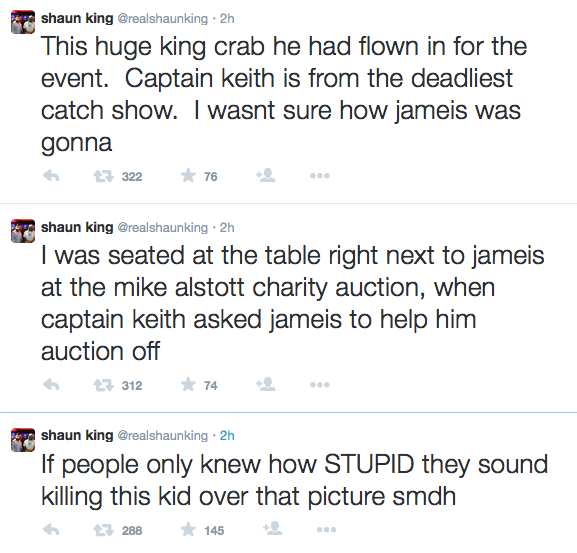 Well there you have it.
The Buccaneers got wind of his post and asked him to take it down. They're definitely not trying to start the new football season with off-field drama already.
Once #Bucs became aware of the Instagram pic of Winston, they encouraged having it removed from his account.

— Rick Stroud (@NFLSTROUD) May 1, 2015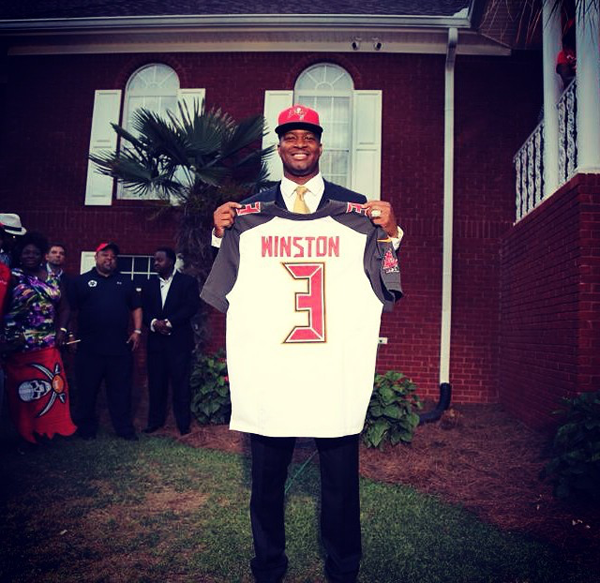 Congrats Jameis!
Photos: Jameis' IG/@joaquinisleta