Draya & Orlando Scandrick Get Engaged + Amber Rose Talks Break Up With Wiz Khalifa, Gay Marriage & Feminism + Mariah Carey & Rumored Billionaire Beau Hold Hands In Italy
Jun 20 | by _YBF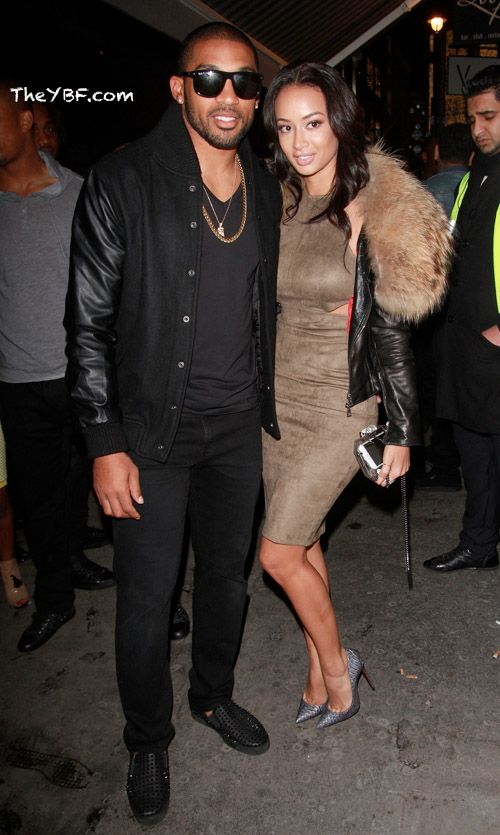 Draya and Orlando Scandrick have kissed and made up. And now…they're engaged! Peep her flawless diamond ring inside. Also, Amber Rose sat down with Larry King for a candid interview, while Mariah Carey was spotted holding hands with her rumored billionaire beau in Italy.
Get it all inside….
From break ups, to make ups, to breaking up again and now…engaged!
Dallas Cowboys cornerback Orlando Scandrick popped the question to his girlfriend "Basketball Wives: L.A." star Draya Michele on Thursday…and she said yes! Must be nice.
The reality star dished to PEOPLE about their engagement saying,
"He told me to dress casual and we ended up going to where we had our first date," Michele tells PEOPLE of the special night out at Arclight Cinemas in Sherman Oaks. "He was acting so weird and so nervous. When he walked up to the bar he tripped and fell over some chairs! I was thinking 'What in the world is wrong with him?' "
Ha!
She continued,
"He got down on one knee and as soon as he started to talk I got nervous and couldn't help but to laugh hysterically. I was laughing and crying at the same time."
Orlando got down on one knee and presented a flawless 6-carat diamond ring to his longtime girlfriend, asking for her hand in marriage. She happily showed off her new rock with a bed of roses as the back drop on Instagram saying,
"Yesterday, the love of my life asked me to be his wife...... I said YES !!! Love you @oscandrick32 forever starts now"
According to Draya, she and Orlando never officially called it quits during their last "break." She explained,
"We were getting ready to take the next step and I believe that with new levels comes new devils," says Michele, "We needed a little time away to realize that we missed each other terribly. I never give permission to move on or anything like that. While he was in Dallas we stayed in contact and talked almost everyday."
Mmmhmmm…
While she's over the moon about her engagement, she revealed there may be some people who could care less, including her "BBW LA" co-stars. She said,
"I don't think [my cast mates] will care," says Michele, "They don't put a lot of energy into positive things happening in my life."
Well…congrats to the couple!

The new season of "BBW LA" premieres Sunday, July 21st at 9/8c on VH1.
In other news....
Sister Code actress Amber Rose sat down with talk show host Larry King for his web series "Larry King Now" for an in-depth interview about her nasty break up with her estranged husband Wiz Khalifa and her current dating situation with Machine Gun Kelly.
Although her relationship with Wiz seems to be over for good, she said she and the Taylor Gang honcho are working on their co-parenting skills to give their 2-year-old son Sebastian the best life ever. She confirmed (again) she's currently dating rapper Machine Gun Kelly and that her estranged husband is also dabbling in the dating pool too. Check it above.
The "How To Be A Bad B*tch" author also chatted about gay marriage, revealed she would pose for Playboy magazine in a heartbeat if she's offered the cover, being a feminist and more. Peep the clips below:
In other news....
Mariah Carey is currently living it up in Capri, Italy for a little R&R before kicking off the 2nd leg of her Las Vegas residency at the Colosseum at Caesars Palace on July 8th.
And guess what? It appears she has a male companion along for the fun. The 45-year-old divorcee was spotted holding hands with Australian billionaire James Packer as they strolled through the streets of Carpi yesterday. Oh? MiMi has a new man? Possibly. Peep their coupledom pics here.
Sources claim James has been aggressively pursuing Mariah for months and it appears to have worked. Not mad.
Also along for the trip….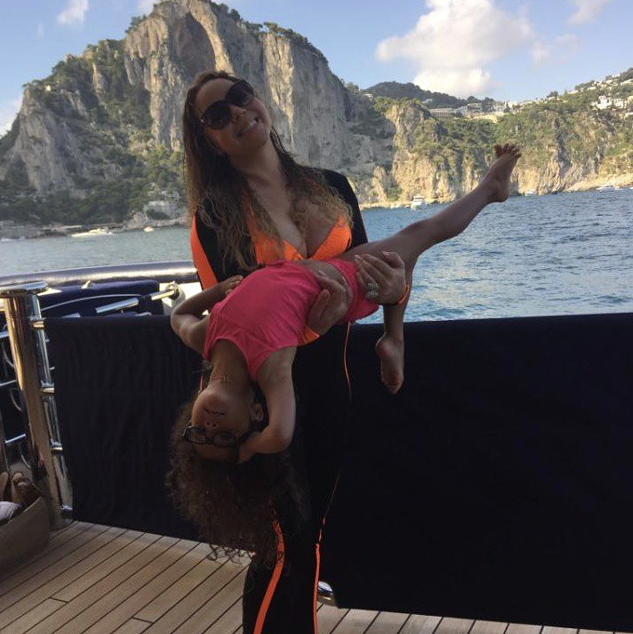 MiMi's daughter Monroe (with Nick Cannon) tagged along with her mother for a girls day today. Too cute.
Photos: Splash/Draya's IG/Mariah's IG