BLESS UP: 5 Reasons DJ Khaled & His Snapchat Keys Are BOOMING, And We Can't Stop Watching
Jan 09 | by Natasha
If you haven't checked out DJ Khaled's Snapchat, or even seen his Snaps on other folks' social media platforms, get your life. The DJ's Snapchat is everything, and no one is more surprised by that fact than us. Find out why inside...
Mr. We The Best is serving up Keys to the game of life all while making us feel like our hustle and grind is nothing compared to his. Sheesh! He has us taking notes on his MAJOR KEYS through his shower and elliptical talks: Staying away from THEY, growing our own garden and keeping our business booming.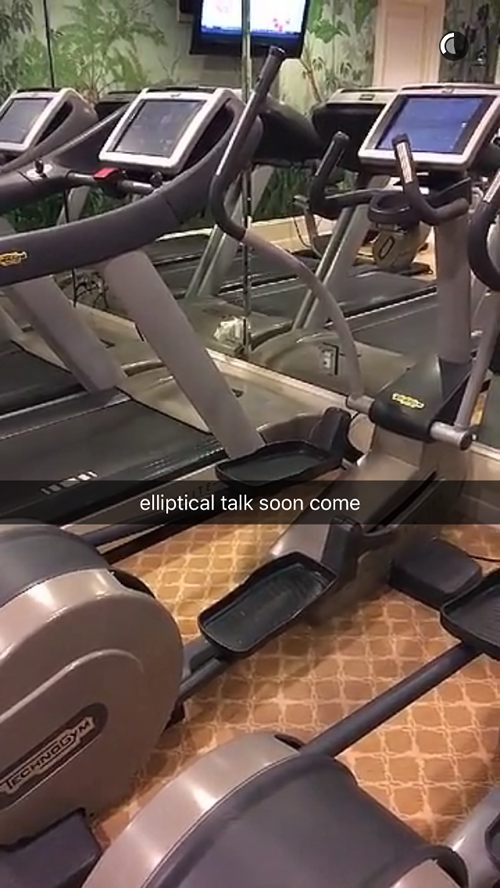 The Miami honcho (who was actually born in New Orleans), best known before Snapchat for putting out epic compilation albums with almost every top artist in music, takes his fans on his daily hectic journey. (For those confused on what Snapchat is, it's the newest insta-posting app sweeping social media where you can post pics and video that you JUST took, no uploading old pics. Your postings only stay up for 24 hours.)
From his tour bus chronicles taking him to a different city every other night to his morning room service with healthy food THEY don't want us to eat. Dude works nonstop. He's got us inspired to grind harder than ever. Who would have thought?!
Here's 5 reasons we can't stop watching Khaled's Snapchat: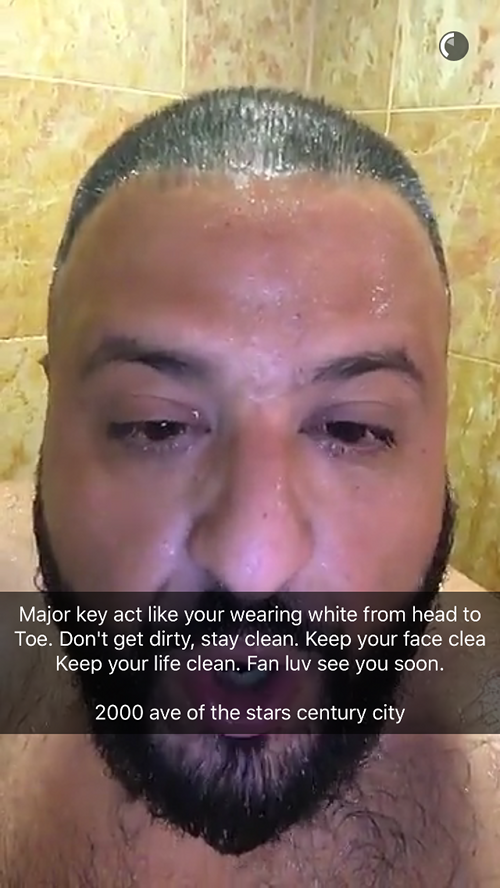 1. His MAJOR KEYS make perfect sense.
Whether this guy is giving out keys to the game of life and business from his shower or the gym, they always make sense. And they're hilarious. He shares the importance of staying clean -- literally and figuratively -- and the importance of eating good cereal after working till the wee hours of the morning. He even shares how Key it is to support your friends' business ventures, like when he got hundreds of his fans to hit his homie Nas' sneaker store 12AM Run in a matter of minutes.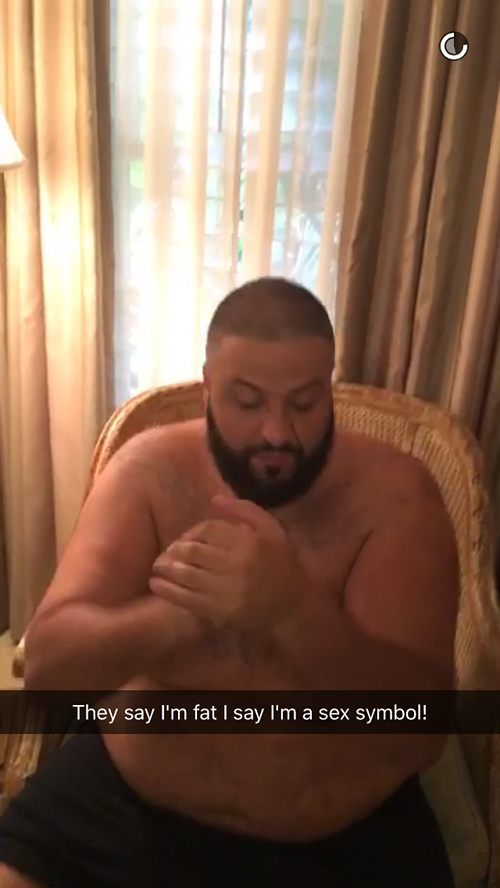 2. His advice on THEY (aka Haters and/or "The Man") is hilariously on point.
THEY don't want you to win! The DJ/producer is self made. So he stays giving reasons why and tells you how to combat THEY. THEY try to keep us from being healthy and successful. While THEY hid the keys to the game from us and do everything in their power to keep us down, Khaled found them and he's sharing. Don't act like a hater never almost ruined your day or week or your fabulous business idea. Don't let THEY win!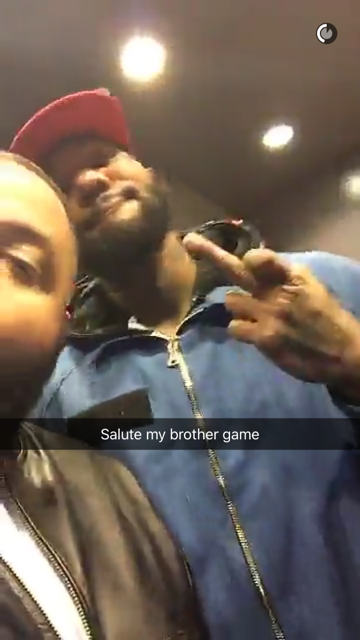 3. We get a glimpse at major celebs he's hanging out with daily.
It's not just the YMCMB crew he hangs out with, he has daily meetings and lunches and meetups with everyone from The Game to Snoop to the Kardashian-Jenners (yes, it pains us to mention) to Rick Ross to TV hosts. And we love seeing them in regular, fun mode.
4. He's basically writing the book on turning social media value into real dollars.
We see Khaled wake up each morning walking in his branded slides to his 5-star hotel room service breakfast, all before putting on a branded sweatshirt. Then he shows off where to buy his merchandise while simultaneously shoveling business and inspirational advice to his Snap followers. It just works. And it's genius. There's a reason why Ben, the 16-year-old mogul sneaker connect always on Khaled's Snap, always answers "Boomin" when Khaled asks him "How's Business?"
5. We had no idea a sh*tload of people were huge fans of Khaled until his 'Fan Luv' Snaps.
Every so often Khaled tells fans in the city where he is to meet him in a specific place within the next few minutes. Lo and behold, tons of people show up. And they're on 100 when they do. (Peep the pic above from earlier this week in L.A.) Everybody wants to be on Khaled's Snap, including us.
EXTRAS:
1. Kanye West announced the release date of SWISH, February 11, 2016.
2. Michael Strahan has been tapped to host "Pyramid" game show. STORY
Photos: DJ Khaled's Snapchat