DO-GOODERS: Fetty Wap Puts A Smile On A Kid's Face Who's Battling A Brain Injury + T.I. Loves The Kids
Jan 16 | by _YBF
Fetty Wap and T.I. are still in the do-gooder spirit following the holiday season. Come inside to see how they put a smile on a few kiddies' faces….
Rapper Fetty Wap did something major! Not on the music charts, but for a well-deserving little boy.
10-year-old Anthony Skipper, dubbed "Superman Anthony," is a huge Fetty Wap fan who's battling Hypoxic Anoxic brain injury. He's currently being treated for his condition, but before he suffered from his injury, he always wanted to meet the "Trap Queen" rapper.
Since his injury, budding actress LaLa Anthony fell in love with him and has been a guardian angel to him and his family (he has 3 younger siblings) so to speak. When she found out Anthony loved Fetty, she called him up and the Patterson native delivered!
Fetty made a personalized video for Superman Anthony greeting him by name, saluting him for being a fighter and then sent up prayers for a speedy recovery. Check Anthony seeing the clip for the first time above. Aww…
LaLa shared the video captioning, "So much love for @fettywap1738 I appreciate him so much! When I spoke to @supermananthony_ mom & godmom they told me before his brain injury he LOVED Fetty Wap so much. I made one call and @fettywap1738 sent him this video! It's the little things that mean so much that people do from their heart @supermananthony_ lit up when he saw this!! FETTY WAP THANK YOU! #standupguy #thingsthatmatter #blessed"
We started reading up on Anthony and found out his condition is very rare, but can happen to almost anyone. Here's his story below:
On August 29, 2015, 10 year old Anthony Skipper suffered a near-drowning accident via seizure while bathing and rescued by his 8 year old brother Willie. He was given CPR by his mother and revived with help from medical personnel. He was without oxygen for at least 15 minutes before EMT got a pulse. Anthony now suffers from Anoxic Brain Injury and has to learn all basic life functions over. He is currently on a ventilator and requires oxygen as well. While in the hospital, Anthony attempted to breathe on his own and he did well! Until one day his lungs filled with fluid and collapsed causing him to get a trach put in his throat. Unfornately it has caused him not to be able to swallow so he has to be suctioned often (placing a tube in his throat to get the secreations out). Anthony has endured so much in his short life on earth. Being born 1 lb 4 oz, having 4 surgeries before the age of 1 and being told several times he wasn't going to make it. But by the grace of God he is still here FIGHTING!
His mom is currently unable to work due to having to care for Anthony while raising three other children on her own. It has to be tough. The family has set up a Go Fund Me account asking for assistance as they nurse their son and brother back to health. You can donate here.
In other do-gooder news....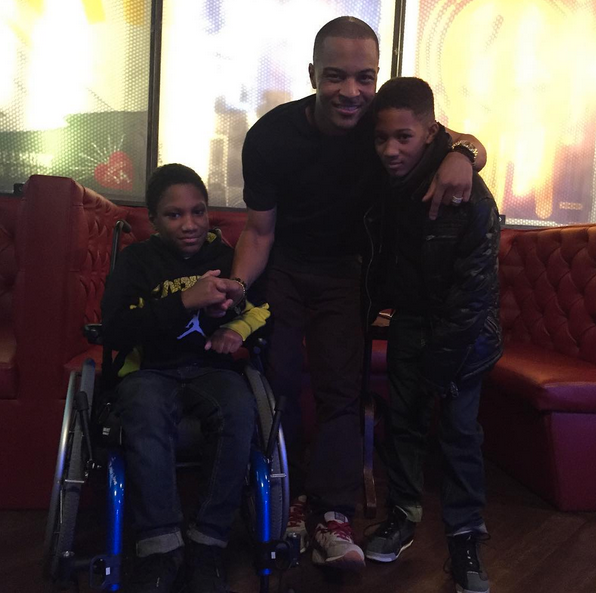 Tip loves the kids!
T.I. swooped into the DMV area for a performance at the Filmore Silver Spring yesterday. And he had a few friends who tagged along with him. He invited two kiddies to rock out with him on stage as he performed his catalog of hits. The kids looked uber excited to have been given the chance to meet the Atlanta rapper AND hit the stage with him.
The "Whatever You Like" rapper posted the pic above on Instagram and captioned, "1time 4da Real.... Dey rocked wit me da whole show!!!! #DMVwasLIT!!!!! #BankRollMafiaLife #HustleGangOverErrrthang"
Let's give it up to the YBF celebs who continue to give back...even during "off season."
Photos: LaLa's IG/Tip's IG