2016 OSCAR HIGHLIGHTS: Chris Rock's Cringe Worthy Opening Monologue + Stacey Dash Makes Surprise Cameo + The Weeknd's "Earned It" Performance
Feb 28 | by _YBF
Chris Rock had everyone uncomfortable during his opening monologue at the 88th Academy Awards. Which means he did his job as a comedian. Also, Stacey Dash made a surprise appearance to wish her "people" Happy Black History Month. Sighs….
Find out all Chris Rock said, plus The Weeknd's performance inside….
Leave it to Chris Rock to bring the shock factor at this year's Oscars. This is the comedian's 2nd time hosting the big show.
The Top Five actor cancelled all press opportunities leading up to his hosting gig, so we weren't exactly sure what Chris was going to say. But he let it all out once he walked out on stage. By the way, he came out to Public Enemy's "Fight The Power." Woot!
"I'm here at the Academy Awards, otherwise know as White People's Choice Awards," Chris said to kick of the awards show.
Ha!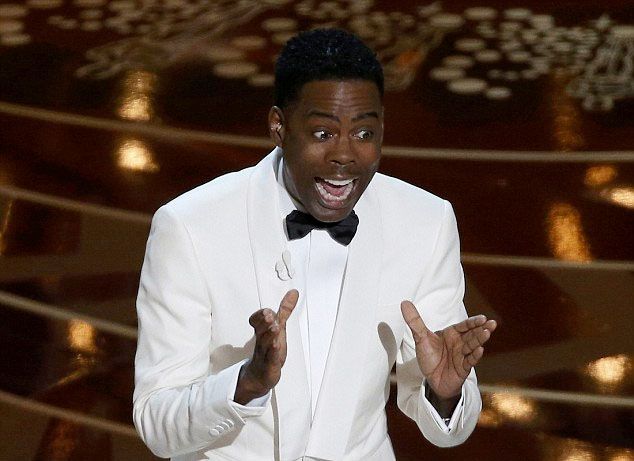 The comedian touched on the #OscarsSoWhite controversy and his response to people telling him he should turn down the hosting gig. He joked, "People were like, 'Chris, you should boycott. Chris, you should quit.' How come it's only unemployed people that tell you to quit something? No one with a job ever tells you to quit."
Chris made some cringe worthy jokes about why black people hadn't boycotted the awards show until now. He said, "Black people did not protest [in the '60s] because we had real things to care about… Too busy being raped and lynched to care about who won Best cinematographer. When your grandmother's swinging from a tree, it's really hard to care about Best documentary, Foreign short."
Sheesh!
He then threw some shade at Jada Pinkett Smith on her decision to skip out on the awards. He joked, "Jada boycotting the Oscars is like me boycotting Rihanna's panties; I wasn't invited."
Bloop!
Chris took another jab at Jada and Will Smith saying, "I get it, Jada's mad her man Will wasn't nominated for Concussion. I get it. It's not fair that Will was this good and didn't get nominated. It's also not fair that Will was paid $20 million for Wild, Wild West."
Lordt!
So what's Chris opinion on diversity in Hollywood? He said, "Is Hollywood racist? You damn right Hollywood's racist."
He added, "It's not about boycotting anything, it's just that we want opportunity. We want Black actors to get the same opportunities"
Cringe worthy? Sure. And in the best way possible.
Peep his full monologue below:
Then THIS happened...
After his monologue, Chris jokingly introduced the new director for the Academy's Minority Outreach Program. Actress and conservative Stacey Dash came out laughing and then said, "I can not wait to help my people out. Happy Black History Month!"
Just ALL wrong!
Check it:
During a funnier moment, Chris Rock walked into the crowd to help raise funds for his daughters' Girl Scout troop. A group of Girl Scouts came out to pass out boxes of cookies and to collect the money. His daughters will be proud as Chris helped raise a whopping $65,243. Nice!
Backstage...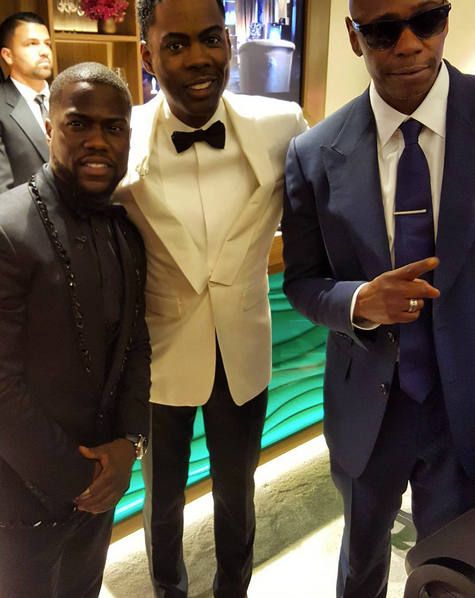 The funnyman linked up with comedians Kevin Hart and Dave Chappelle. He captioned the pic, "Three the hard way."
Kevin also shared the picture on Instagram where he subtly responded to some shade Katt Williams threw at him during one of his recent show. Kev said, "Me & Dave Chappelle with our brother @chrisrock tonight at the Oscars. True professionals understand the importance of sticking together & supporting one another....at the end of the day we are comedians & there aren't many that make it to level that we have made it. But so many doors are opened from the success of one comedian & when you see those doors open you then have the opportunity to walk thru them....it's about helping one another not trying to tear each other down!!!! The insecure ones will never understand what "Support & encouragement" #Message #DopePic #Legendary"
Good come back. Click here to find out what Katt Williams said about Kev.
Before the show, Chris was busy putting the last minute touches on his monologue before shocking us all.
Back at the awards....
R&B crooner The Weeknd hit the stage to perform his Oscar nominated track "Earned It" from the Fifty Shades of Grey soundtrack.
The Canadian singer was backed by a full orchestra and had an aerialist performing during his set. Check it above.
Photos: Getty/Reuters/Chris' IG