Oscars Ish -- 5 Things You May Have Missed
Feb 29 | by Natasha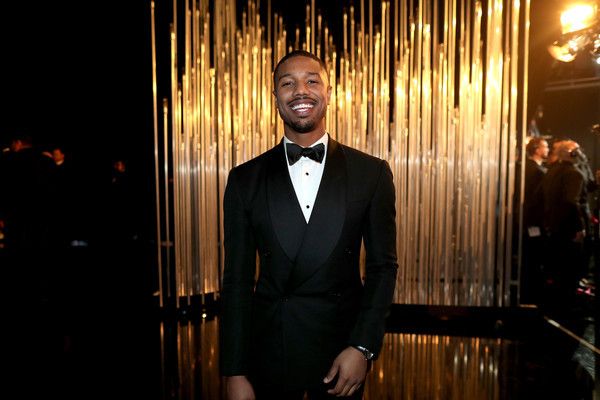 While you were watching the Oscars red carpet, muting the TV during the Awards, or watching something else all together, here's 5 things you may have missed....
If you weren't here for the entire long ass show that was the Oscars last night, here's 5 things you may have missed...before, during and after.
1. Michael B. Jordan's sexy self may have skipped the red carpet (and therefore our red carpet roundup), but he popped up backstage and on stage during the show looking as scrumptious as ever.
If we could just have 10 minutes....maybe 11.
2. Kerry Washington obviously skipped out on the Oscars boycott. She did, however, give a pretty good explanation as to why.
Check out what she revealed on the red carpet about fighting the power by actually showing up:
#Oscars: @KerryWashington talks diversity on the red carpet https://t.co/0zFa1B2OwG https://t.co/F9Lyj6yf65

— Hollywood Reporter (@THR) February 29, 2016
Thoughts?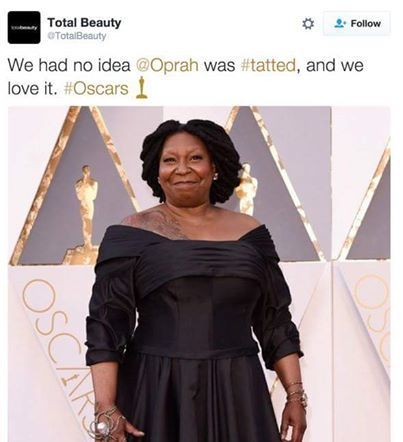 3. White beauty companies were up to their white beauty company tricks again.
Total Beauty, a makeup advice website founded by Proctor & Gamble exec, mistook Oprah Winfrey for Whoopi Goldberg -- tatts and all. You can always tell those companies who have 0-1.5 people with melanin in their office.
While Whoopi answered with an emphatic "It's not my fault they don't know who I am!" when asked at the Vanity Fair party what she thought about the mishap, Oprah laughed it off...on the 'Gram.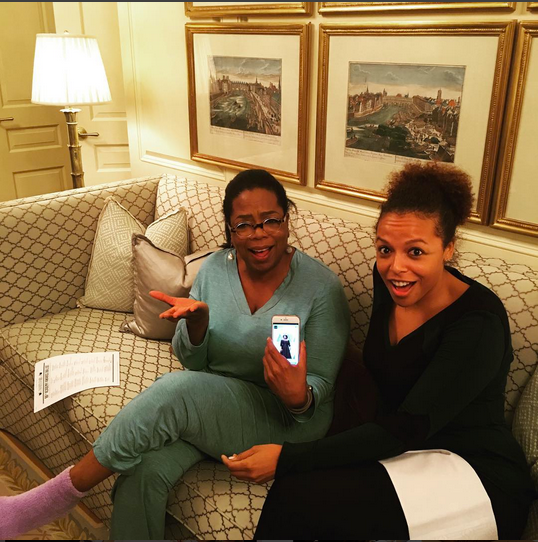 Her bestie Gayle King posted up a pic of O and Gayle's daughter Kirby in their PJs with their reaction to the snafu. She said:
@Oprah & favorite daughter watching #Oscars & seeing @totalbeautyeditors snafu! We all love @whoopigoldberg but we don't all look alike Jeeeze!
Ha.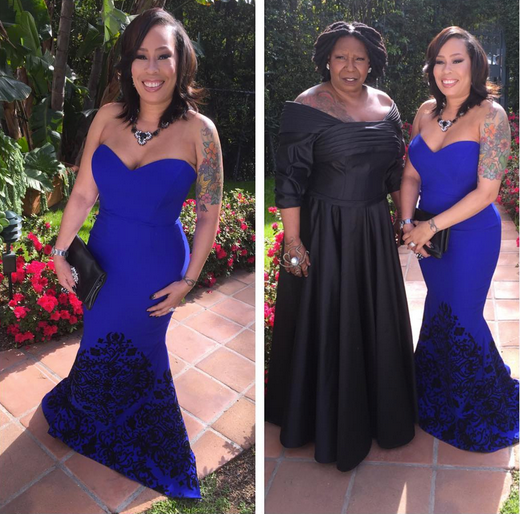 4. Speaking of Whoopi, she brought her daughter Alex as her date to the Oscars. Alex was styled by Mary Mary's stylist (and sister) GooGoo Atkins!
GooGoo is everything a curvy fashionista should be, so we love that she's getting even more shine. By the way, the fab gown Alex is wearing is one GooGoo created with Nigerian designer Suzette Opara for the 828 Collection. Nice!
5. Chris Rock wasn't the only one speaking his mind Sunday night. Kevin Hart and Bette Midler let it rip...and we loved it.
The Ride Along 2 star gave a pretty powerful speech about diversity, according to those actually inside Microsoft Theater. But the gravity of his words were lost to viewers at home and social media because much of it was bleeped out.
He said:
"I want to applaud all of the actors and actresses of color that didn't get nominated tonight. At the end of the day we love what we do, we're breaking major ground doing it," he continued. "These problems of today will eventually become problems of the old. Let's not let this negative issue of diversity beat us, let's continue to do what we do best."
The final part (and the applause) was bleeped out. Were they mad or something? Folks privy to his speech say he was simply saying 'Congratulations' to his fellow black comedians and actors. Really Oscars?
The legendary Bette Midler isn't one to be censored though. Chick took to her Twitter before the ceremony and spoke the truest truth about this entire #OscarsSoWhite situation: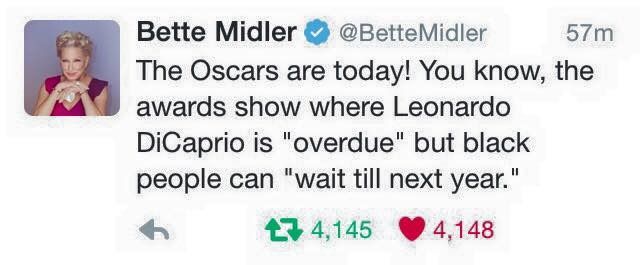 Let 'em know!
Photos: Getty/Twitter