Gloria Govan & Derek Fisher All Boo'd Up In L.A. While Matt Barnes Gets Investigated By NBA
Mar 18 | by _YBF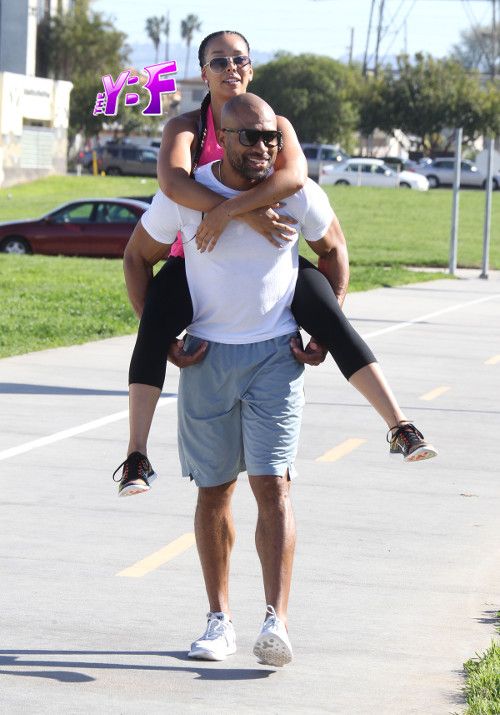 So what Matt Barnes served Derek Fisher with a beatdown for hooking up with his estranged wife (the divorce is not yet finalized) Gloria Govan?! They clearly could care less. Peep coupledom pics of Gloria and Derek all boo'd up in L.A. and get the deets on Matt Barnes being investigated by the NBA inside….
Matt Barnes who?
Former reality star Gloria Govan, the estranged wife of Matt Barnes, and her boyfriend Derek Fisher, Matt's former teammate, has NOTHING to hide now.
The twosome just gave Matt the equivalent of the middle finger...PDA style. Gloria and Matt were all boo'd up on a lunch date in L.A. recently. And it's clear they don't give two f***s what anyone has to say about it.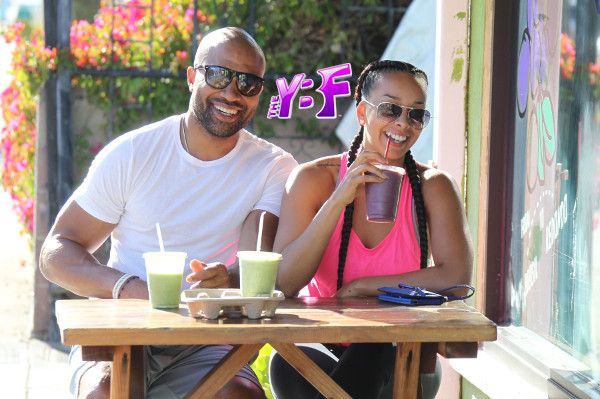 We know y'all remember when Matt reportedly drove 95 miles to meet his former LA Lakers teammate at the home he formerly shared with his estranged wife to serve up a fresh can of whoop a** upon learning of their relationship.
Savage! Or is it?
One could argue Gloria has every right to move on with whomever she pleases. And Derek, who recently divorced his wife of 10 years, could romance and bang whomever he wants to.
Others may say man-law is being extra violated, whether the two fellas were besties or not.
Last week, the former NY Knicks coach opened up about the altercation in an open column for The Cauldron and he revealed there was no fight. Oh? Because we surely heard otherwise.
Derek also said he and Matt have never been friends. Teammates? Yes. Friends? Not so much. He explained:
When Gloria and I started dating, she and Matt had already been separated and living apart for more than a year. Same thing for me. My wife and I were long separated; she was in L.A., I was in New York. Matt and Gloria were not trying to work things out, and I certainly wasn't seeing her behind Matt's back or in secret. The relationship wasn't something I was trying to publicize, but it also wasn't something I was trying to hide, either. There was no reason to.

I don't know what was going through Matt's mind that day in October when he showed up unannounced at Gloria's house, and started swinging. I didn't retaliate. No one who was there did anything but try to get him to calm down, particularly because Matt and Gloria's children were present. There was no fight.

That's it. There's nothing more to what happened than that.
Derek also claims his personal life had nothing to do with his head coach firing. He wrote:
When the organization informed me of its decision, the conversation was short. The underlying message was that things weren't working out the way they had hoped. I thanked management for the opportunity, and that was it.

At no time did anyone at that meeting express to me that stories about my personal life were distracting from the collective task at hand, or — more important — that any of my players had expressed to management that they had lost confidence in me as their coach. Nothing remotely like that was ever brought up or discussed.

That's why I was shocked when stories like that surfaced in the media.
Hmm...
Meanwhile...
John Henson gets ejected for taunting Matt Barnes, then Barnes chases after him in the tunnel https://t.co/a60CM8lhoZ

— Bleacher Report (@BleacherReport) March 18, 2016
Gloria's estranged husband is being investigated by the NBA for allegedly "chasing down" Milwaukee Bucs baller John Henson after they were both ejected from Thursday night's game between the Bucs and the Memphis Grizzlies.
Peep the clip above to see what happened between the two.
According to TMZ sources, there was no fight, but the NBA is looking into Matt allegedly coming after John as he raced to the locker room after their ejections.
Matt sure knows how to stay in some drama. Speaking of drama, he has yet to respond to the coupledom shots of Gloria and Derek, but if he plans on staying "petty" (as he has in the past), we can expect a rant coming in 5...4...3...2...
Photos: Splash