Malia Obama's Summer Sixteen Just Got Upgraded With Cool Internship At U.S. Embassy In Spain
Jun 30 | by _YBF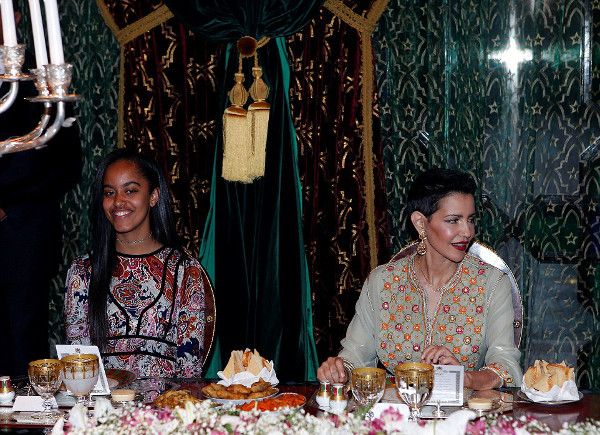 YBF Graduate and First Daughter Malia Obama just copped a cool internship in Spain before she heads off to Harvard after her gap year. Get the deets on what the fab chick will up to this summer inside…
2016 is shaping out to be one of the best years of First Daughter Malia Obama's life. The 17-year-old YBF grad is gearing up to attend Harvard University (like her mother & father did for law school) after a gab year. She'll begin classes in Fall 2017.
But before she heads off to college, she'll be participating in a kick a** internship overseas. Malia, who speaks Spanish fluently, will be interning at the U.S. Embassy in Spain. Nice!
Last summer, Malia interned with Lena Dunham on the "Girls" set in NYC to get her feet wet in the TV & film industry.
Right now, Malia (above, casually slaying at an official dinner this week), her mom First Lady Michelle Obama and sister Sasha are in Madrid and Marrakesh for the 'Let Girls Learn' initiative. According to reports, Malia's internship in Madrid could within the next couple of weeks (July 9th – 11th).
ABC España reports American embassies often take State Department interns during the year, usually recent college graduates. The news site believes Malia's decision to intern in the Spanish capital may be related to the Obamas' friendship with the U.S. ambassador in Madrid, James Costos, and his partner of 14 years, interior designer Michael S. Smith. Costos was reportedly a major donor in the Obama campaigns and Smith was offered the opportunity to design a room in the White House.
Other powerful folks have been hooking their (sometimes unqualified) children up for years. The fact Malia is more than qualified for the position, we're not even mad.
Malia, who turns 18 on July 4th, showed off her Spanish language skills during the First Family's trip to Cuba earlier this year. She translated for her dad President Obama before they enjoyed dinner at a restaurant one evening. Loves it.
Congrats Malia!
Photos: Reuters