Nick Young's Pregnant Baby Mama Keonna Green Speaks! Says She Has NO Regrets & Wishes Iggy Azalea The Best
Jul 06 | by _YBF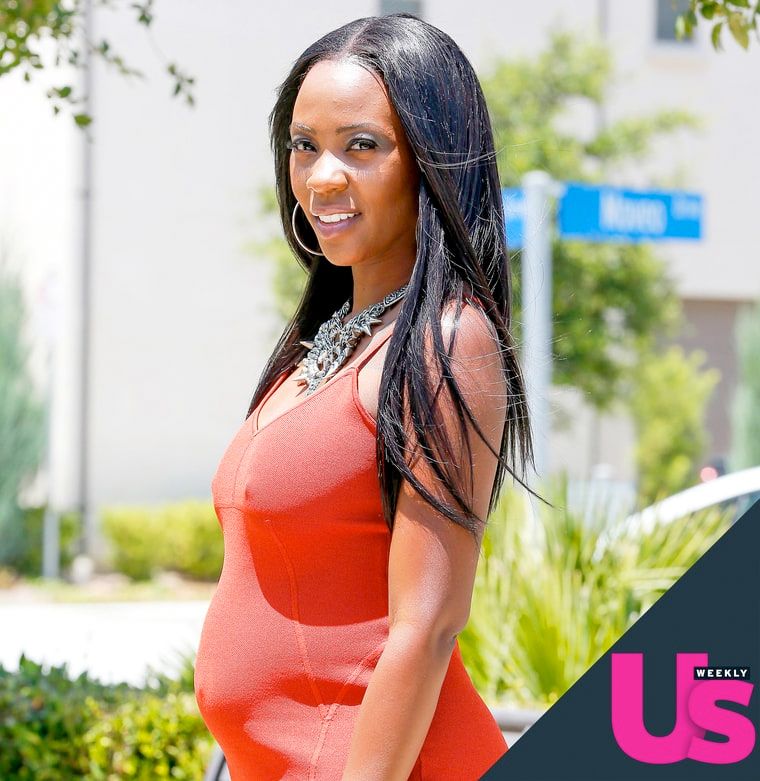 So much for that letter Iggy Azalea fired off to Nick Young's baby mama Keonna Green warning her to keep her name out her mouth. Keonna is speaking out now and she says she has no regrets being pregnant with Nick's 2nd child. Find out what else she said inside…
Iggy Azalea fired off a letter to her ex-fiance Nick Young's pregnant baby mama Keonna Green, warning her to keep her name out of her mouth. But, she's talking anyway.
In a new interview with US Weekly, Keonna, the owner of L.A.'s TNK Hair Studios, reveals she's 22 weeks pregnant (clearly showing above) with Nick's second child. The two share 4-year-old Nick Jr. Keonna says she and Nick started hooking up in September 2015, just THREE months after Nick asked Iggy to marry him.
Chile...
She says she does not feel guilty about getting pregnant by Nick because she's simply in love with a man and she's not going to apologize for that. Oh? While she and Nick aren't currently intimate, she says she would give him another chance.
Girl, whet?
Keonna also talks about how she met Nick in high school when she was the captain of the cheerleading team (which she talks A LOT about) and Nick was captain of the basketball team. As for how she "got" him: Cookies.
Peep the highlights below:
US Weekly: Let's talk about your relationship with Iggy.

Keonna Green: I found out through TMZ [in 2013] that they were dating. I inquired and there was denial. We had a rough patch from there. A couple of months into them being an item, she was moving into the house, so I called her. When I was dropping my son off, we met in the living room. I didn't want my son around somebody I'm uncomfortable with. I said, "Please, out of respect, don't post photos of my son." I didn't want people thinking I'm not in his life. She was like, "I completely get it." Reality set in that me and Nick were over. She was in the house I used to stay in. I cried on my way home. But Nick Jr. had fun with them. He would always say, "My daddy and my Iggy took me to Target and got me this."

US: When did you reconnect romantically with Nick?

KG: It was last year, around September. We would take our son to Magic Mountain together. But sometimes Nick would say, "Oh, there's too much traffic," and he'd just play with Nicholas in his room. We got caught up in the moment and it just happened. I would be like, "Nick, you cannot be sloppy. You need to be honest [with Azalea]." He would say, "I don't want to hear it." I don't know what was going on in his household, but me and Nick have lots of history. It wasn't a secret on my end. I didn't feel guilty because I was in love with a man, and I'm pretty sure I'm not the only woman.

US: Did you consider telling Iggy?

KG: Yes. I tried to reach out to her; I never got a response.

US: How did you learn you were pregnant?

KG: I was having extreme back pain very early in the pregnancy, so I went to the doctor, who said, "There's nothing wrong with your back, but you're pregnant." It was 200 percent Nick's child. He's always supportive, but he was in shock. With him being in a public relationship, he didn't know how to handle it. We didn't get into [how he would tell Azalea]. I felt it was his decision how to handle it.

US: How did you feel when he and Iggy broke up? Did you feel guilty?

KG: No, I didn't feel guilty. … I'm not the reason they separated. She found out what everyone else found out, according to what I've been told.

US: What would you say to Iggy if you could say anything to her right now?

KG: I wish her a lifetime of success. … I mean, I'm definitely not going to apologize for being in love with a man who I have a lot of history with. I do wish her that kind of success and hope that she can get through this difficult time and she and Nick can move forward from this.

US: How did you and Nick first meet?

KG: Nick and I met in high school in 2002. I cheerleaded; he played basketball. We kind of instantly connected. I actually had the crush on him first. My way of trying to lure him was to give him … those cookies they have from Mrs. Fields. … My cheerleading squad, we had to do a secret Santa–type thing for the basketball players, so I basically went up to all the girls on the cheerleading squad, saying, "Whoever has Nick, I want him."

US: What are the challenges of being with a basketball star?

KG: OK, let me tell you, being with a basketball player then and now? Totally different. … I guess I would say it was different back then because now, I'm not the captain of anything. I'm just the mother of his child. Whereas back then, I was the captain of my cheerleading squad. So whatever he could do, I was just as good at it. It's completely different now and then.
Even AFTER the man has proven to you and everyone else in the world he's a cheater? Really girl?
Photo: US Weekly