Big Sean Goes IN On Ex Naya Rivera & Kid Cudi On "No More Interviews"
Nov 01 | by Natasha
Big Sean is still talking ish abut his ex, and now he's exposing her for being plastic. Plus he's got words for Kid Cudi too. Get his new track "No More Interviews" inside...
Big Sean is dropping new music left and right. He recently debuted a new track where he gets some things off his chest about his frenemy Kid Cudi and his ex-fiance Naya Rivera.
While Naya may be married to someone else now with a baby, Sean still is (just a little) perturbed by her. He raps on his new "No More interviews" track that he produced alongside Amaire Johnson:
"I won't tell them all the other parts about you that's plastic/ This my last time putting my ex in a song even though the last one went triple platinum," referencing his hit "I Don't F**k With You."
Then he had some words for his former G.O.O.D. Music labelmate Kid Cudi, who is currently in rehab battling mental issues and suicidal thoughts.
"Cudi and 'Ye, what happened to our family ways, though?" Sean raps
"When I put you on that song with Nas, you had told me that you was forever grateful/ And that we brothers, so it hurt to hit the internet to find out that me and you don't [expletive] with each other," the rapper said about their 2013 track "First Chain."
He went on saying, "Over a miscommunication that probably could be fixed with a five-minute conversation/ I'm still praying for ya, though, I guess I charged it to the game."
No More Interviews:
The rapper also dropped "Bounce Back" which he performed on "Fallon" last night:
BONUS: Sean and his current boo Jhene Aiko dressed up as Star Wars characters for Halloween: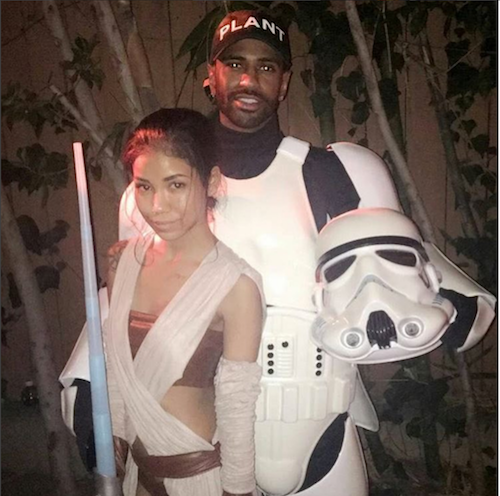 Photos: Instagram