SOULJA BOY VS. EVERYBODY – Shia LaBeouf & Migos' Quavo Fire SHOTS At Soulja, Then Soulja Grabs His GUNS
Dec 06 | by _YBF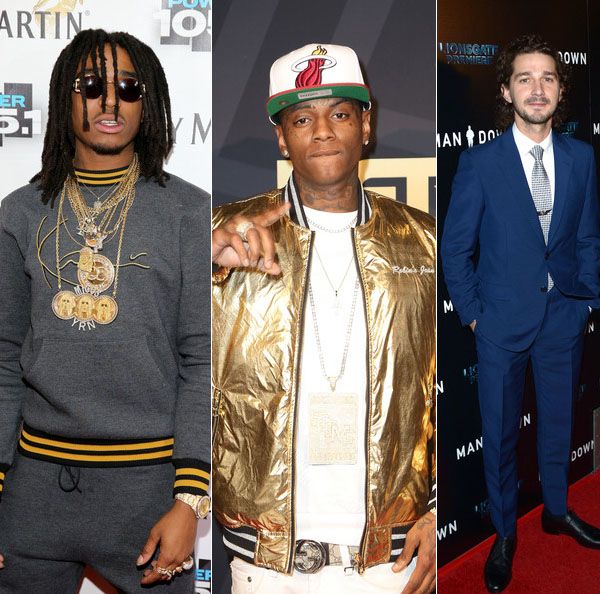 Chile, Soulja Boy is beefing with everybody right now. First, actor Shia LeBouf came after Soulja in a few freestyles and Soulja BANNED him from stepping foot in Atlanta.
In a separate beef, Soulja just released a new diss track aimed at Migos' rapper Quavo. Honestly, it all gave us a headache. Get the foolywang material inside….
Sometimes you gotta to point out foolishness when it happens.
Soulja Boy is causing all type of drama after news broke that he will no longer be starring on "Love & Hip Hop: Hollywood." The details on his departure are still sketchy (Did he quit? Was he fired?), but he's back in the headlines with some new rap beef.
A few days ago, Power 105's "The Breakfast Club" premiered a new freestyle by Shia where he called out Soulja Boy, Drake, Lil Yachty and HOT 97's Peter Rosenberg.
Here's what he said about Soulja:
"Not a Nautica boy, I own myself/This whole thing's a bit absurd but on my word/Is Boat about to get this work/You spit that dirt/Him and Soulja on that shout out shit/This is not, this a murder, this is tragedy man/He's like Lil Romeo meets Raggedy Ann."

Take a listen below:
Soulja got wind of his diss and he's not happy about it. He hopped on his Instagram page to warn Shia to stay in his acting lane and that he doesn't want these problems. In the clip, Soulja threatened Shia telling him he can never step foot in Atlanta ever again…or else.
He said, "You a b*tch a** n*gga, you can't never come to Atlanta, you can't never come to the streets in the hood. You can never live my life, you need to stick to acting, real shit nigga."
He continued, "This rap sh*t ain't for you nigga, for real, have some nigga pull up on you Fuck Shia Labeouf! N*gga, f*ck you talking about keep my name out your mouth, you don't want no beef, on my mama, you better stick to acting n*gga cause this shit get real."
Check it below:
Shia didn't waste any time to respond to Soulja "banning" him from Atlanta. He released a new freestyle titled "Hat Trick Freestyle" (which premiered on Big Boy Neighborhood) where he says he'll be in the "A" when his schedule permits. He raps:
"I'm an accessible spectacle/I'll be in Atlanta when my schedule is flexible"
Take a listen below:

Damn. Soulja getting bodied by an actor? Hmph. Ever since Shia slayed his "5 Fingers of Death" freestyle on Sway in the Morning" he's been killing it with the freestyles.
In another new rap battle...
Soulja Boy is coming after Migos leading hook man Quavo. And it seems to be quite intense.
The rapper hopped on Instagram to preview his new Quavo diss track making a video of himself holding an assault riffle with his new track playing in the background:
Then, he shared screenshots from a text conversation he had with Quavo. From what we make of it, it appears Quavo stopped associating with Soulja due to his beef with his label mate Lil Yachty. Soulja and Yachty were beefin' a few months ago.
In the texts, Soulja told Quavo to pull up and supposedly gave him his address. Later, he posted a caption that said Quavo never showed up. "B*tch a** n*gga never pulled up ... don't make me leak the phone convo p*ssy," Soulja said on Instagram.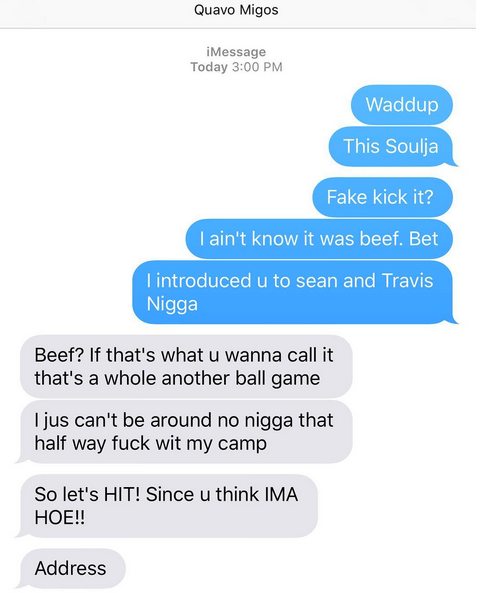 Sighs...
If you care, take a listen to Soulja's diss track "Beef" below:
So far, no response from Quavo.
Photos: Getty/Soulja's IG