Tyga & His Naked Girlfriend Kylie Jenner Release Steamy Video + Chris Brown Still Chasing After Karrueche
Dec 27 | by _YBF
Tyga and Kylie Jenner have a steamy video for their fans that features a naked, cigarette smoking Kylie kissing all over her boyfriend. If you're interested, you can check it out inside, plus see how Chris Brown is shooting his shot at Karrueche (again)…
For Tyga's 27th birthday last month, the west coast rapper celebrated with his girlfriend Kylie Jenner. They released a few intimate and steamy flicks from a photoshoot they previously shot. And now, a video has surfaced to accompany the pics.
In the short film dubbed "KYLIE," we see the "Keeping Up With The Kardashians" star trot around naked while smoking a cigarette. In other shots, we see the reality star show off her naked bod underneath a wet t-shirt as she stands under a shower head while tonguing Tyga down.
Photographer Sasha Samsonova shared details about the shoot (shot in Venice) with W magazine saying, "It was meant to be a little surprise gift for the world. The whole deal with this video is that it's a very personal experience. It's like you're watching this person from a point of view that has never been seen before."
The Kardashian-Jenner clan is known for enhancing photos (and other things), but Sasha was adamant that the clip had no photoshop work done to it, despite what everyone thinks.
"It's super raw footage. As soon as my shoots with Kylie come out, so many people write on my page and rant about how it's all Photoshop, Photoshop, Photoshop. But the thing about this video is that there's no post-production work whatsoever. It's only cut together. It's very raw, and we tried to keep it that way—no skin retouching, nothing."
Decide for yourself below:
Oh.
In post-relationship news...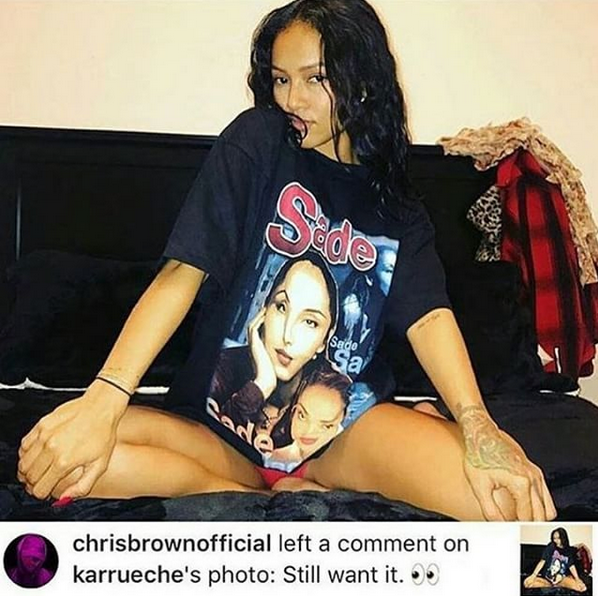 Chris Brown is still trying his hand with his ex-girlfriend Karrueche.
The "Claws" star posted up a picture of herself wearing a Sade t-shirt with her legs gapped open captioning, "Baby." Breezy must have been strolling through his Instagram feed and stumbled upon the flick because he was all in the comments section.
He wrote, "Still want it," and added the eyeball emojis. Hmm…we wonder if he followed up with a "Hey Bighead" text as well.
Maybe after several separate run ins and her racy shots on Instagram has him feeling like he wants that old thang back.

Meanwhile…
This is how Breezy spent this Christmas with his baby girl Royalty Brown:
Cute.
Photo: Kylie's IG