Video RELEASED Of Former NFLer Ray McDonald's Domestic Abuse Of Baby's Mother, Domestic Violence Charges DROPPED
Dec 28 | by _YBF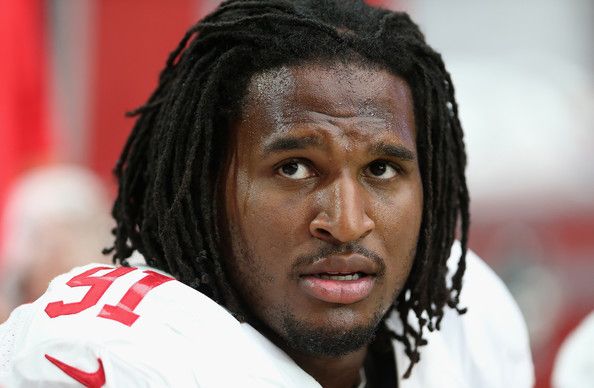 A video of former NFL player Ray McDonald cornering his baby mama was just made public. And it resulted in him having his domestic violence charges dropped. Peep the video and get the deets inside….
Ray McDonald ruined his NFL career with a history of domestic violence charges. And now, a video of him in action has surfaced, although, it actually helped him in his current domestic violence case rather than hurt him.
Video footage of the ex-football player cornering the mother of his child back in 2015 was released. The video was at the center of his current domestic violence case.
According to TMZ, the footage is from an incident that went down in May 2015 between Ray and his baby mama. In the clip, the woman films the former defensive end as he has her corned in a room while holding their 2-month-old child.
There's another man in the clip who is believed to be his driver. He tries to get Ray to leave, but his efforts didn't work. The stand-off lasts for about 3 minutes where the woman repeatedly asks Ray to leave her alone.
At the end, it appears Ray charges at her and she runs to bathroom (while holding the baby and the phone) and locks herself inside.
Check it below:
The police were called to the home and the former 49ers player was charged with domestic violence and felony false imprisonment. Once the grand jury saw the clip, they declined to indict him and all the charges were dropped.
TMZ spoke with the woman's attorney Robin Yeamans, and she addressed the video saying, "It's one of the most horrific videos I've seen and heard in my 46 years of practicing law."
Reportedly, Robin and her client are now working with teams on Change.org and YouCaring.com to push the NFL to start a Domestic Violence Victim's Fund. The fund is said "to ensure that the victims and children of abusive players receive medical, counseling, and legal support paid by the league."
This isn't Ray's first run-in with the law. According to reports, the police have been called to his home twice in 2014 for domestic violence. The 49ers organization kept him on the team after the incidents, but eventually let him go after he was named as a suspect in a separate sexual assault case.
In spite of the charges, the Chicago Bears signed Ray in March 2015. He was then arrested in May 2015 for a domestic violence case, which is the incident depicted in the video above. The Bears ended up cutting him. Days after his arrest, he was arrested AGAIN for violating a restraining order.
Sighs to it all….

Photo: Getty