Dick Clark Productions CLAP Back At Mariah Carey, Says They Did NOT Sabotage Show
Jan 02 | by _YBF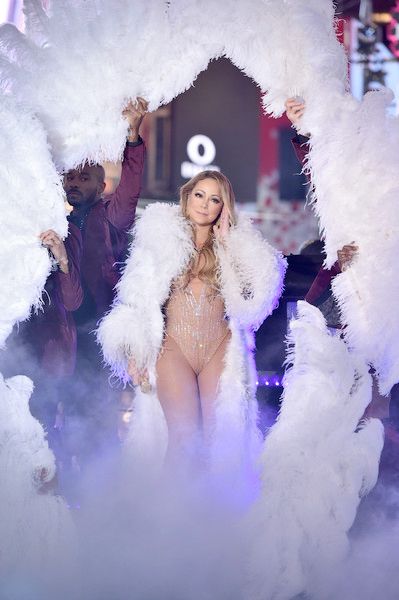 Mariah Carey is blaming the ULTIMATE tragedy that occured during her NYE 2017 performance on Dick Clark Productions. But, they're nottrying to hear it. Details inside…
Mariah Carey's live NYE 2017 show was a total tragedy. She was tapped to perform live for "Dick Clark's New Year's Rockin' Eve" special right before the ball dropped to ring in 2017 in Times Square, but her performance crumbled right before everyone's eyes as the music blared through the speakers while Mariah walked back and forth across the stage…not singing a note.
Folks have been calling it a lip-sync fail, but her team is saying otherwise.
The Elusive Chanteuse singer's camp is blaming Dick Clark Productions for sabotaging her performance in an effort to boost ratings. Mariah's manager Stella Bulochnikov told US Weekly they told the production team Mariah's ear piece wasn't working several times, but they assured them everything would be fine by the time she hit the stage. Boy were they wrong.
"I will never know the truth, but I do know that we told them three times that her mic pack was not working and it was a disastrous production," Stella said. "I'm certainly not calling the FBI to investigate. It is what it is: New Year's Eve in Times Square. Mariah did them a favor. She was the biggest star there and they did not have their sh*t together."

She furiously continued, "They acknowledged that they knew her inner ears were not working. They did not cut to commercial. They did not cut to the West Coast feed; they left her out there to get ratings."
After the tragedy of a show, Mariah tweeted out "Sh*t happens," and wished everyone a Happy New Year.
Now, Dick Clark Productions is clapping back at MC's team. And their words sound like legal fighting words.
In a statement, Dick Clark Productions said Mariah's claims of sabotage are "defamatory," calling it "outrageous and "absurd."
The statement reads:
"As the premier producer of live television events for nearly 50 years, we pride ourselves on our reputation and long-standing relationships with artists. To suggest that dcp (Dick Clark Productions), as producer of music shows including the American Music Awards, Billboard Music Awards, New Year's Rockin' Eve and Academy of Country Music Awards, would ever intentionally compromise the success of any artist is defamatory, outrageous and frankly absurd."

"In very rare instances there are of course technical errors that can occur with live television, however, an initial investigation has indicated that (Dick Clark Productions) had no involvement in the challenges associated with Ms. Carey's New Year's Eve performance.

"We want to be clear that we have the utmost respect for Ms. Carey as an artist and acknowledge her tremendous accomplishments in the industry."
Oh, and get this. Sources are actually blaming Mariah for the bad performance. They told TMZ Mariah refused to do a sound check AND there was ample sound on stage for her to hear the music.
Using words like "defamatory" almost sounds like DCP could possibly be thinking about suing Mariah (and her team) for negative backlash against their brand. They haven't announced any lawsuits, but this could all be the beginning of one big mess.
Photo: Getty