RING THE ALARM: Keke Palmer DRAGS 'Disrespectful' Liv Nightclub For Being Culture Vultures
Jan 02 | by _YBF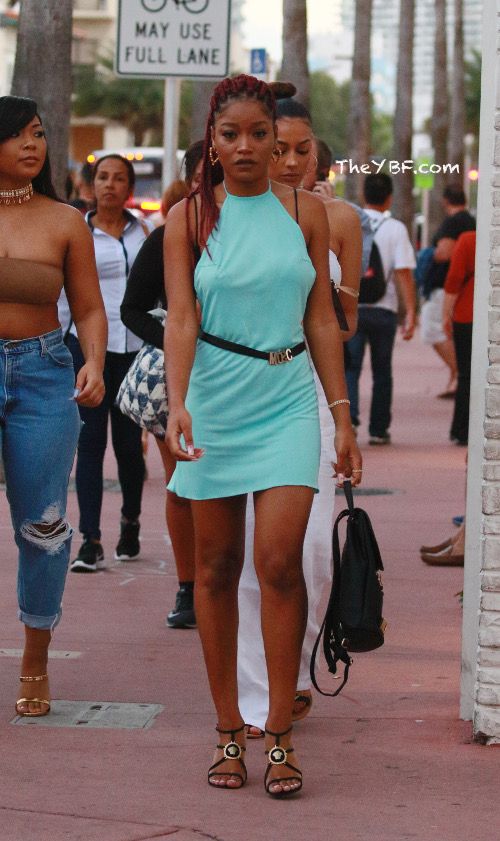 Keke Palmer just rng the alarm on popular nightclub LIV Miami for being culture vultures. Peep her tweets inside…
For the first day of 2017, Keke Palmer was spotted living it up in Miami after ringing in the new year with her squad.
The "Scream Queens" star stepped out for dinner at Puerto Sagua restaurant for dinner with her friends. She rocked an airy turquoise mini styled with a Moschino belt and handbag along with black Versace sandals.
After dinner, Keeks and her friends decided to go step out on the party scene hitting up LIV nightclub.
Those plans quickly went left after something went down between one of Keke's friends and management at the club. After the incident went down, Keke hopped on Twitter to bash the nightclub. She called the venue "culture vultures" and said she HATES the "exclusive energy" of the club.
Peep her tweets (read from the bottom up):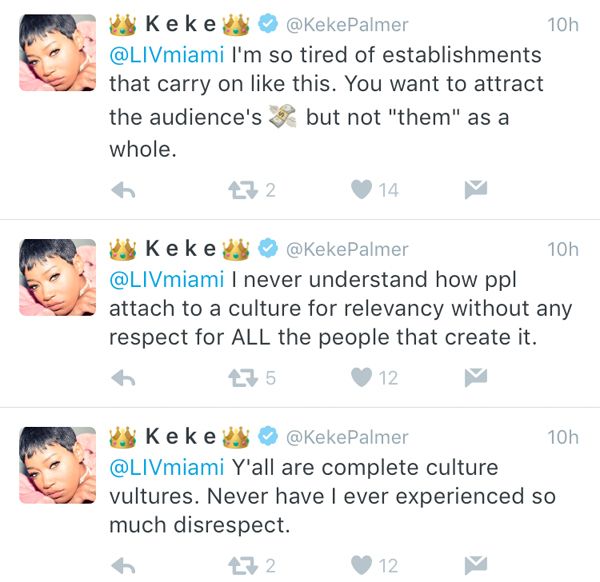 After leaving the club, Keke and her crew partied it up in her hotel room to cap off the evening.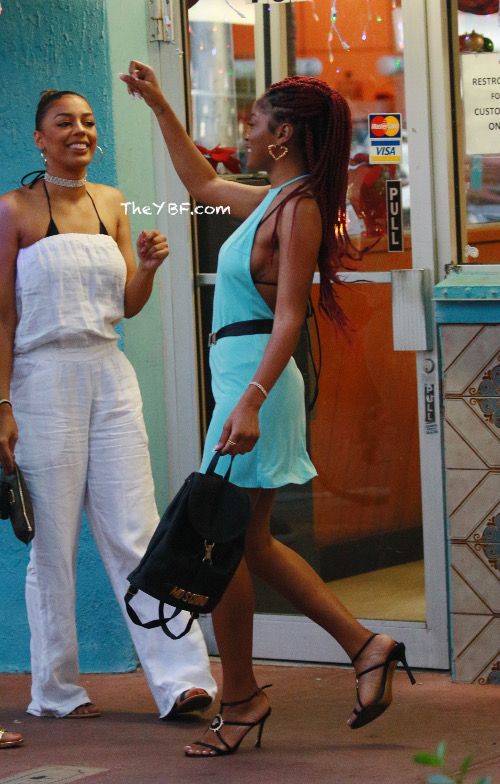 In other news, the PIMP actress recently did a Facebook Live video where she read a few passages from her upcoming book titled, "I Don't Belong To You: Quiet The Noise And Find Your Voice."
In the passage, she opened up to reveal she is a survivor of sexual abuse and that she worked hard for everything she has.
"At the end of the day, [fame] wasn't handed to me. At the end of the day, the cards were against me. At the end of the day, I did grow up on Section 8. At the end of the day, I have experienced abuse, sexual abuse. I have experienced turmoil in my family. We have a strong bond, but we've been through some sh*t," she said.
Wow. The book is expected to be released January 31st.
By the way, twerk-lover posted a few clips on Instagram where she talks about people claiming she has changed and served up some ish for her exes. Check them below:
Photos: Splash