#BOATGATE: Giants Fans DRAG Odell Beckham Jr. & Trey Songz After Giants Lose, Odell PUNCHES Hole In Wall
Jan 09 | by _YBF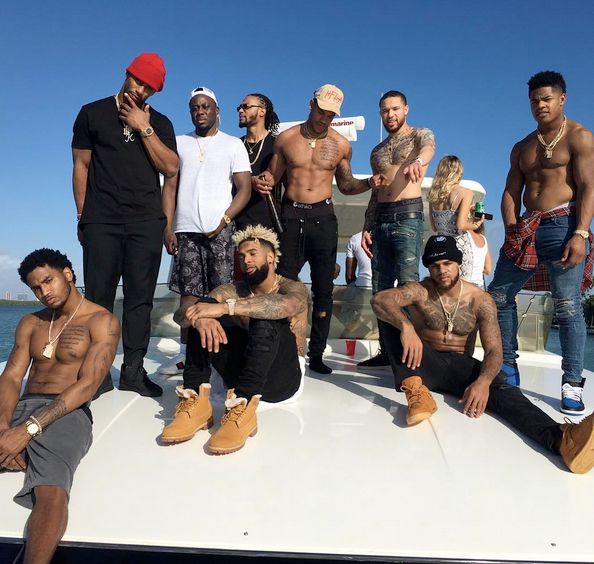 Fans are dragging Odell Beckham Jr. and Trey Songz for hanging out on a yacht in Miami last weekend before the NY Giants hit the field against the Green Bay Packers. The reason? The Giants took an "L" yesterday and fans are pissed! Oh, Odell is too. He allegedly punched a wall after the loss. More inside…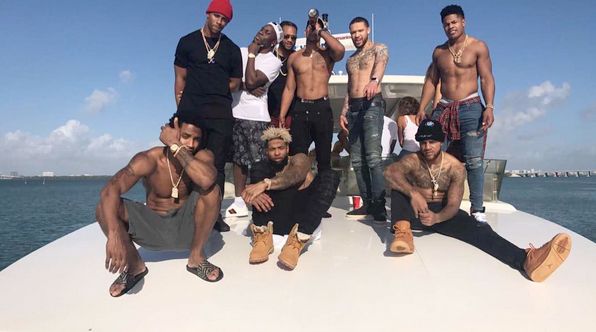 Following the Giants beating the Redskins on New Year's Day, Odell Beckham Jr. made a beeline to Miami to party it up with Trey Songz and his teammates Victor Cruz, Roger Lewis and Chanel Iman's new boyfriend Sterling Shepard. The fellas yacht party made it to social media and it looked they had a good time. But it appears that "good time" may have cost the Giants the Wild Card game. At least, that's what fans believe.
Odell and Trey's mentions on Twitter are in shambles with disgruntled fans dragging them for costing them the game against the Green Bay Packers. Odell dropped three passes, which is not like him.
Trigga tried to take up for his buddy on Twitter, blaming the defense: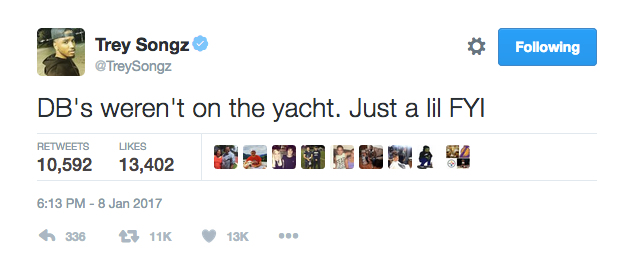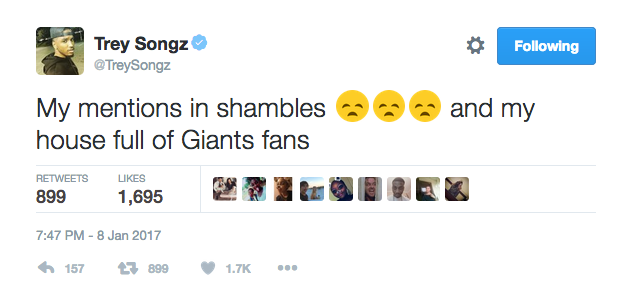 But Twitter didn't care. They dragged Odell:
@RothenbergESPN pic.twitter.com/7g9ASUOR4f

— vinny g (@Yeahhhjeeets) January 9, 2017
Giants WR core heading back to Miami like pic.twitter.com/bhQ1xCs19y

— Matt Ryan MVP (@RyanFrazier_) January 9, 2017
Only a few minutes away from the Giants going fishing ... Don't forget your net, Odell #Giants pic.twitter.com/R8O1TEeyM8

— Troy Hughes™ (@TommySledge) January 9, 2017
My baw left his hands on that yacht... pic.twitter.com/aBVnVpyZKP

— te.mann (@CantBstop1) January 9, 2017
#GiantsPride DBs reading @TreySongz tweets later tonight.. pic.twitter.com/y6PcJaQBWM

— Ced Funches (@cedfunches) January 8, 2017
With tensions flaring after the game, Odell's emotions went into overdrive. He punched a hole in the wall and was reportedly banging his head against the wall. Typical Odell ish.
According to ESPN:
Grounds crew members told Paolantonio that they heard someone hitting the wall outside the crew's locker room at Lambeau Field, which is located adjacent to the interview room where Beckham had just spoken with reporters. When grounds crew members came out of the locker room, they saw Beckham and the hole in the wall.

Paolantonio said Beckham then banged his head against the door outside the Giants locker room.
This guy.
Before going off in the Giants' locker room he spoke out about fans turning aginst him:
"It started before the game," Odell told the media. "It happened early, and it did a great job of putting it in people's minds that, 'Okay now if the Giants lose, it's because you went to Miami.'"
He added, "There was nothing that could connect seven days ago to today and how we came out and played and executed. There's just nothing in the world, it's not realistic. I went throughout the entire week of practice fully locked in. You can ask anybody. I didn't expect the game to go this way today."
As far as the drops go, Beckham said that on the first two, he was in position to make catches when he didn't expect to be,
Photos: Instagram