Viola Davis' Stories About Meryl Streep Critiquing Her Cooking Are Hilarious + Meryl Streep & Donald Trump FACE OFF!
Jan 09 | by _YBF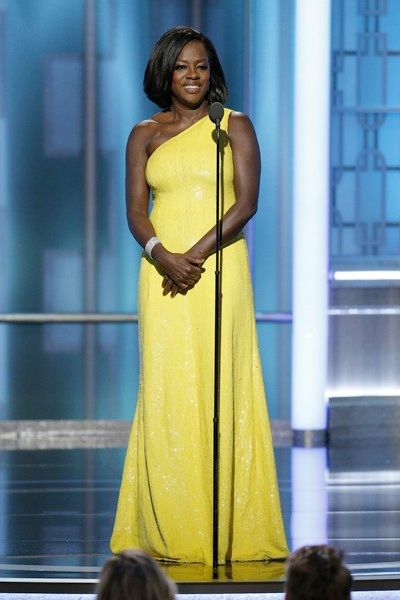 Viola Davis took center stage to present Meryl Streep with the Cecil B. DeMille Award at the 2017 Golden Globes. And her intro had us laughing out loud. Go inside for Viola's speech, plus see how Meryl slammed president-elect Donald Trump…
Outside of nabbing her own award, Viola Davis was tapped to present Meryl Streep the Cecil B. DeMille Award at the 2017 Golden Globes. Rather than list all of Meryl's accolades and accomplishments, the "How To Get Away With Murder" actress shared some funny experiences between herself and the legendary actress.
"She stares," Viola started off saying. "That's the first thing you notice about her. She tilts her head back with that sly suspicious smile and she stares for a long time. And you think, "Do I have something in my teeth or does she want to kick my ass?" which is not going to happen."
She continued:
"And then she'll ask questions. 'What did you do last night Viola?' Oh, I cooked an apple pie. 'Did you use pippin apples?' No, I didn't use Pippin apples, what the hell are Pippin apples? I used Granny Smith apples. 'Did you make your own crust?' No, I used store bought crust, that's what I did. 'Then you didn't make an apple pie, Viola.' Well that's because I spent all my time making my collard greens. I make the best collard greens. I use smoked turkey, chicken broth, and my special barbecue sauce. Silence. I shut her down. Well, they don't taste right unless you use ham hocks. If you don't use ham hocks it doesn't taste the same. So, how's the family."
Meryl knows all chile.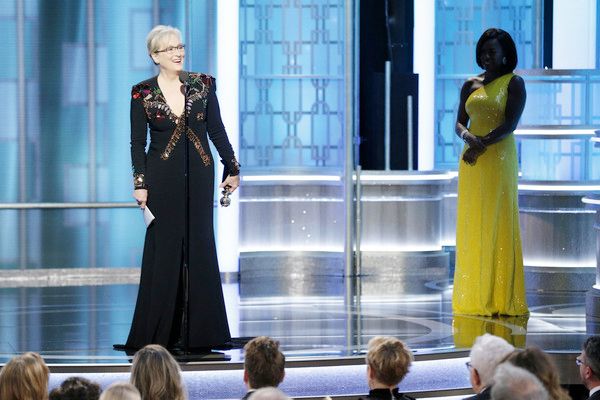 Shortly after Viola's introduction, Meryl took the stage and used her acceptance speech as an opportunity to blast president-elect Donald Trump.
"Hollywood is crawling with outsiders and foreigners, and if you kick us all out, you'll have nothing to watch except for football and mixed martial arts, which are not arts," she said.
She continued,
"Disrespect invites disrespect, violence incites violence," she continued. "When the powerful use their position to bully others, we all lose. We need the principled press to hold power to account, to call him on the carpet for every outrage."
True ish.
Peep Viola and Meryl in action below:
Of course, Donald responded in the most un-presidential way:
11 days left before he takes office, Lord help us all.
BONUS: We were all the way #TeamWhoopi this morning on "The View" -- shocker, we know -- after Jedidiah foolishly said Meryl hd no place voicing "political views" during her acceptance speech. Whoopi had to spit some Hollywood history about how conservatives -- who used to run Hollywood themselves -- are the only ones who have killed other people's careers for not agreeing with them. Bloop.
WATCH: Our co-hosts give their take on Meryl Streep slamming Donald Trump at last night's #GoldenGlobes and his fiery response. pic.twitter.com/uH1DfGtQ5P

— The View (@TheView) January 9, 2017
Photos: Getty