#SIBLINGGOALS: Beyoncé INTERVIEW'd Solange About Their Sisterhood, Mommyhood & Childhood -- And It Was Perfect
Jan 10 | by Natasha
Solange Knowles Ferguson was interviewed by her sister for the new issue of Interview mag, and it was everything we didn't even know we needed....
They've been serving effortless #siblinggoals for like, two decades. Now, we get a peek into how regular -- well, maybe not SUPER regular -- day to day conversations between Beyoncé & Solange go down.
Solange revealed that for the new issue of Interview, she HAD to have her big sis put on her journalist hat for her big story:
"After interviewing my mother and father for A Seat At The Table, it feels like full circle to have chosen my sister to interview me for Interview Magazine. It is one of my favorite talks to date."
So here are our favorite parts. The power duo is totally just like us, until they're not (because they're legit superstars):
BEYONCÉ: Are you exhausted? I know you had a parent-teacher conference ...

SOLANGE: Yeah, I actually had to fly to Philly because there were no flights left to New York. And now I'm driving from Philly to New York. Well, I'm not driving, but ...

BEYONCÉ: You have to drive? From Philly?

SOLANGE: Yeah. But it's not bad. It's only an hour and 40 minutes.
Yep, they talk about their parent-teacher conferences and travel plans like other sisters.
BEYONCÉ: And, honestly, growing up, how did I do as a big sister?

SOLANGE: You did a kickass job. You were the most patient, loving, wonderful sister ever. In the 30 years that we've been together, I think we've only really, like, butted heads ... we can count on one hand.
Bet we can guess what that one time was...
BEYONCÉ: I remember thinking, "My little sister is going to be something super special," because you always seemed to know what you wanted. And I'm just curious, where did that come from?

SOLANGE: ...I guess a part of that was being the baby of the family and being adamant that, in a house of five, my voice was being heard. Another part is that I remember being really young and having this voice inside that told me to trust my gut.
Swoon!
BEYONCÉ: One of my proudest moments as a sister was when I was able to introduce you to your hero, Nas, and you cried and acted a fool. I was so surprised that Mrs. Too-cool-for-everything was acting a fool.
When your big sister knows your life.
Solange on the overwelming response to ASATT:
"...I just feel so much joy and gratitude that people have connected to it in this way. The biggest reward that I could ever get is seeing women, especially black women, talk about what this album has done, the solace it has given them."
Solange on her and Beyoncé's childhood in Houston:
"I remember reading or hearing things about Master P that reminded me so much of Dad growing up. And they also have an incredible amount of love and respect for one another. And I wanted a voice throughout the record that represented empowerment and independence, the voice of someone who never gave in, even when it was easy to lose sight of everything that he built, someone invested in black people, invested in our community and our storytelling, in empowering his people. You and I were raised being told not to take the first thing that came our way, to build our own platforms, our own spaces, if they weren't available to us."
Solange on what she learned from her sister:
"Getting to be in control of your own narrative. And, at this point, it should be an expectation, not something that you're asking permission for."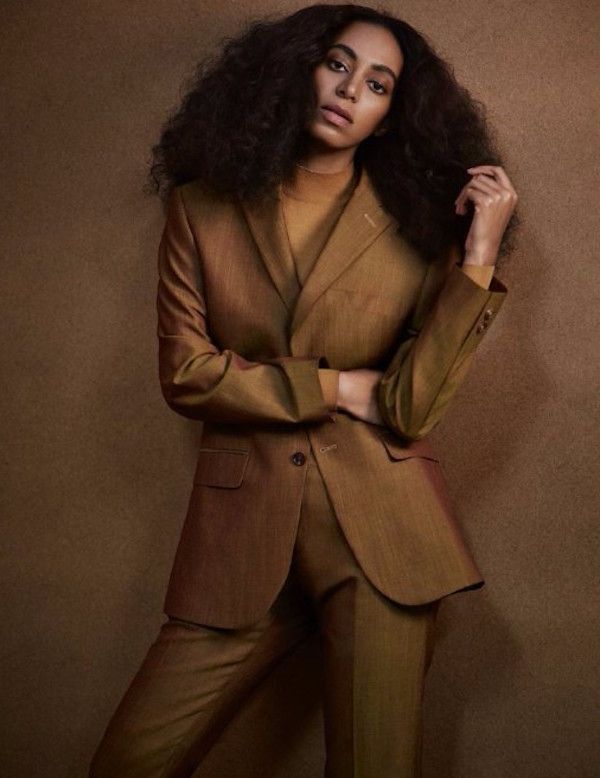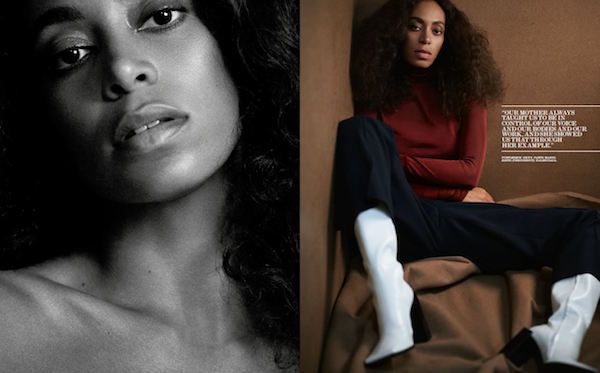 Gorgeous, as usual. Get the full interview HERE.