No F's Given – Charlie Sheen Calls Rihanna A B*tch On Live TV
Jan 12 | by Natasha
RiRi has been hitting the streets of NYC rocking athleisure wear we're drooling over, but not everybody is loving her today. Deets on Charlie Sheen coming for Navy's leader inside...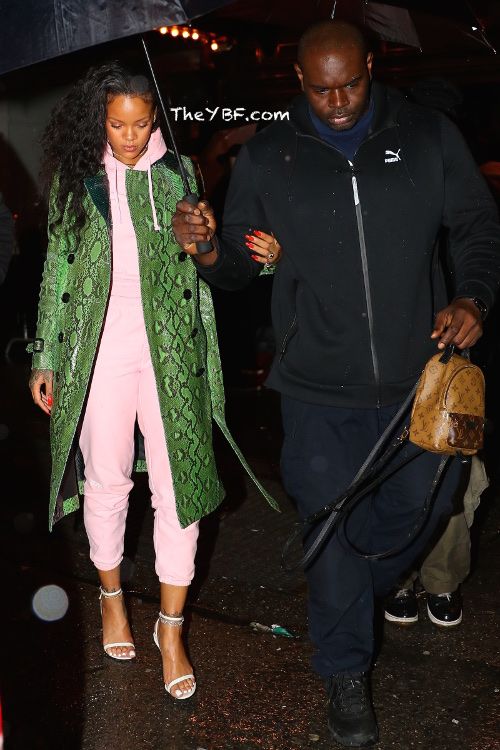 Pink track suit, green python jacket and heels -- only RiRi could pull it off.
While she was out and about in the streets of NYC last night after leaving Up & Down nightclub, Charlie Sheen was in the "WWHL" clubhouse coming for her with the savagery.
We all remember their twitter beef years back, 2014 to be exact, when he blasted the pop diva in a long rant about how he and his family were mistreated by her at a restaurant. He sent a request to Rihanna's table to see if his fiance could quickly meet her, and Rihanna basically said No because of "too much paparazzi." The Twitter rant that perspired was...ridiculous. And Charlie hasn't forgotten it.
When a caller asked him during "WWHL" show last night if he and Rihanna have squashed their feud, he said "Oh....that b*tch." And said she has no common sense. Check it below:
Craig Robinson tried to tell him "Nah," almost as if he was saying not to go there. But Charlie didn't stop. Check it.
This guy...
EXTRAS:
1. Come thru CVS! The pharmacy just saved MANY lives by releasing a generic epinephrine auto-injector at a cash price 80% lower than EpiPen. Cigna has also stopped covering EpiPen. STORY
Photos: Splash