Ciara Is Ready To Make A Splash On Music Scene With Warner Bros. Deal + John Legend Responds To Racist Paparazzi Joke
Jan 27 | by _YBF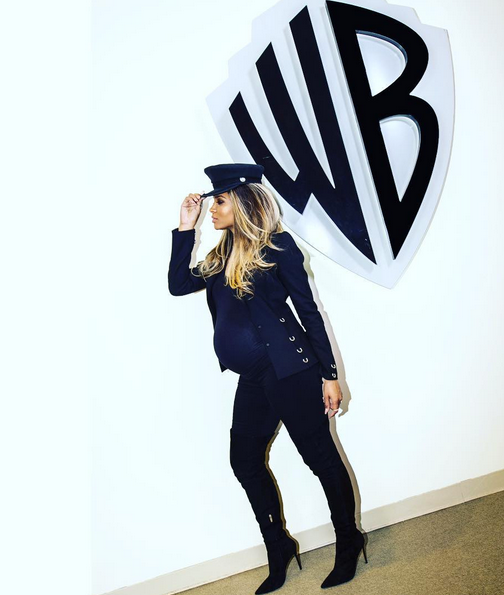 Ciara just announced her big surprise! She just inked a new deal with Warner Bros. Records. Come celebrate with CiCi and read what John Legend had to say about that racist joke from the paparazzi inside…
New year, new baby and a new record deal! 2017 is looking real good for Ciara.
Earlier this week, CiCi said she had a big announcement to make. And now the cat is out of the bag. She just inked a new record deal with Warner Bros Records after run with EPIC Records.
"We welcome Ciara to Warner Bros. Records and look forward to the next chapter of her storied music career," said Cameron Strang, Chairman and CEO, Warner Bros. Records.
13-years in the game, Ciara has sold over 23 million albums and 16 million singles worldwide. Along with her record sells, Mrs. Wilson has kept her fan entertained with her high-energy choreography and unparalleled dance abilities.
The soon-to-be mom again hopped on Instagram to express her excitement writing,
"Warner Brothers Records!!! Lets Get It! Proud to announce and honored to join the family! To all my Ladies out there...this is truly a time where we can do anything, be anything we want, & Love to the fullest while being loved in return.. there is No Limit! Dreams really do come true! I'm supercharged to make the World Dance again!"
As she prepares to welcome a new bundle of joy into her family fold, she will also be gearing up to bring some new music. We're sure her fans are anxiously waiting a new album to follow up her 2015 album JACKIE.
Congrats Ciara!
In other singer news...
Last week, John Legend's wife Chrissy Teigen went off on Twitter blasting a paparazzi that made a racist joke about her husband. She tweeted:
"Paparazzi at JFK just asked me 'if we evolved from monkeys, why is John Legend still around?' - and people wonder why celebs lose it in pics"
Also, john is right next to me. The balls.

— christine teigen (@chrissyteigen) January 19, 2017
Now, the La La Land star is speaking out about the disgusting remark. He told "EXTRA" the incident was bizarre, but he kept calm to keep from falling into his trap.
"It was kind of surreal because he made this joke, basically insinuating that I was a monkey," John said. "As anyone black knows, we've dealt with that slur of us being called monkeys as a way of dehumanizing us and justifying racism, and he made a joke about it."

He continued, "I think his intent was to try and get me to react on camera 'cause he had a video camera out and thought he could get me to react angrily and get some footage that he could sell, but we didn't act angrily. We just got in the car and said, 'Did he just say what I think he said?' It's nasty to make a joke like that, but I try not to let it hurt me."
Yes John! Don't give them what they want.
In TV news...
On top of everything John has going on, the R&B crooner will be joining "The Voice" as an advisor to coach Adam Levine's team for the upcoming 12th season. John is all about his coins!
Photos: Getty/Ciara's IG