RUMOR CONTROL: The CBC EXPOSES Trump's Lies + Rep. Elijah E. Cummings Says Trump Made Up Story About Meeting
Feb 17 | by _YBF
The backlash from Trump's foolish presser yesterday is here. The Congressional Black Caucus and Rep. Elijah E. Cummings are exposing Donald Trump on his "alternative facts." Trump did a press conference yesterday that was filled with lies. Are we surprised? Find out the real deal inside…
Donald Trump loves making up stories and his own "facts." So, when he came out yesterday saying he tried to set up meetings with the Congressional Black Caucus and Rep. Elijah E. Cummings, they had to respond to set the record straight.
Over an hour-long press conference with the media, Trump spoke with April Ryan of American Urban Radio Networks. FYI—April is the reporter that had a war of words with Omarosa Manigault.
April asked the president if he had plans on including the CBC in discussions about his agenda for addressing urban policy.
The kicker? It appeared he didn't even know what the CBC is.
"Are you going to include the Congressional Black Caucus?" April asked.
Before she could finish her question, Trump interrupted her responding, "Well, I would. Tell you what, do you want to set up the meeting? Do you want to set up the meeting? Are they friends of yours? Set up a meeting."
She pointed out that she's just a journalist, but she's sure members of the CBC were watching. He said he would love to meet the CBC.
Check it below:
Trump to @AprilDRyan on the Congressional Black Caucus : "Are they friends of yours?" pic.twitter.com/FMtl3qxU9w

— Colin Jones (@colinjones) February 16, 2017
But get this, the CBC says they reached out to Donald Trump last month and haven't heard anything back. Peep the tweet:
Need receipts? Here they are. This is the letter the CBC sent Trump inviting him to meet with them:
The Congressional Black Caucus sent this letter to Trump on January 19th -- he never replied. pic.twitter.com/DqTerigBPl

— Yashar (@yashar) February 16, 2017
Not to mention, Trump tried to convince us all he's not racist. No one even asked him a question about race, but he insisted he's not racist saying, "Racism: [I'm] the least racist person. In fact, we did very well, relative to other people, as a Republican."
Is this another alternative fact? Hmph.
Following the press conference, April spoke to MSNBC about Trump's bizarre press conference and here's what she had to say: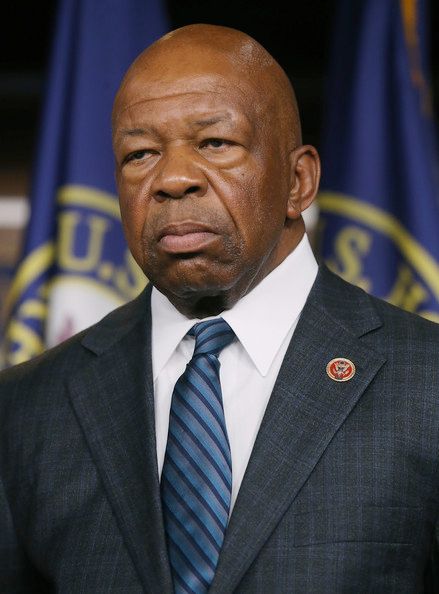 Later, Trump went on to say he tried to set up a meeting with Rep. Elijah E. Cummings (D-Md), a CBC member and the ranking Democrat on the House Oversight Committee, but Cummings bailed on the meeting, suggesting that Democrats told him not to meet with him.
Check it:
Well, Mr. Cummings said that's a lie. He issued a statement that said, "I have no idea why President Trump would make up a story about me like he did today. Of course, Senator Schumer never told me to skip a meeting with the President."
When will the blatant LIES stop?!
Photos: Getty