Social Media Up In Flames Over Kellyanne Conway's THOT-ful Behavior In Oval Office During HBCU Meeting, Betsy DeVos Not Spared Either
Feb 28 | by _YBF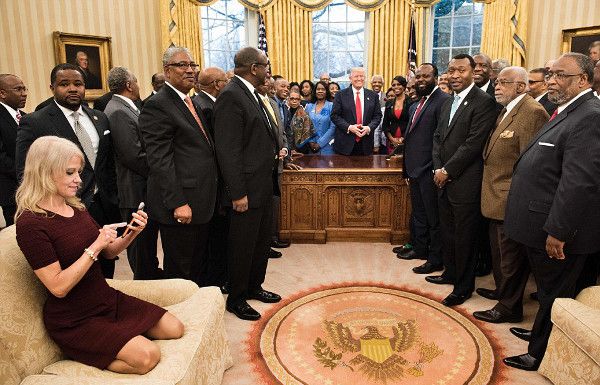 Kellyanne Conway has everyone talking about her this morning. Chick decided she would get extra comfortable during a meeting with Donald Trump and HBCU presidents. And folks are outraged at the disrespect. See how comfortable she gets and more inside…
So, a meeting went down with Donald Trump and a several presidents of HBCUs (Historically Black Colleges and Universities) inside the Oval Office yesterday. Trump's aide Kellyanne Conway must have decided the meeting wasn't formal enough because chick was chilling in the Oval Office with her feet on the couch as she tried to snap pics of Trump smiling and posing alongside the HBCU heads.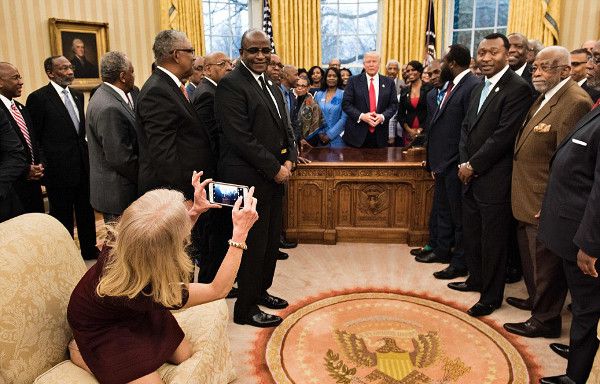 It's mind boggling at the amount of disrespect from this woman in a formal meeting with important people. Had this been a meeting with white leaders, we highly doubt she would be positioned this way on the couch.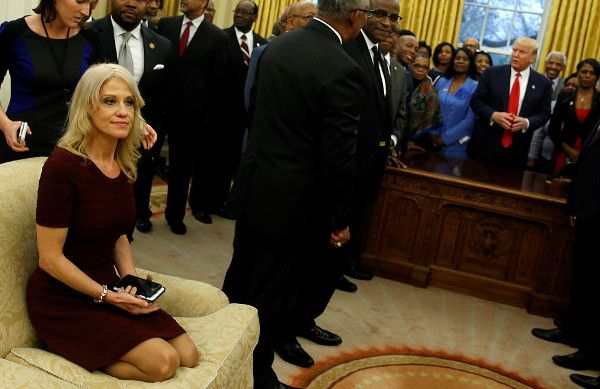 Never, in the face of white military leaders would Kellyanne Conway be on the couch, shoes off, on her knees.

Period. https://t.co/Yi0nPWtVN9

— Shaun King (@ShaunKing) February 28, 2017
Exactly Shaun. Exactly.
Here are a few reactions from folks on social media responding to Kellyanne's disrespect and lackadaisicalness:
@KeithOlbermann @KellyannePolls How inappropriate and disrespectful to sit there like a teenager texting friends. No class. No manners.

— Debbie Downer (@earthriseset) February 28, 2017
#KellyAnneConway, who lost both of her legs in the famous #BowlingGreenMasacre, visits Oval Office. #ImpeachTrump #Trumprussia #resist pic.twitter.com/ipLfKiPGlQ

— Gerald M. (@nukker3) February 28, 2017
A lady doesn't sit like that, esp when you're hosting group of ppl. Of course,classless Kellyanne Conway thinks the Oval Office is her home.

— Sloan Ashton (@Ashton7Sloan) February 28, 2017
If a black woman would have done what @KellyannePolls did ......

— Boss Lady (@misskanu) February 28, 2017
Very Unprofessional which tells you what the level of Seriousness #Trump really has for the HBCU's
None#kellyanneConway https://t.co/hR0UXfgWSA

— AFRICAN AMERICAN1 (@AFRICANAMERICA1) February 28, 2017
We noticed trolls on Twitter posting pictures of former President Barack Obama with his feet on HIS Oval Office desk. The difference? For starters, it's HIS desk. Secondly, in all of the photos that were shared with Obama's feet on furniture, he was NOT in a meeting with dignitaries. That's the difference.
After the meeting, it's reported that Trump will sign an HBCU executive order to try and make himself look better and to "boost his urban agenda." According to CBS News:
President Trump will sign an executive order to bolster historically black colleges and universities (HBCUs) on Tuesday. The order will do this by moving the White House Initiative on Historically Black Colleges and Universities, which was previously part of the Department of Education, back to the White House.

The administration says this action will encourage strategic partnerships with other agencies and outside groups by giving it greater visibility. The United Negro College Fund had requested that Mr. Trump move the Initiative to the White House and be led by a person "who reports to a senior advisor to the president."
While Trump is supposedly signing this executive order, one HBCU president wasn't pleased with the way the meeting went. He said they hardly got a chance to speak on the issues they wanted to bring to the table. Oh, Trump's Administration used y'all for a photo op and a press release? Shocker.
Dillard University president Walter M. Kimbrough issued a statement after the meeting and said (in part):
On Friday I learned that I was selected to give remarks today for the meeting at the White House with members of the Trump administration, most notably Secretary Betsy DeVos. We learned this weekend that there would be closing remarks by Vice President Pence, but the goal was for officials from a number of Federal agencies (about 5 were there including OMB) and Secretary DeVos to hear about HBCUs.

That all blew up when the decision was made to take the presidents to the Oval Office to see the President. I'm still processing that entire experience. But needless to say that threw the day off and there was very little listening to HBCU presidents today- we were only given about 2 minutes each, and that was cut to one minute, so only about 7 of maybe 15 or so speakers were given an opportunity today.
We gotta stop giving folks chances who don't earn them. You can read his full statement here.
Secretary Betsy DeVos also issued a statement following the meeting: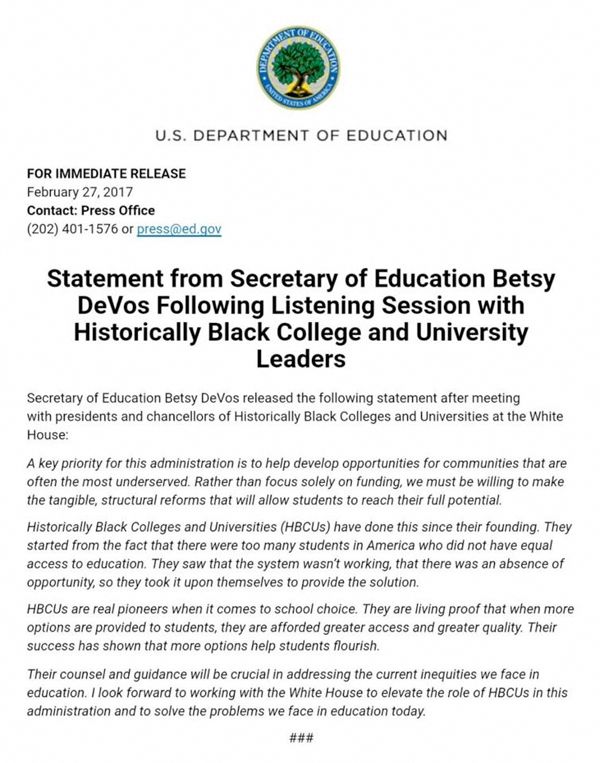 Yes, this woman REALLY equated the founding of HBCUs with "school choice". We see she isn't aware that HBCUs were founded out of necessity due to blacks being legally banned from accessing higher education.
Makes you wonder, what exactly will this executive order do? We're going with not a damn thing. Simply a talking point to say "Look, we addressed HBCU's. We're not racist!"
As Dr. Kimbrough said, they didn't even get a chance to speak, so how would the Trump Administration possibly know how to help?
Photos: Reuters/AP