Asian Beauty Supply Owner CHOKES & KICKS Black Woman He Alleges Was Stealing + Folks Are Coming Together To BOYCOTT The Business
Mar 14 | by _YBF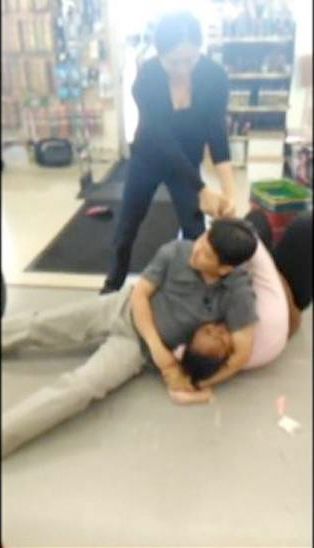 This has to be the most ridiculous and disgusting video you'll see all week. An Asian beauty supply owner choked and kicked a black woman who he accused of stealing. Guess what? Nothing was found in her possession. Peep the clip and get the details inside…
Brace yourself! This video you're about to view is quite disturbing and will likely PISS you off!
The madness reportedly started when Missha Beauty manager Sung Ho Lim walked up to a black woman who he believed had stolen something last Thursday. Allegedly, some eyelashes.
First, another woman in the store pushed the black woman. Then, Lim kicked her, wrestled her to the ground and put her in a chokehold. As she's laid out on the floor with Lim on top of her neck, the Asian woman was seen grabbing the black woman's arm and trying to twist it.
In the clip, you can hear the unidentified woman pleading with them, saying "Check my bag. I don't have anything" as she gasps for air while being held in a chokehold.
Check it:
Disgusting!
Now, community leaders and residents in the Charlotte community are boycotting the establishment, as they should.
Protesters calling for boycott of Missha Beauty in west Charlotte. Video shows owner choking African American woman he accused of stealing. pic.twitter.com/byOPaz1N46

— ChristianFlores WBTV (@C_FloresWBTV) March 12, 2017
On Sunday, several people, including members from the Charlotte-Mecklenburg chapter of the NAACP, gathered outside of Missha Beauty store to protest. They are calling for everyone to QUIT patronizing with the beauty supply store until Lim issues an apology to the woman.
The protestors also went inside to speak with Lim who claims he's not ready to offer up an apology since (he claims) she was stealing:
According to WBTV, Lim has not been charged and police say the woman "has not been identified or arrested." Anoter report claims Lim changed his mind about issuing the young lady an apology, but that has yet to happen.
Just another reason to find and support black owned beauty businesses in your area.
Photos: WBTV