Fan ACCUSES Miguel Of Sexual Assault & His Fiancée Nazanin Mandi Has Something To Say About It
Mar 15 | by _YBF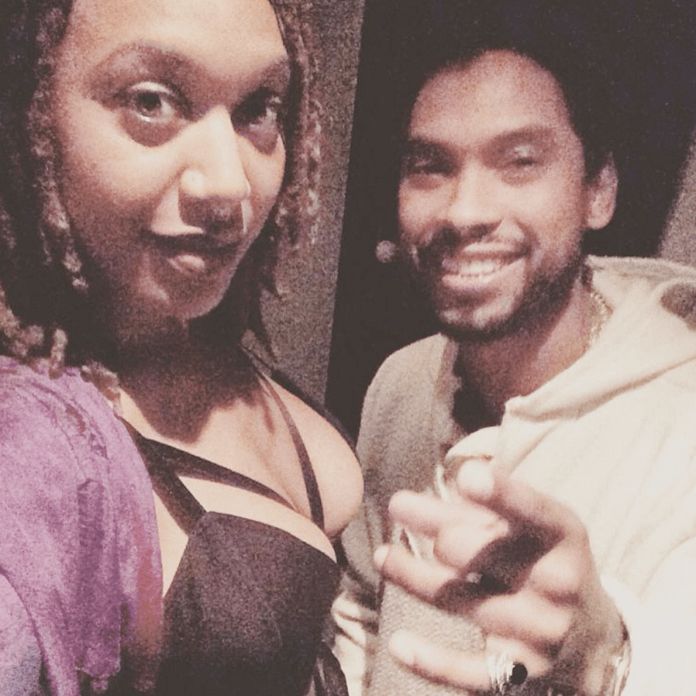 So, a woman just publicly blasted singer Miguel for sexually assaulting her. And now, his fiancée Nazanin Mandi is clapping back. Get it all inside…
A woman named Xian Bass, a student at University of New Mexico, has come forward accusing R&B singer Miguel of sexually assaulting her. She claims she went to club, ran into the "Coffee" singer and asked him for a photo. The Grammy Award winner obliged and they snap a cute "us-sie" (seen above).
Then, according to her, things took a turn.
After telling him how she likes to have orgasms to his music, she claims Miguel groped her lady lumps. In a video she posted to Instagram, she says, "He [Miguel] reaches his hand down my shirt and takes my breast out of my top. Like, literally pulls my breast out of my shirt right after we took a photo." She says after he pulled her boob out of her shirt, he had the most disgusting look on his face.
Xian recounted the incident on social media, writing him an open letter and posting a video reflecting on the alleged incident.
In the letter, she writes:
Dear Miguel,

I used to be a fan of your music.

I was a fan of your music until you blatantly disrespected my body in a public place. There is nothing I did or said that warranted this disgusting display of entitlement, rape culture, and male privilege. I approached you respectfully and you still decided my body was not sacred enough to be treated as a human being. After we took this photo, you took it upon yourself to grab my breast and remove it from my shirt WITHOUT CONSENT. You then proceeded to look at my naked breast with such a disgusting look on your face. It's still embedded in my memory. The sneer of your lip and salivating mouth is making my stomach turn. I really don't understand why you would do that to someone who approached you as a fan. I'm beyond disgusted right now. Are you used to treating random female strangers this way? Have you gotten away with this in the past?

Well, it stops HERE and NOW.

I will not sit in shameful silence and allow sexual assault to be normalized. #toxicmasculinity #maleprivilege #violated #rapecultureisreal #celebrityprivilege #iwasntaskingforit #speakup #speakupspeakout #nomiguel
And here's the video where she details the alleged encounter:
We wonder if she filed a police report as well.
Miguel's fiancée Nazanin Mandi caught wind of the woman's claims and responded to the drama online:
She's obviously not here for it. As of the time of this post, Miguel has not addressed the situation.
Photos: Xian's IG