Paris Jackson Serves Up Madonna-Esque Vibes In Harper's Bazaar + Tinashe Clutches Travis Scott's Man Parts For British GQ Style
Mar 15 | by _YBF
Paris Jackson, Tinashe and Travis Scott are heating up the magazine circuit. Paris graces the newest cover of Harper's Bazaar, while Tinashe and Travis Scott get lit for British GQ Style. More inside…
Paris Jackson is ready for her fashion takeover.
The daughter of the late, great Michael Jackson flexes her model skills on the cover of Harper's Bazaar's April 2017 issue. And she's totally serving up Madonna-esque vibes. Remember those photos we showed you of her on the set of the photoshoot in Paris? It was originally reported she was working on a shoot for Chanel, but as you can see, the shoot was for the fashion magazine.
The 18-year-old model/actress, who made a cameo in "STAR" last week, dished to the magazine about being her dad's favorite child, what it's like to live in the spotlight and using her platform to speak on politics.
Below are the highlights:
On being Michael Jackson's favorite child:
"When I was a kid, I was with my dad and my two brothers. Growing up, I was treated as the favorite because I was the only girl. I was the princess; I was perfect in my dad's eyes."
On being famous and how to handle haters:
"Who gives a f*ck?" she asks. "You're on their mind—how is that a bad thing? Doesn't matter if they're saying good or bad things about you. They're thinking about you enough to write about you. You just can't care."
"But what if you do care?" I ask.
"I used to feel that way," she says. "Then it gets to a point where, you know what, it's going to happen. Not everybody is going to be happy with what you do. If you're not happy with what you're doing, that's a problem," she says. "If you're happy, who gives a f*ck?"
On using her platform to speak on politics:
"Plenty of times I've thought about not doing anything in the public eye and having my own private life. Then I started seeing how everything in the world is going. And I feel like each year it's getting worse."
You can read her full interview here. Soak in the rest of her gorgeous spread below: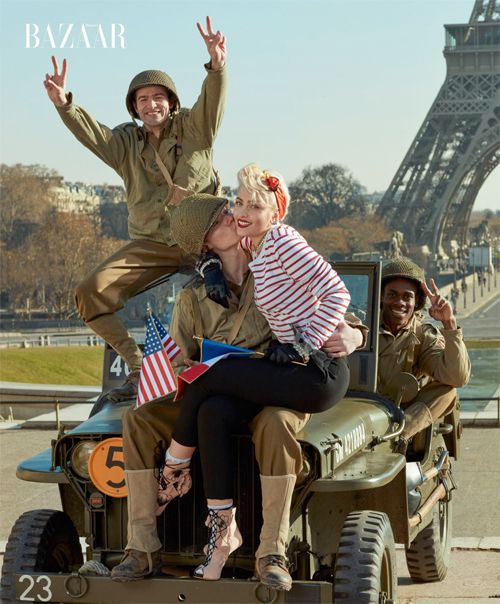 Model status, all day. Get ready! Paris' issue hits newsstands March 28th.
In another magazine...
Singer Tinashe and rapper Travis Scott are heating up the pages of the British GQ Style Spring/Summer 2017 issue. We see nothing was off limits for this shoot. Crotch grabbing and all.
The songstress opened up about what fans can expect from her upcoming sophomore album Joyride after some major delays.
"The good thing that fans should be excited about is that the album is just getting better and better," she says. "It's not sitting in limbo, it's being improved upon and growing all the time. Even since a year ago, I feel like I've changed a lot. I'm a 24-year-old woman, and when you're my age, you can grow a lot in a year. Even musically and creatively, I'm inspired by new things. The energy shifts. It's an evolution, but it's continuing to get more exciting, more relevant, and just better. I hope everyone is patient with me, but when it does drop, it's going to be f*cking worth it."
By the way, Travis is featured on a track titled "Joyride" with the singer.
On the cover...
Travis Scott shows off his diamond encrusted grill. Makes you so moist, right ladies? *ends sarcasm*
Inside, he talks about that "tumble" he took on stage during a performance with Drake in London last month. While he fell through the stage, he claims he didn't fall, he flew.
"I didn't fall, dude, I flew," he says. "I was floating. I don't fall. Sh*t, nothing happened. Floating is amazing. It's like getting in a plane. I just flew, man. I'm a magician, like David Blaine. I could never fall. Drake is an amazing person. Also, a magician. He's a big brother, super-talent, he's cool."
Ok Travis.
The issue hits newstands tomorrow, March 16th.
Photos: Jean-Paul Goude via Harper's Bazaar/Terry Richardson for GQ Style