Drake Drops Tea-Filled 'More Life' -- J.Lo Drunk Texts, Meek Diss, Etc.
Mar 19 | by Natasha
If "More Life" isn't currently burning up your playlist, you're about the only one. Deets on Drake's new album that just dropped inside...
The 6 God surprised everyone with the much anticipated More Life album last night.
The guest list is packed: Kanye West, 2 Chainz, Young Thug, PARTYNEXTDOOR, Travis Scott, Lil Wayne, and even moms Sandi Graham. But it's who's not on the guest list that's more interesting: J.Lo.
While his ex-boo's vocals aren't on the album, he did sample her "If You Had My Love" track on "Teenage Fever." We wonder if that's the video they appeared to be shooting together in December.
When they started "dating," Jennifer was rumored to be appearing on the album. But it looks like it was just a publicity thing. With a little actual fun with a crush on the side.
Drake does reference drunk texting her though. On "Free Smoke" he raps that he drunk texted her but it was an old number. So at the time, no dice. Bloop.
And, of course, he wasn't about to let an opportunity to diss Meek Mill pass him by. After referencing Hov on a track (apparently there's rumors Drake & Hov have been beefing), Drake drops this verse about Meek:
"All you did was write the book on garbage ass Rollies / Ego strokin', picture postin' / Claiming that you do it for motivational purposes only."
Meek STAYS saying he posts his Rolexes and his private jet rides on Instagram in order to motivate the hood. So this was clearly a jab at him.
Drake also had a little party last night to celebrate the big drop: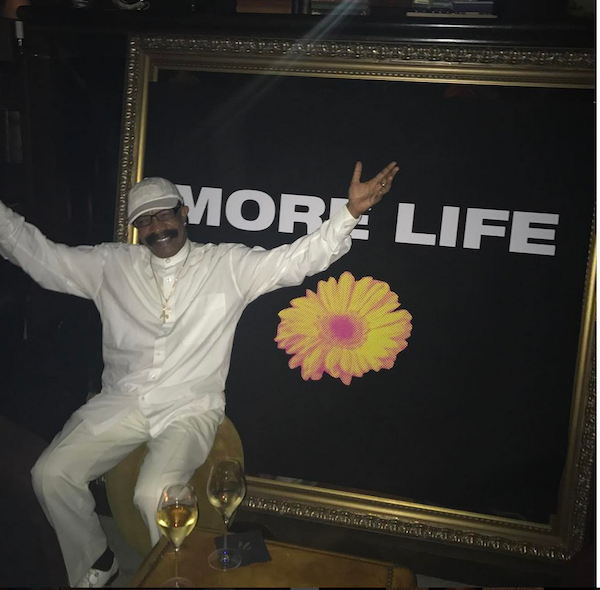 Pops approves.